Nate Silver Calls Gavin Newsom Strategy to Leave Recall Candidate Line Blank 'Self-Destructive'
FiveThirtyEight founder and editor-in-chief Nate Silver said Monday the strategy California Democrats are pursuing heading into next month's gubernatorial recall election is "self-destructive" as sitting Governor Gavin Newsom faces the possibility that he may be voted out of office.
The California Democratic Party is encouraging Californians to vote against removing Newsom from office but to refrain from selecting amongst the 46 replacement candidates who appear on the recall ballot. Newsom's campaign has made similar recommendations in recent weeks.
On Monday, Silver responded to a tweet posted by a political reporter who suggested the strategy was "self-interested."
"It's self-destructive more than self-interested," Silver tweeted. "Pretty decent chance Newsom gets recalled. Democrats could potentially keep the seat if they urged their voters to consolidate behind an alternative Democrat but instead they're telling them not to vote on the replacement!"
Recent polls indicate California voters are split on whether they want Newsom to remain in office for the rest of his term or to be ousted and replaced by someone new. According to a polling average compiled by FiveThirtyEight and most recently updated on August 18, voters who want Newsom to remain in office lead those who want him out by an estimated 1.2 percent.
Most of the recall candidates who have polled highest in recent surveys are Republicans. Conservative radio host Larry Elder is believed to be the frontrunner among the Republican candidates, with former San Diego Mayor Kevin Faulconer, businessman John Cox, state lawmaker Kevin Kiley and television personality Caitlyn Jenner each several points behind him.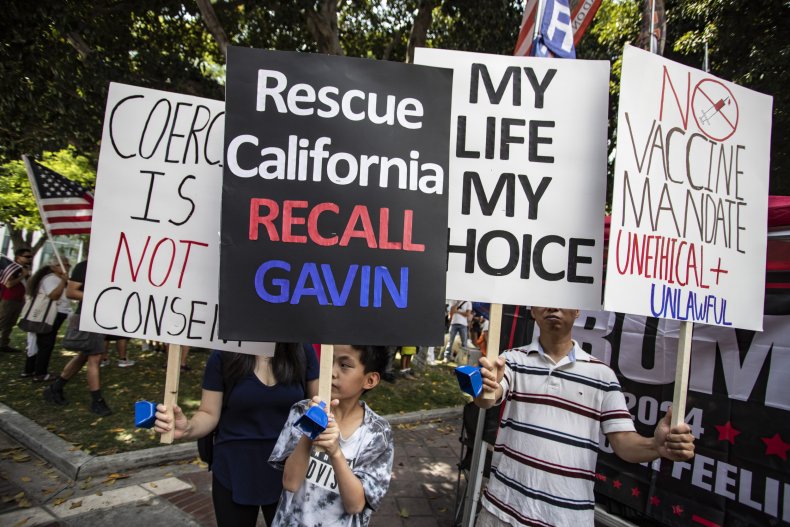 Though the state Democratic Party is supporting Newsom, there are a few self-identified Democrats who also appear on the recall ballot. Kevin Paffrath, who is best known by his YouTube name "Meet Kevin" and who is identified on the ballot as a financial educator and analyst, also gained traction among voters in recent polls.
If more than 50 percent of voters cast their ballots in favor of removing Newsom before the official end of his term, he will be replaced by whomever of his 46 challengers receives the greatest number of votes. That individual would then serve as California's governor until voters decide during next year's midterm elections who they want to complete the office's next full term.
State Democrats have mostly unified behind Newsom and have emphasized to voters how important they believe it is to defend his seat. Since keeping Newsom in office is a top priority for the California Democratic Party heading into the September 14 election, the party has said voters don't need to worry about the second question on the ballot and should focus their attention on the question pertaining to Newsom's removal.
The California Democratic Party told voters to "leave the second question blank" in a set of instructions for voters it posted on Twitter on August 15. Party chair Rusty Hicks reiterated those instructions to "Vote NO on Q1 & leave Q2 blank" in an August 19 tweet.
Orrin Heatlie, the lead proponent behind the effort to remove Newsom from office, told Newsweek earlier this month the strategy seemed "kind of surprising" and struck him as a potential miscalculation for the Democrats.
"If he is replaced, you'd think that the Democrats would want to weigh in on who they would want to replace him with," Heatlie said.
But the California Democratic Party is sticking with its strategy, according to the party's communications director, Shery Yang.
"It's simple: The California Democratic Party supports Governor Gavin Newsom," Yang told Newsweek when contacted Monday for a response to Silver's tweet. "There are no other candidates prepared to meet the challenges facing our state. Therefore, we're urging voters to vote no on the recall and leave the second question blank."