Nathan's Hot Dog Eating Contest: Maybe the Most American Event This Fourth of July
Along with fireworks, barbecues and patriotic banners, U.S. citizens are preparing for another longstanding national tradition on the country's 241st birthday: eating way too many hot dogs.
For ten minutes, over a million viewers will watch around 20 contestants stuff their faces for the annual Nathan's Hot Dog Eating Contest in Brooklyn's Coney Island. The famed competition has taken place for over 100 years and draws a mix of regulars and newcomers, all vying for the coveted mustard yellow belt, which is of "unknown age and value," according George Shea, co-founder of event sponsor Major League Eating. The contest hosts both male and female divisions, both of which claim their own celebrity competitive eaters. In this year's men's section Joey Chestnut will defend his title and, for the women's, Miki Sudo will compete after three consecutive wins.
Related: America Is Still Great: 5 Good Things About the U.S. for Fourth of July Weekend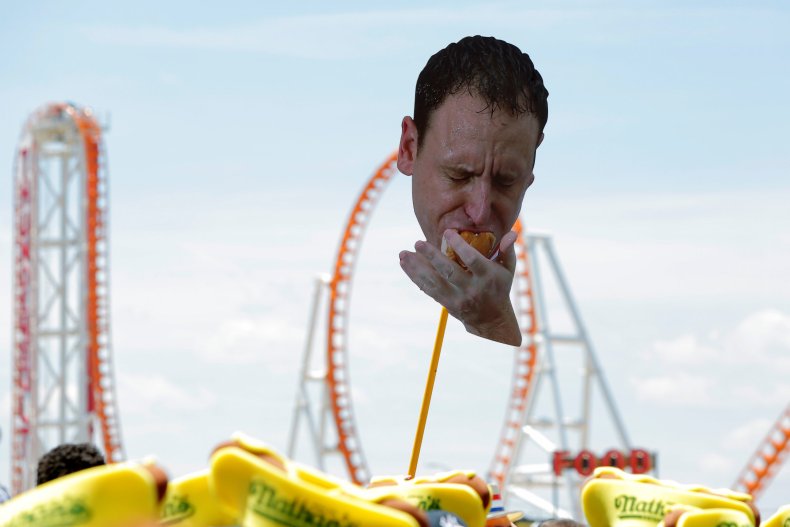 So how did this all start? First of all, there could be no better venue for the contest than in Coney Island, which many historians credit as the birthplace of the hot dog in the 1870s thanks to German immigrant and wagon vendor Charles Feltman, according to the Smithsonian Magazine. Decades and countless hot dogs later, one of Feltman's Polish-American employees, Nathan Handwerker, broke off and founded his own business on Coney Island in 1916, which eventually came to be known as Nathan's Famous. That same year, Handwerker is recounted as saying "I'll tell ya, whoever can eat the most of my hot dogs is the most American," according to another Smithsonian piece. Irishman James Mullen became the first victor, consuming 13 hot dogs in 12 minutes.
A full century later, Chestnut scarfed down 70 hotdogs in 10 minutes, reclaiming the title he had held since 2007 from YouTube star Matt "Megatoad" Stonie, who dethroned Chestnut in 2015. Prior to Chestnut, the six-year champion had been Japan's Takeru Kobiyashi. Chestnut and Kobiyashi's stardom propelled the hot-dog eating competition to international attention, receiving coverage from major sports network ESPN since 2003, including play-by-play commentary from renowned motorsports announcer Paul Page since 2005.
As the years go by, the competitors increasingly push the limits of the human body. Chestnut broke the world record last year before the competition even began. The hot-dog champion ate 73 hot dogs at the Giant National Capital BBQ Battle in Washington less than two weeks before the competition. As to how many hot dogs one person can actually fit in their stomach, scientists are still scratching their heads-likely with as much concern as curiosity. A 2007 study of one competitive eater by the University of Pennsylvania and later published in the American Journal of Roentgenology saw the individual's stomach expand indefinitely so that "it could accept an almost unlimited volume of food."
"He was able to overcome the usual checks and balances associated with eating by exercising extraordinary willpower and self-discipline during his training, consuming more and more food when others wouldn't be able to swallow another bite without feeling sick," the study said, according to USA Today.
For those looking to catch the meat-and-bun-eating carnage from the safety of their home this Independence Day, viewers can tune in to ESPN3 at 10:50 a.m. EDT for the women's competition, followed by the men's round at noon.