Oakland A's Sign Man Who Threw 96 MPH Pitch in Stadium Challenge
The Oakland A's have just signed an amateur who impressed the team by throwing a pitch at a blazing 96 miles per hour.
Nathan Patterson, 23, raised eyebrows when he took part in a pitch speed challenge at a Colorado Rockies game at Denver's Coors Field in June. On Thursday, Patterson signing a minor league contract with the Athletics.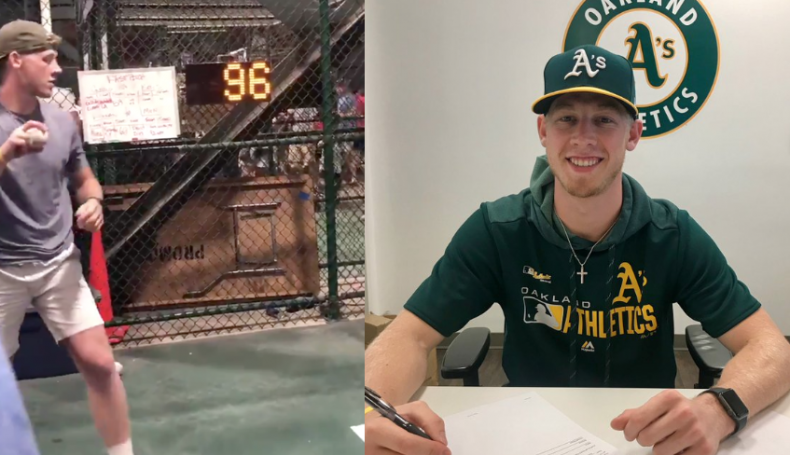 Patterson's brother Christian tweeted a video of his impressive feat, urging the MLB to get him signed.
But Patterson didn't simply stumble into the bullpen: He's been working on his pitch since at least August 2018, when he hit 96 mph during a pitching challenge at a minor league game in Nashville.
He admits he was surprised by his speed—the last time he played baseball competitively was his senior year of high school—and he felt inspired to keep practicing and pursue a contract.
A video from January shows Patterson throwing practice pitches at speeds that are also impressive by MLB standards. Even more so, since he had a cast on his left arm at the time.
According to MLB's Cut4, the average pitch speed in the league has been consistently rising, hitting 93.2 mph in 2017. Those higher speeds have also been associated with increased injury rates.
The fastest pitch in Major League Baseball is actually a source of some controversy: In 2010, Cincinnati Reds pitcher Aroldis Chapman's fastball was clocked at 105.1 mph in a game against the Padres.
But according to the 2015 documentary Fastball, Nolan Ryan beat that back in 1974 when he was playing for the Angels. Nolan's fastball was clocked at 100.9, at the time, but experts claim that if you adjust for the placement of the radar gun, it was really a hypersonic 108.5 miles per hour.
Whichever player deserves the crown, experts say such speeds are at the limits of human ability.
"I don't see it going much higher," biomedical engineer Glenn Fleisig, research director of the American Sports Medicine Institute, told Wired. "I'm sorry to say that, but I don't see it happening. Baseball isn't like other sports, where we see people running faster or swimming harder or whatever, where today's records are smashing the records from 10 years ago."
In an Instagram post showing him signing his A's contract wearing a team outfit, Patterson thanked all the people who supported him.
"My family has given me nothing but constant love and support throughout the last 9 months as I pursue a dream of mine that I've had since I was a little kid," he said. "It's been a roller coaster to get here with many challenges and overcoming adversity."