Nathan's Hot Dog Contest Winner Sets World Record With 75 Eaten in 10 Mins
Today in New York, during the annual Nathan's Hot Dog Eating Contest, competitor Joey Chestnut consumed about 75 franks and buns in approximately 10 minutes in order to win the Mustard Yellow Belt.
For the 13th time over the past 14 years, Chestnut, also known as "Jaws," has retained the title as champion. Not only did the eating champion gouge down on his 1,000th hot dog, he has beaten his record by 4 hot dogs. According to Yahoo! Sports, he had eaten about 71 hot dogs during last year's event. For the women's competition, Miki Sudo managed to win the belt for the seventh time in a row. Setting a record for the female division, Sudo ate nearly 48 and a half hot dogs in about 10 minutes.
Due to pandemic concerns, the 2020 event was held indoors at "a private location." The setting switched because of the large crowds that had typically gathered outside of the Coney Island stage. Live-streamed and broadcasted from ESPN, the contest was held at a storage room from Nathan's.
Sudo told the New York Post that she missed the live audience. She said, "To everybody watching at home, I wish you could be here."
Because there was no crowd in the storage room, the camera crew gave her a round of applause and cheered her name.
Also practicing social distancing, the judges followed guidelines by wearing masks during the contest. While using latex gloves, assistants handed out the buns and wieners to the contestants.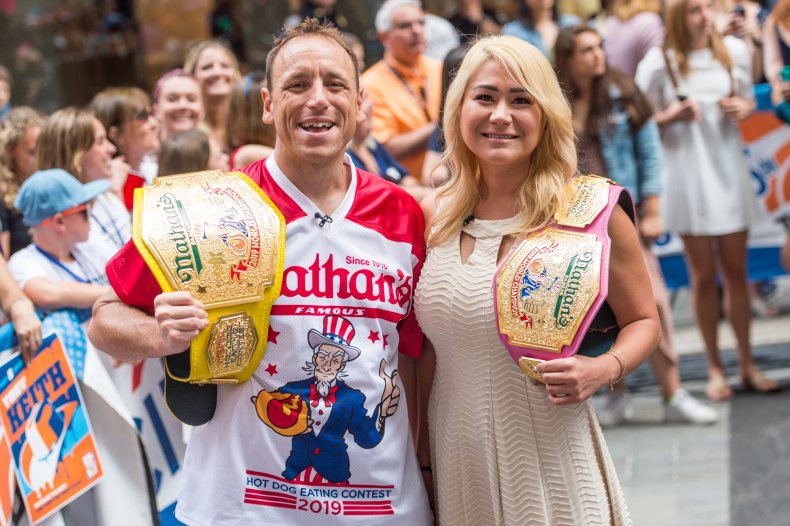 Last year, ESPN premiered The Good, The Bad, The Hungry documentary for their "30 for 30" series. Chestnut and former champion, Takeru Kobayashi, were featured in the documentary film to discuss the popularity of the Nathan's Hot Dog Eating Contest. In an interview with Fansided, Chestnut discussed what it meant to be in a competition against other eaters.
He said, "I couldn't compete against a competitor as if he was trying to beat me without being a little bit aggressive toward him. And now that I'm older, I don't need to be aggressive towards my competitors at all."
"I see my competitors now as, kind of, where we can relate to each other, and we're almost a family," added Chestnut. "So when I was younger, I was definitely a little bit more of a, I wouldn't say a jerk, but I guess I was just immature."
Newsweek reached out to Chestnut for comment about his latest win, but did not hear back before publication.