Nathan's Hot Dog Eating Contest: How Much Did Joey Chestnut Win?
Joey Chestnut once again won the annual Nathan's Hot Dog Eating contest on Thursday, enabling him to keep his title as reigning champion of the July 4th gorge-fest — and also a nice chunk of change.
The annual Nathan's Hot Dog Eating contest at Coney Island in Brooklyn always draws a crowd, with even more watching the competition online. First occurring in 1972, the competition has since become a staple of the Fourth of July festivities.
Nearly 40,000 people attend the contest each year, according to Nathan's Hot Dogs, and the competition is broadcast online and on television by ESPN. Each year, several competitive eaters — often among the biggest names in the sport — take the stage in an attempt to eat more hot dogs than their opponents as quickly as possible and become the champion. Contestants have eaten a combined 1,509 hot dogs, equivalent to 330 pounds, since the competition began.
Chestnut set the world record at this competition in 2018, when he consumed 73, according to Nathan's, devouring more than 12,000 calories during the 10-minute contest.
"I don't feel great," he told TODAY in 2018 after his victory. "I feel amazing that I won and I got a record, but like a marathon runner, you feel like garbage after a marathon."
Although Chestnut once again bested his competition this morning to defend his title, he wasn't able to beat his own record and only consumed 71 hot dogs to claim the 2019 championship, according to Bleacher Report. Chestnut first won the competition in 2007 and then won each year afterward through the 2014 chow-down. He lost to Matt Stonie in 2015 but reclaimed the Nathan's crown again — and again — in 2016, 2017, 2018 and now 2019.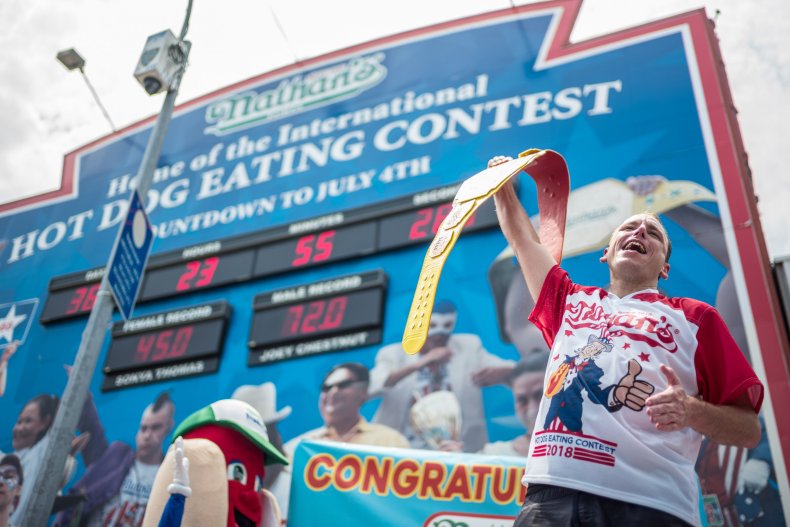 Ahead of this year's competition, the 35-year-old told the Associated Press on Wednesday that he'll "find a rhythm and do what it takes" to win. He weighed about 216.5 pounds at the time of the official weigh in.
"I love hot dogs," Chestnut told Fox News. "You can put anything on them. Bacon, cheese, I just had my first kimchi dog and it was good. It's pretty rare that I don't have hot dogs in my fridge."
He added that marathons don't ruin running for runners and eating hot dogs professionally hasn't ruined the quintessentially American food for him. When he first started consuming hot dogs, he purchased the brand Bar-S because it was affordable.
Unfortunately, he told Fox News that they tasted terrible, but credited the awful taste with partially why he could eat so many more Nathan's hot dogs, which tasted considerably better.
The top five winners split $40,000 and the first two each earn an additional $10,000, according to the Associated Press. Ahead of the competition, oddsmakers placed a great deal of faith in Chestnut and CBS Sports reported a bet of $888 would bring a $100 return.