Nathan's Famous International Hot Dog Eating Contest 2019: Where to Watch July 4 Coney Island Extravaganza
When it comes to July 4, the sight of people devouring hot dogs is as quintessential to the celebrations as parades and fireworks.
This year is no different, and the annual Nathan's Famous International Hot Dog Eating Competition is set to take center stage on Independence Day.
Defending champion Joey "Jaws" Chestnut is once again the overwhelming favorite in the men's event.
The 35-year-old has won the event 11 times in the last 12 years. He has triumphed in the last three editions after losing his crown to Matt Stonie in 2015.
Last year, Chestnut broke the world record by devouring 74 hot dogs in 10 minutes, roughly consuming the number of calories an average man eats over nine days.
Among the women, Miki Sudo is aiming to make it six titles in a row, after finishing nine clear of the runners-up last year.
Here's everything you need to know about this year's event.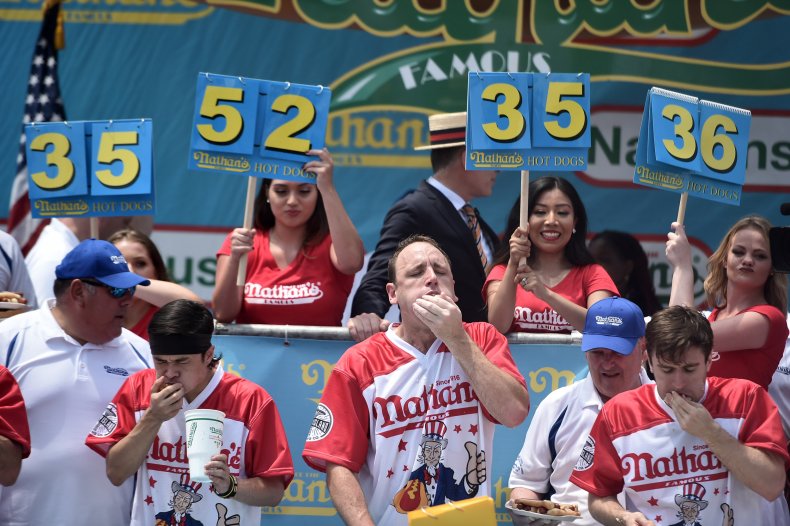 When is the contest this year?
As is tradition, the contest takes place on July 4. The women's event begins at 10:45 a.m., before the men get stuck into the dogs at noon.
Where is the contest this year?
The familiar surroundings of Coney Island will as usual host the event.
Specifically, the stage will be on the corner of Surf and Stillwell avenues, just yards away from Nathan's flagship store at 1310 Surf Avenue.
TV coverage
Chowing down hot dogs might have nothing to do with sport but, as has been the case since 2003, the event will be broadcast by ESPN.
Coverage begins at 10:45 a.m. ET on ESPN3 as the women's event begins, before switching to ESPN2 for the men's event at noon. The latter will also be replayed on ESPN2 at 3 p.m. ET, 4 p.m. ET and 1 a.m. ET as well as on ESPNEWS at 7 p.m. and midnight.
Live stream
Those who can't get access to a TV can keep up with the action online at WatchESPN or via the WatchESPN app.
Odds
Defending champions Joey Chestnut and Miki Sudo are heavily backed to defend their titles.
According to figures compiled by BetOnline, Chestnut is a 1/10 favorite (-1,000 in moneyline terms) to defend his belt, while Sudo is a 1/15 favorite.
The over/under bar on the number of hot dogs eaten by the winner of the men's contest is set at 73.5, while for the women is at 38.5
Last year, Chestnut crunched his way through an incredible 74 hot-dogs, 10 more than the runner-up. Sudo, meanwhile, ate 37 hot dogs, nine more than the nearest competitor.