National Bagel Day Deals From Einstein Bros. Bagels, Brueggers, Manhattan Bagel and More
Today (January 15, 2020) is National Bagel Day (not to be confused with National Bagelfest Day) and what better way to get the day started than with a free bagel from some of the most-loved brands in the U.S.
In 2019, Thomas' Bagels worked alongside Chase's Calendar of Events to declare January 15 as the new National Bagel Day. This meant that bagels stopped sharing the spotlight with National Pizza Day and had its own day.
Newsweek subscription offers >
Bagels History and Facts
A bagel is the only bread that is boiled before being baked. A similar-looking Polish bread called obwarzanek dates back to 1394, which is thought to be the earliest known bagel. But it wasn't until the 19th century Eastern European immigrants brought the bagel over to the U.S.
Then, in the 1970s, a family known as the Lenders began marketing frozen bagels to the masses. Nowadays, bagels are a favorite food in the U.S. and are eaten with toppings such as salmon, cream cheese and bacon.
Bruegger's owns the title of World's Largest Bagel; they baked an 868 pound bagel in August 27, 2004, at the Great New York State Fair in Syracuse, New York.
Newsweek subscription offers >
National Bagel Day 2020 Deals
Einstein Bros. Bagels: The bagel brand is
giving away a free bagel and shmear with purchase to all guests on the new National Bagel Day (January 15).
Bruegger's: Currently a surprise (try and guess using the tweet below), the bagel bakers will be giving everyone who visits a free gift.
Manhattan Bagel: Get a bagel and cream cheese for 99 cents with purchase on National Bagel Day. Limit of two per customer.
Noah NY Bagels: Free bagel and shmear with any purchase on January 15, 2020.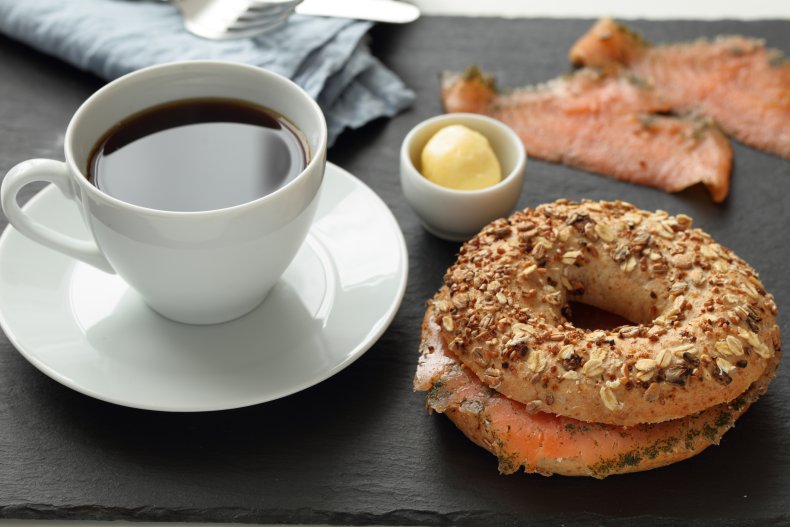 Thomas' Bagels: The largest producer of grocery store bagels in the U.S. is hosting a National Bagel Day pop up event in Philadelphia, Los Angeles, Denver, Chicago and Orlando. Guests can look to grab a free bagel and cream cheese from 7:00 a.m. to 1:00 p.m. local time and fill their knead for doughy goodness.
The brand will also be hiding a coveted orange ticket in one free bagel in every city, redeemable for a smartwatch and to make the search even more exciting, in one randomly selected city, a golden ticket will hold a grand prize; a $2,500 grocery shopping spree
Look for uniformed street teams at the following addresses:
Chicago – Union Station, 225 S Canal St, Chicago, Illinois 60606
Denver – Larimer Square, 1430 Larimer St, Denver, Colorado 80202
Los Angeles – Union Station, 800 N Alameda St, Los Angeles, California 90012
Philadelphia – 30th Street Station, 2955 Market St, Philadelphia, Pennsylvania 19104
Orlando – Lynx Central Station, 455 N Garland Ave, Orlando, Florida 32801
National Bagel Day Deals From Einstein Bros. Bagels, Brueggers, Manhattan Bagel and More | U.S.