National Beer Day 2018: Interesting Facts For All Brew Lovers
Beer lovers will be able to celebrate with another cold glass this weekend during the annual National Beer Day. The holiday honoring the most widely consumed alcoholic beverage is observed each year on April 7, which lands on a Saturday this year.
The Cullen-Harrison Act, which marked the beginning of the end of Prohibition in the United States, was enacted on April 7, 1933 after being signed into law by President Franklin D. Roosevelt. National Beer Day has been celebrated since 2009, when friends Justin Smith of Richmond, Virginia and Mike Connolly from Liverpool, England created a National Beer Day Facebook page.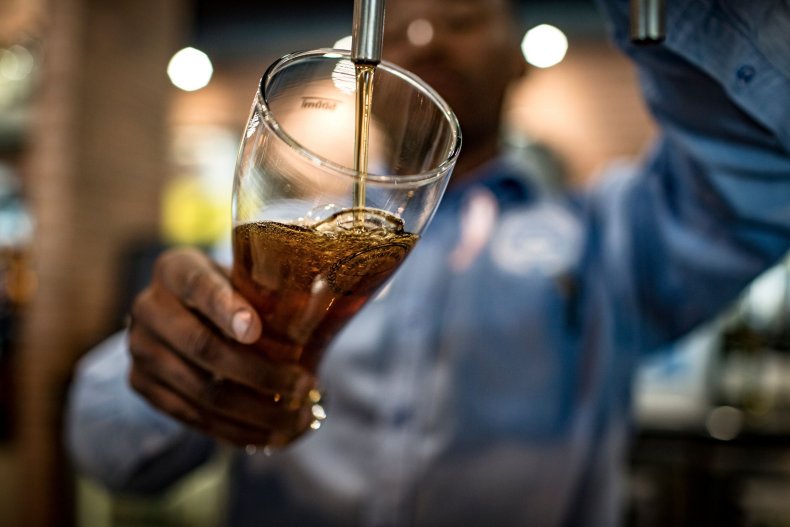 Newsweek has rounded up seven interesting facts about beer for your brew-filled celebrations.
New Hampshire consumes the most beer than any other state, according to a report by 24/7 Wall Street. The 2017 report found that the Live Free or Die state drinks 41.7 gallons of beer annually per capita. Montana and South Dakota followed closely behind with 39.1 gallons and 38.6 gallons of beer respectively.
During Prohibition, a group of brewers, physicians and beer drinkers tried to convince Congress that beer was "vital medicine." According to Smithsonian Magazine, Congress allowed doctors to prescribe "medical beer" in March 1921. However, legislators changed their minds in November 1921 and once again banned beer.
In 1814, eight people were killed in London when a 15 foot tidal wave of beer flooded the neighborhood of St. Giles Rookery. The incident, known as the London Beer Flood, did not result in any charges as the jury ruled it an act of God, The Independent reported.
Egypt is believed to be the first civilization to tax beer. According to Forbes, Queen Cleopatra claimed she imposed a beer tax to discourage public drunkenness. However, historians believe it was used to raise money to fund a war with Rome.
Cenosillicaphobia is commonly touted as being the fear of an empty beer glass. The phobia is not included in major phobia lists, but any beer drinker will tell you that it is very much real.
Beer was George Washington's favorite drink and he even produced beer at Mount Vernon. The first president of the U.S. kept a recipe for small beer, a weak beer consumed by both servants and children, in a manuscript notebook in the late 1750s.
The day before National Beer Day is known as New Beer's Eve. Those celebrating the national day can do so by drinking responsibility and sharing the hashtag #NationalBeerDay.