National Beer Day 2020: Deals on Mixed Cases, Homebrew Starter Kits, Apparel and Equipment
National Beer Day 2020 is today, April 7, and although many bars across the country are closed due to stay-at-home orders, there are other ways to celebrate.
You may not be able to have a drink with your family or friends in person on National Beer Day 2020, but you could enjoy a beer over video chat. Or, read Newsweek's roundup of famous quotes about beer, from Barack Obama, Russell Crowe, Sylvia Plath, and more.
Another way you could celebrate National Beer Day 2020 is by ordering your favorite bottle or can of beer online, or by ordering a mixed case and discovering a new favorite. Online stores are still selling beer for delivery and many of them are offering deals and discounts on apparel, equipment, and homebrew starter kits.
National Beer Day 2020 Deals
Brooklyn Brewery
Northern Brewer
Kegerator
Drizly
The Microbrewed Beer of the Month Club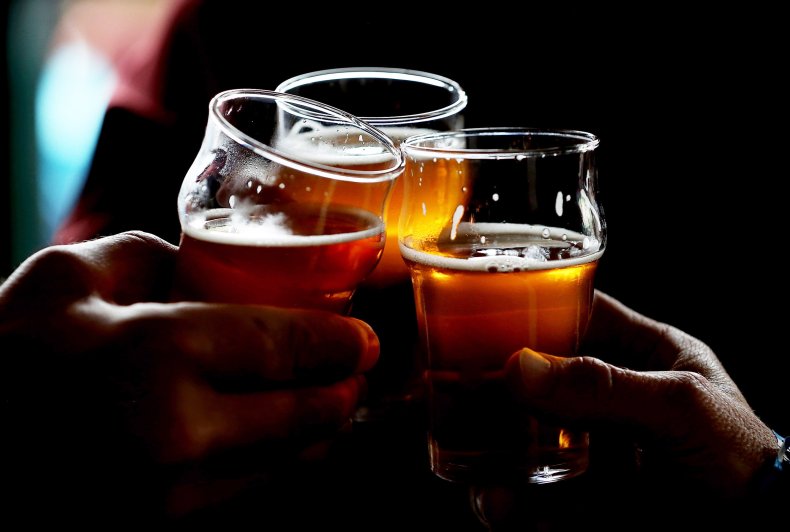 Brooklyn Brewery
You can get 15 percent off at Brooklyn Brewery when you sign up for its mailing list, and when you buy two T-shirts, you'll get one for free. The Brooklyn Brewery online store sells apparel like T-shirts, hats and flasks.
Northern Brewer
Select items are on sale on the Northern Brewer website, like this homebrew starter kit. What better way to celebrate National Beer Day than by brewing your very own?
Kegerator
Sign up for Kegerator's mailing list to get a coupon for 5 percent off, or get 20 percent off home appliances like beverage coolers and ice makers with the code FRESH.
Drizly
Use the promo code official10 to get $10 off your first order at Drizly, which is still delivering beer, including craft beer and variety packs.
The Microbrewed Beer of the Month Club
Use the code SAVE10 to get $10 off any 4-shipment order, use SAVE15 to get $15 off any prepaid 6-shipment order, or use SAVE30 to get $30 off any prepaid 12-shipment order at The Microbrewed Beer of the Month Club.
National Beer Day origin
On April 7, 1933, President Franklin Roosevelt signed a law that allowed people to brew and sell beer, as long as it contained 4 percent alcohol by volume or less. This was the first step taken toward ending prohibition and was the first time U.S. residents were able to buy beer in 13 years.
Then, in 2009, Justin Smith, a Richmond, Virginia Craft Beer Examiner, and his friend Mike Connolly from Liverpool, England, founded National Beer Day by creating a Facebook page, honoring the day U.S. residents were allowed to brew and sell beer again.
The act signed by President Roosevelt signed was called the Cullen-Harrison Act, Senator Pat Harrison, and Representative Thomas H. Cullen, who both pushed for the legalization of beer and wine with a low alcohol content.
Newsweek has affiliate partnerships. If you make a purchase using our links, we may earn a share of the sale.