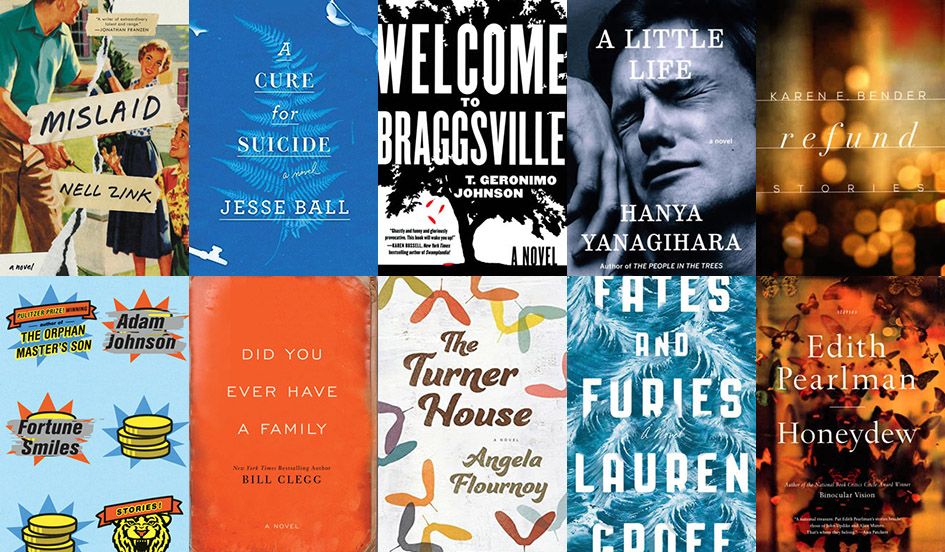 The National Book Foundation, ending a four-day countdown during which each National Book Awards longlist was disclosed in turn, announced Thursday its 10 nominees for the fiction prize.
The longlist includes collections of short stories, such as Refund: Stories by Karen E. Bender; Edith Pearlman's Honeydew; and Fortune Smiles: Stories by Adam Johnson, who won the 2013 Pulitzer Prize in fiction for The Orphan Master's Son. There's also Angela Flournoy's debut novel, The Turner House, and second works by T. Geronimo Johnson, Hanya Yanagihara and Nell Zink. Multiple works delve into marriage, family and loss, including Bill Clegg's Did You Ever Have a Family and Lauren Groff's Fates and Furies.
The full fiction longlist:
Jesse Ball, for A Cure for Suicide
Karen E. Bender, for Refund: Stories
Bill Clegg, for Did You Ever Have a Family
Angela Flournoy, for The Turner House
Lauren Groff, for Fates and Furies
Adam Johnson, for Fortune Smiles: Stories
T. Geronimo Johnson, for Welcome to Braggsville
Edith Pearlman, for Honeydew
Hanya Yanagihara, for A Little Life
Nell Zink, for Mislaid
This year's fiction judges are Daniel Alarcón, Jeffery Renard Allen, Sarah Bagby, Laura Lippman and David L. Ulin. Each National Book Awards committee (in young adult literature, poetry, nonfiction and fiction) will announce its finalists on October 14, and the winners in each category will be crowned on November 18. At last year's ceremony, which was streamed live online, Phil Klay took the fiction prize for his debut book of short stories, Redeployment.