National Book Awards Finalists Announced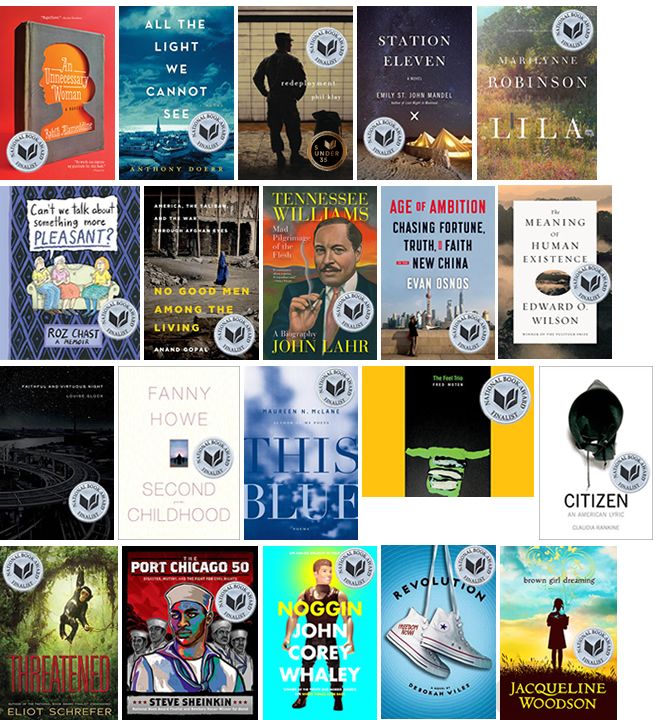 The 1960s through the eyes of a teenager, the Taliban and the war through the perspective of Afghans and a homeless girl who becomes a reverend's wife are among the stories explored by the finalists for this year's National Book Awards, announced Wednesday.
The five titles whittled down from the longlists in each of four categories—fiction, nonfiction, poetry, and young people's literature—were announced on NPR Wednesday morning. Five judges for each category will select a winner from from remaining works, to be announced on November 19 at a ceremony and benefit dinner in New York City.
The National Book Foundation, a nonprofit organization, administers the American literary prizes "to celebrate the best of American literature, to expand its audience, and to enhance the cultural value of great writing in America," according to the awards website.
The awards—which were first distributed in 1950 to Nelson Algren forThe Man With the Golden Arm (fiction), Ralph L. Rusk for Ralph Waldo Emerson (nonfiction), and William Carlos Williams for Paterson: Book III and Selected Poems (poetry)—are celebrating their 65th anniversary this year.
Winners over the past several decades include William Faulkner, Ralph Ellison, John Cheever, Bernard Malamud, Philip Roth, Norman Mailer, Saul Bellow, Alice Walker, and Colum McCann.
The night before the award announcements, each finalist receives $1,000, a medal and a citation from the panel at a private medal ceremony, and then immediately afterward reads an excerpt from the nominated work at the Finalists Reading. The four winners are announced the following evening, taking home $10,000 and a bronze sculpture.
Last year's winners were James McBride in fiction for The Good Lord Bird; George Packer in nonfiction for The Unwinding: An Inner History of the New America; Mary Szybist in poetry for Incarnadine; and Cynthia Kadohata in young people's literature for The Thing About Luck.
The finalists for the 2014 National Book Awards are:
Fiction
Rabih Alameddine, An Unnecessary Woman (Grove Press/ Grove/Atlantic)
Anthony Doerr, All the Light We Cannot See (Scribner/ Simon & Schuster)
Phil Klay, Redeployment (The Penguin Press/ Penguin Group (USA))
Emily St. John Mandel, Station Eleven (Alfred A. Knopf/ Random House)
Marilynne Robinson, Lila (Farrar, Straus and Giroux)
Nonfiction
Roz Chast, Can't We Talk About Something More Pleasant? (Bloomsbury)
Anand Gopal, No Good Men Among the Living: America, the Taliban, and the War through Afghan Eyes (Metropolitan Books/ Henry Holt and Company)
John Lahr, Tennessee Williams: Mad Pilgrimage of the Flesh (W.W. Norton & Company)
Evan Osnos, Age of Ambition: Chasing Fortune, Truth, and Faith in the New China (Farrar, Straus and Giroux)
Edward O. Wilson, The Meaning of Human Existence (Liveright Publishing Corporation/ W.W. Norton & Company)
Poetry
Louise Glück, Faithful and Virtuous Night (Farrar, Straus and Giroux)
Fanny Howe, Second Childhood (Graywolf Press)
Maureen N. McLane, This Blue (Farrar, Straus and Giroux)
Fred Moten, The Feel Trio (Letter Machine Editions)
Claudia Rankine, Citizen: An American Lyric (Graywolf Press)
Young People's Literature
Eliot Schrefer, Threatened (Scholastic Press)
Steve Sheinkin, The Port Chicago 50: Disaster, Mutiny, and the Fight for Civil Rights (Roaring Brook Press/ Macmillan Publishers)
John Corey Whaley, Noggin (Atheneum Books for Young Readers/ Simon & Schuster)
Deborah Wiles, Revolution: The Sixties Trilogy, Book Two (Scholastic Press)
Jacqueline Woodson, Brown Girl Dreaming (Nancy Paulsen Books/ Penguin Group [USA])