National Bourbon Day 2020 Deals on Jim Beam, Maker's Mark, Evan Williams and More
National Bourbon Day is today, Sunday, June 14, so celebrate this American whiskey with deals at Quality Liquor Store, Applejack, Ace Spirits, and more.
Bourbon is a kind of whiskey, but to be classed as bourbon it has to be made in the U.S. Additionally, as declared by Congress in 1964, bourbon is the only native spirit of the U.S.
While bourbon can be made anywhere in the U.S. to be classified as such, 95 percent of the world's bourbon is made in Kentucky, according to the Kentucky Distillers' Association. In fact, the whiskey is named after Kentucky's Bourbon County.
Additionally, to qualify as being bourbon, the drink has to compromise of at least 51 percent corn but no more than 79 percent, and it must be aged in charred new oak barrels. Bourbon should be stored at no more than 125 proof and bottled no less than 80 proof.
Best Bourbon 2020
While most bourbon comes from Kentucky, there are distilleries popping up all over the country. In fact, some distilleries outside Kentucky have been declared some of the best at the 2020 San Francisco World Spirits Competition.
The Best Special Barrel-Finished Bourbon award went to the Bardstown Bourbon Company Collaborative Series "Phifer Pavitt Reserve" Bourbon from Tennessee, the Best Straight Bourbon award went to Woodinville Straight Bourbon from Washington, and the Best Small Batch Bourbon—Up to 5 Years award went to Kings County Distillery Bottled-in-Bond Bourbon from New York.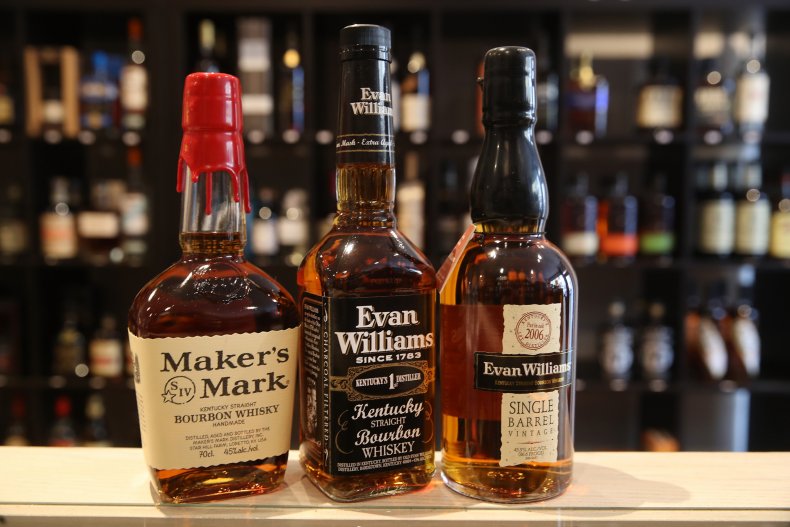 National Bourbon Day Deals 2020
While you may not be able to head to your favorite bar to enjoy some bourbon today, depending on your state's stay-at-home order restrictions, online liquor stores are hosting sales and offering discounts so whiskey fans across the U.S. can enjoy America's native spirit.
From famous brands like Jim Beam to Maker's Mark to lesser-known varieties, there is something for every bourbon fan to enjoy.
Quality Liquor Store
The Quality Liquor Store has some bourbons on sale on National Bourbon Day, including Howler Head Kentucky Straight Banana Bourbon Whiskey, Fistful of Bourbon, Journeyman Featherbone Bourbon, Pinhook 4 Year Bourbon Vertical Series, and Garrison Brothers Single Barrel.
Applejack
Celebrate National Bourbon Day with discounted bourbon from Applejack, including famous brands like Jim Beam, Maker's Mark, Evan Williams, Woodford Reserve, Knob Creek, and Wild Turkey.
Ace Spirits
Ace Spirits is hosting a sale on bourbon whiskey, with discounts on brands like 1792 Ridgemont Reserve Small Batch Bourbon, Maker's Mark, Big Six, Jim Beam, and Hudson Baby.
Newsweek has affiliate partnerships. If you make a purchase using our links, we may earn a share of the sale.