National Bourbon Day 2019: Best Deals at Walmart, Applejacks, Twin Liquor, The Whiskey House, and More
Today, June 14, is National Bourbon Day, so what better excuse do you need to have your favorite bourbon-based cocktail or drink?
What is Bourbon?
There is a saying: "All bourbons are whiskey, but not all are bourbon." This refers to the fact that for a whiskey to be classed as bourbon it has to be made in the U.S. It's not specific to any state, but most are made in Kentucky. Bourbon also has to comprise of at least 51 percent fermented Indian corn, and no more than 79 percent. Most use 70 percent corn.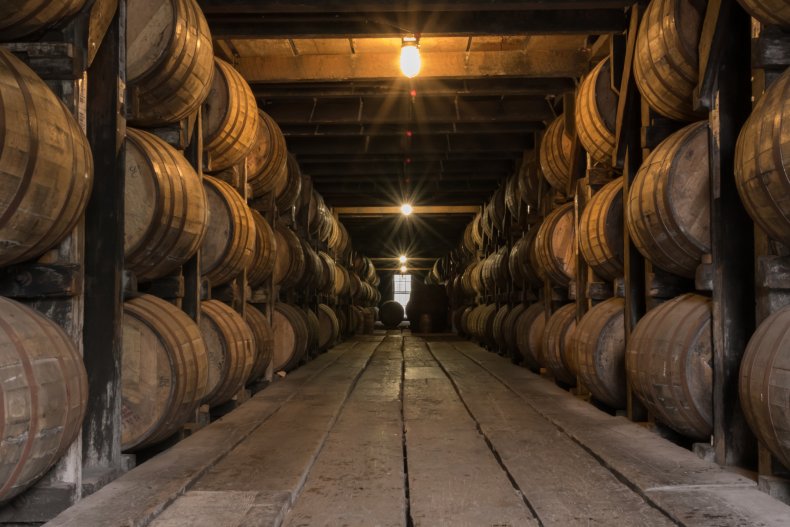 Bourbon must be aged for at least two years in a new oak barrel made from American White Oak. According to NationalBourbonDay.com, most types are aged four years or longer. The barrels are stored in large warehouses called rick houses, with the wood expanding and contracting based on the weather. For example, hot weather causes the pores of the wood to open up more and impart their flavor. Most bourbon is around 40-50 percent alcohol per volume.
Who invented bourbon?
As a member of the whiskey family, it won't surprise many to learn that bourbon most likely came from Scotland or Ireland. It is thought that settlers in the original American colonies in the 18th and 19th centuries created bourbon, including Scots-Irish descendants of the people who invented Scotch and Irish whiskies. However, there is no single person or family credited with inventing it.
Kentucky is well known for being the home of bourbon, with its name coming from Bourbon County in the state. The district was founded after the American Revolution around 1785. According to Charles K. Cowdery of the Whiskey Advocate and author of several books on bourbon, farmers would sell their corn crop by distilling it into whiskey.
In 1963, the House passed H.Con Res 57, which designated bourbon as a "distinctive product" of the U.S.
National Bourbon Day Deals
Walmart: The superstore has a select number of bourbons on sale online, with potential savings in-store.
Quality Liquor Store: The online shop has discounts on bourbon, including on Jim Beam Peach.
Applejack: There are several discounts on bourbon on the online store, though make sure you're over 21 before committing to buy.
AceSpirits.com: The online store has savings on bourbon.
TwinLiquors: The online store has a special on Jim Beam; buy two bottles of the Bourbon and save $8.
The Whiskey House: Celebrate bourbon while being surrounded by the Guinness World Record holding collection of whiskey. The Whiskey House in Downtown San Diego is offering a $24 special flight of bourbon for enthusiasts to enjoy, the company told Newsweek. Sip on a selection of the restaurants signature bourbons- Angels Envy Port Cask, Elijah Craig 12 Year, Knob Creek Single Barrel and Four Roses 9.5 Year Cask.
The Wharf, Miami: Celebrate National Bourbon Day at The Wharf Miami by buying any bourbon drink, and receive a free Wharf lager after 7:00 p.m. local time.
28 Collective: Worried what you'll drink your bourbon out of? The 28 Collective will be offering 20 percent off personalized bourbon decanters for National Bourbon Day, the company told Newsweek. Use code BOURBONDAY at checkout.
Easy Tiger, Austin, Texas: Grab a $3 House Old Fashioned or try from Easy Tiger's selection of rare Buffalo Trace Distillery Bourbon. This is at LINC and 6th Street locations.