National Breadstick Day 2019: How to Get Free and Cheap Breadsticks, Promo codes and More for Olive Garden, Little Caesars
National Breadstick Day is today, October 25. Here's how to get free and discounted breadsticks, or grissini, at your favorite restaurants like Olive Garden and Little Caesars. You can get free breadsticks using promo codes, signing up to e-clubs or by attending a generous restaurant that serves free breadsticks with every meal.
Breadsticks are known as "grissini" in Italian and they are a crucial part of any Italian meal. Grissini is important as they are used to mop up the sauce left in the bowl. This is called "Scarpetta", which translates to "little shoe". It is expected that you keep bread until the end of the meal to scoop up the rest of the sauce, so check out where you can get cheap and discounted breadsticks to ensure you never run out...
Restaurants where you can get free or discounted breadsticks include:
Olive Garden
Little Caesars
Fazoli's
Giordano's
Olive Garden
Olive Garden offers diners free unlimited breadsticks, soup, and salad. The free breadsticks at Olive Garden are one of the reasons the chain is so popular. Enjoy these sides with tasty Italian dishes like create-your-own pasta, chicken Alfredo pizza fritta, or fried mozzarella. Additionally, you can get a free appetizer or dessert when you join Olive Garden's eClub. You can also get Olive Garden breadsticks to go, with half a dozen at $4.49 and a dozen at $7.29, either baked or ready to bake at home.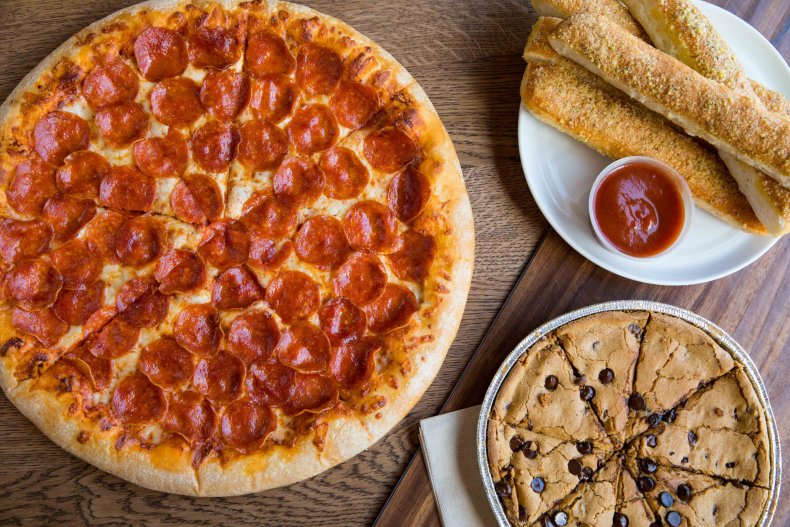 Little Caesars
Little Caesars Crazy Bread is eight breadsticks flavored with butter and garlic and sprinkled with parmesan cheese, to be enjoyed with the Crazy Sauce, which is a tomato dipping sauce with a special blend of herbs and spices. The Crazy Bread sells at around $3 – $3.99 depending on location. However, Little Caesar's is running a Crazy Bread promotion through today, so buying a pizza can get you free Crazy Bread with the promo code: FREECB3A, FREECB3B OR FREECB2.
Fazoli's
Like Olive Garden, Fazoli's offers diners free breadsticks when they dine in. The breadsticks are baked every 15 minutes to ensure they're always fresh. According to Fazoli's they serve more than 100 million breadsticks to their customers each year. Fazoli's also serves Breadstick Sliders, which are sliders topped with food like meatballs, Genoa salami, pepperoni, capicola, and mozzarella cheese.
Giordano's
If you sign up for the G-Club, you can get free breadsticks at Giordano's. Signing up entitles you to a free appetizer, which includes cheesy garlic bread and plain garlic bread. Then, enjoy Giordano's traditional Italian pizza, pasta, or sandwiches. Finally, indulge in tiramisu or oversized skillet cookie.