National Burrito Day Deals at Chipotle, Moe's, Del Taco and More
National Burrito Day is today, April 1, and multiple major restaurants are celebrating with tasty deals and offers—and who wouldn't want a free burrito?
National Burrito Day is celebrated annually on the first Thursday in April and National Today describes the day as "the perfect opportunity to fill your hungry belly with your favorite Mexican flavors."
Restaurants like Chipotle, Del Taco, and El Pollo Loco are among those commemorating the day by offering guests free or discounted burritos.
Although the day falls on April Fool's Day this year, rest assured that these deals are not pranks. There are plenty of opportunities to get cheap or free burritos, including buy one get one free deals so you can treat your friends and family, and there is even a chance to win free Bitcoin.
Find out below which restaurants are offering up free and discounted burritos for National Burrito Day.
National Burrito Day Deals
Abuelo's
Baja Fresh
Chipotle
Del Taco
El Pollo Loco
Moe's Southwest Grill
Abuelo's
Celebrate with a 50 percent discount on Abuelo's Durango Burrito by signing up for Mi Abuelo's Rewards program, downloading the app, and then ordering through the app, online, or in-store.
Baja Fresh
Join Baja Fresh Rewards and receive 50 bonus points loaded to your account. You'll earn one point for every $1 you spend, and once you reach 100 points, you will receive a $10 reward. What better day to sign up and start saving for a free burrito than a day dedicated to the dish itself?
Chipotle
To celebrate National Burrito Day, Chipotle will give away $100,000 in free burritos and $100,000 in Bitcoin. The giveaway will take the form of a new interactive game called "Burritos or Bitcoin" that will give players 10 tries to guess a six-digit code for a chance to win a free burrito or up to $25,000 in Bitcoin.
The game will go live at 12 p.m. ET on April 1 and will end later that evening at 9 p.m. ET. Ten thousand fans will win one free burrito, 50 fans will win $500 in Bitcoin and three fans will win $25,000 in Bitcoin.
Even if they lose, players may be surprised with a special offer from Chipotle. To enter, head to https://burritosorbitcoin.com/ when the contest is live.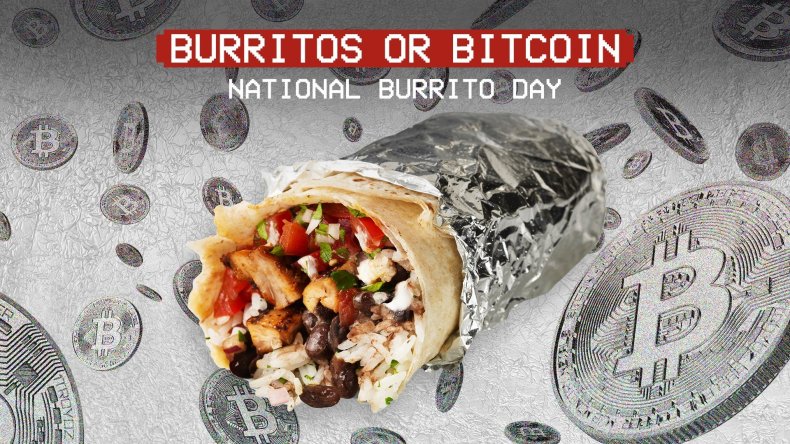 Del Taco
Not only is Del Taco is celebrating National Burrito Day, but it is also celebrating the launch of its new Honey Chipotle BBQ menu with a Buy One Epic Burrito, Get One Free offer via the Del Taco App, valid on April 1 only.
El Pollo Loco
Head to El Pollo Loco today to make the most of its buy one burrito get one free deal, or get two burritos when you purchase one by using the BOGO burrito offer in the El Pollo Loco app. The additional free burrito will be loaded onto your account on the app on April 2 and will be available to redeem any time in April.
Moe's Southwest Grill
Moe's Southwest Grill is celebrating by offering guests $5 burritos and bowls all day on April 1, with options including sirloin steak, chicken, and organic tofu, available in-store or via delivery through the Moe Rewards app.