National Candy Cane Day 2019 Deals From Walmart, Target, Oriental Trading and More
December 26 is National Candy Cane Day, which celebrates the cane-shaped striped stick candy.
The popular confectionery has been a fixture of Christmas festivities around the world, but its origin can be traced back to Germany in 1670, when a choirmaster at the Cologne Cathedral was said to have handed out the candy cane sticks in a bid to keep the children quiet at a church service during a nativity play.
The choirmaster was said to have asked that the candy be made by a local candy maker in the shape of a cane as a symbol of the staff held by shepherds in a bid to remind children of the shepherds who visited baby Jesus in the nativity story.
The first recipe for the peppermint candy cane was believed to have been unveiled in 1844. The earliest candy canes were made by hand and the first candy cane making machines were introduced around 1919 by Robert McCormack, from Atlanta, Georgia, who later became one of the largest candy cane producers in the world.
But the curved shape of the candy cane was still created by hand until 1957, when the Keller Machine, which automatically bent candy canes into their curved shapes, was introduced.
Candy canes were only available in white for nearly 200 years, and the red stripes did not appear until around the turn of the 20th century, according to the National Confectioners Association.
Around 90 percent of candy canes are sold between Thanksgiving and Christmas and they are the top-selling non-chocolate candy in December, with the second week of the month seeing the biggest candy cane sales, according to the National Confectioners Association.
Candy Cane Deals
Save $25 on a box of 96 individually wrapped peppermint candy canes from Brach's, priced at $44.9 (reduced from $69.99) at Walmart.
Buy a 240 count box of Spangler Red and White Peppermint Mini Canes for $19.85 at Walmart.
Enjoy a slight twist on the traditional candy cane shape and flavor with Hot Cocoa Hard Candy Spoons, which can be used as a stirring spoon when drinking hot cocoa. Save 51 percent on a dozen of these, priced at $6.18 (reduced from $12.59) at Oriental Trading.
Buy a box of 60 Holiday Peppermint Candy Canes for $1.04 (reduced from $1.49) or box of 24 Holiday Fruity Candy Canes for $1.88 (reduced $2.69) from Wondershop at Target.
Get a 12 count box of Hershey's Chocolate Mint Holiday Candy Canes for $2.09 (reduced from $2.99) at Target.
Newsweek has affiliate partnerships. If you make a purchase using our links, we may earn a share of the sale.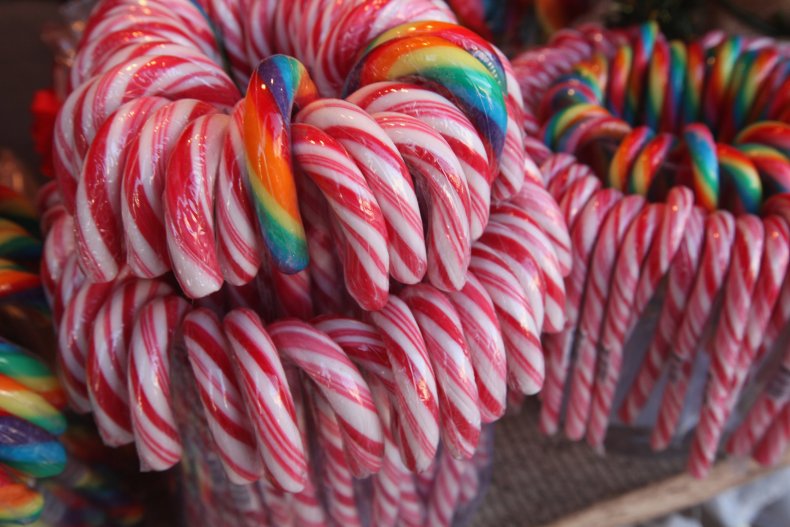 National Candy Cane Day 2019 Deals From Walmart, Target, Oriental Trading and More | Culture