National Champagne Day Deals from Drizly, Gourmet Gift Baskets, Crystal Plus and More
Today (December 31) is National Champagne Day and what better way to celebrate than to toast in the New Year with a glass of bubbly?
There are several tales of how expensive wine was invented. Many believe that champagne was invented by Dom Perignon, a Benedictine monk, when he discovered the 'methode champenoise' at the Abbey of Hautvilliers in 1697.
However, according to the Adam Smith Institute, the method of making the sparkling wine was discovered in 1662 by an Englishman called Christopher Merret. The scientist, in fact, delivered a paper to the Royal Society 35 years prior to Perignon's "discovery", detailing how to add sugar to the finished wine, creating a secondary fermentation in the bottle.
How it was invented aside, champagne itself is named after the region it is grown and made in France. According to Britannica Encyclopedia, the Champagne region—thought to derive from the Celtic "kann pan" which means "the white country"—is divided into two parts; the Dry (Pouilleuse, which also translates as "lousy") Champagne in the west and the Wet (Humide) in the east. The region is home to an extensive range of vineyards, with many of the most famous brands of champagne based there.
According to the Statista Holiday Season & New Year 2019 survey, 26 percent of Americans will be toasting in the New Year with a glass of champagne, drinking brands such as Dom Perignon. The same survey says that 29 percent of Americans don't exclusively drink champagne at midnight and will consume the sparkling wine throughout the night.
Known for its price tag as well as it's fizz, some bottles of champagne are worth thousands, sometimes, millions of dollars. According to Finance Online, the following bottles are the most expensive in 2019: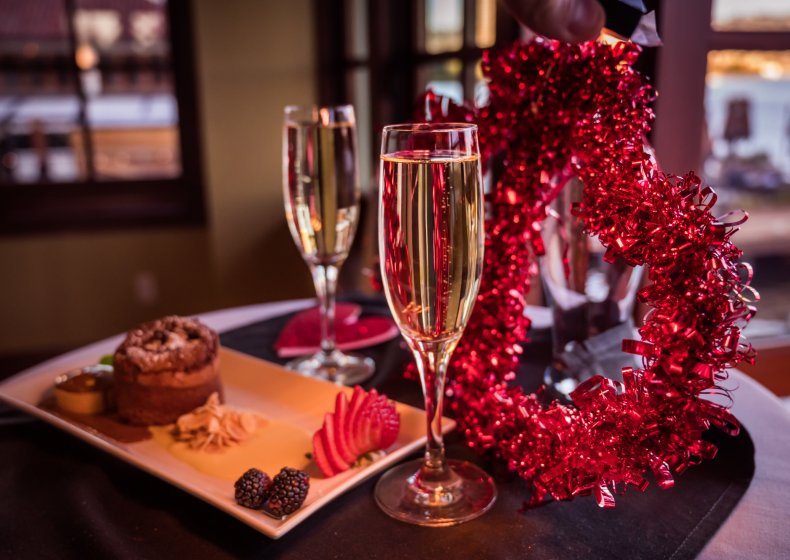 To help make the most of National Champagne Day, Newsweek has teamed up with Coupon Follow to provide deals that will stock up the wine rack for the year 2020.
National Champagne Day 2019 Deals
Drizly Alcohol Delivery has $15 off a purchase of $30 or more with code CFSCHAMPAGNE on December 31, 2019, only. Check out drizly.com to see all products offered.
GourmetGiftBaskets.com has 15 percent off all their champagne gift baskets with code CFBUBBLY. Gifts include:
Classic Champagne Gift Basket, which includes La Marca bubbly, hors d'oeuvres, chocolates, and more.
Champagne & Truffles, which includes sparkling wines, French truffles, and more.
A Toast To You, which includes La Marca Prosecco, dark chocolate sea salt cashews, and more.
DylansCandyBar.com has 30 percent off their Strawberry and Champagne Gold Bar as well as their Champagne and Black Currant Truffles with code CF30BUBBLY
Crystal Plus has an extra 10 percent off all drinkware for your champagne needs using code CF10, December 31, 2019, only on crystalplus.com
Newsweek has affiliate partnerships, so if you make a purchase using our links we may earn a share of the sale.