National Cheese Pizza Day Deals from Pizza Hut, Cici's Pizza, Blackjack Pizza and More
Today (September 5) is National Cheese Pizza Day and what better way to celebrate with discounts, freebies and cheesy, doughy goodness?
Americans definitely love their pizza. Frozen pizza sales in the U.S. amounted to approximately $5.47 billion in 2020, according to Snack Food & Wholesale Bakery and IRI, up from the previous year's sales of $4.95 billion. In 2019, Domino's Pizza was the leading pizza restaurant chain in the U.S., followed by Pizza Hut and Little Caesar's respectively, according to a survey done by Restaurant Business and Technomic.
While pizza is a popular dish in America now, its origins comes from Europe. Considered to be birthed in Italy, with Naples considered to be one of the best places to eat the Roman dish, Italians brought over the "Neapolitan pizza" to New York City. According to Britannica, the first pizzeria opened in New York City in 1905, with the pizza business booming during the WWII.
Unfortunately, we don't have flights awaiting pizza fans to the hometown of the doughy dish. But Newsweek has sourced some great deals to help people across the country make the most of this delclious day.
National Cheese Pizza Day Deals
BLACKJACK PIZZA: Two offers for the Colorado-based pizza delivery chain, courtesy of Don't Pay Full. Get 30 percent off your order with code "30XFF" or buy one large 3-topping pizza for only $13.99 using code "TTL".
Cici's Pizza: The American buffet restaurant chain, which is based in Irving, Texas, has two offers for people in the U.S. this National Cheese Pizza day. You can get 3 for $5 each for pizza, cheesy bread or cinnamon rolls or free cinnamon rolls with a large specialty pizza purchase, according to Don't Pay Full.
Pizza Hut: One of the most well-known pizza brands in the world is offering a tastemaker large pizza with up to three toppings for only $10. Make sure to visit Don't Pay Full for more details.
Pasqually's Pizza & Wings: You can celebrate National Cheese Pizza Day by getting your hands on the Ultimate Cheese Lover's Special and this chain. From today through Monday, September 7, guests can get a free large cheese pizza when they order any large specialty pizza.
The Ultimate Cheese Lover's Special is available through Postmates, UberEats, GrubHub and Door Dash, the company told Newsweek. In the Ultimate Cheese Lover's Special, guests will choose which large specialty pizza (All-Meat, All-Veggie, Supreme or Homestyle BBQ Chicken) they are craving and their large cheese pizza is added automatically.
La Margarita Pizzeria: Head down to the Lower East Side of New York to get a 10 percent discount for pick-up and delivery orders. Order online and use code "CHEESEPIEDAY" for orders above $15 on National Cheese Pizza day.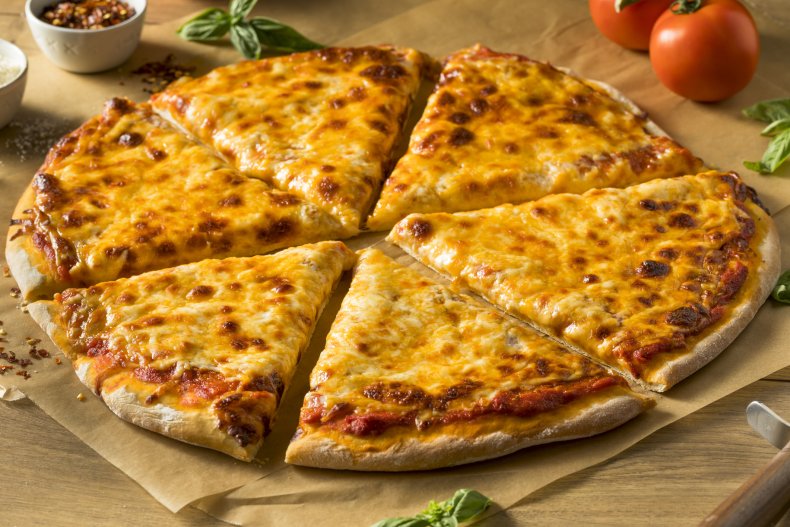 Newsweek has affiliate partnerships. If you make a purchase using our links, we may earn a share of the sale.