Is there anything better than a cheeseburger?
National food holidays are great for a bargain, and September 18 brings us National Cheeseburger Day. That's right, be in the right restaurant and the right time and you can grab yourself a free cheeseburger. Did you read that right? Yes, you did. Free cheeseburgers!
Before we give you a list of free deals (scroll down if you can't wait), why not bone up on your burger history? It turns out, there are several claims to the invention of the cheeseburger—the earliest dating back to the mid-1920s, according to National Day Calendar. Legend says a man called Lionel Sternberger invented the cheeseburger in his father's Californian sandwich shop, The Rite Spot, in 1926.
Others places have made similar claims, however. O'Dell's in Los Angeles states it was the first to list a cheeseburger, circa 1928. It came smothered in chili and sold for 25 cents ($3.69, adjusted for inflation). Six years later, Kaelin's restaurant in Louisville, Kentucky claimed it invented the cheeseburger. Whoever did, God bless you.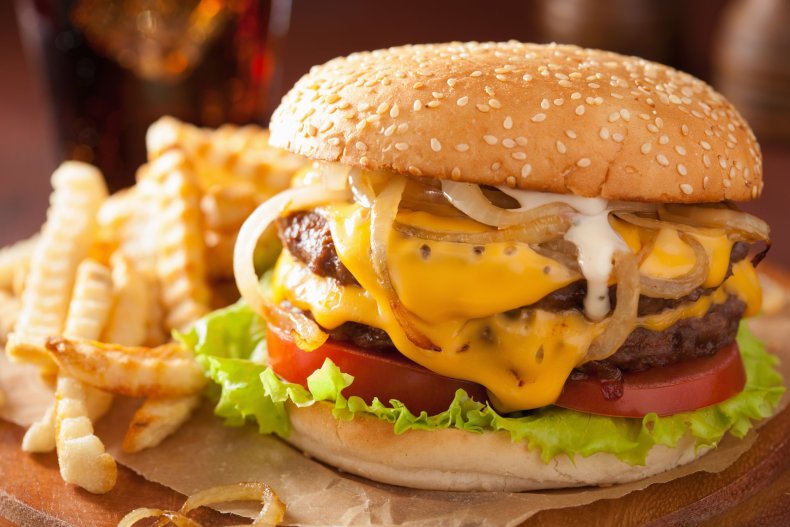 So, without further delay, here are some of the best places to grab a cheeseburger deal:
IHOP, a chain that jokingly changed its name from International House of Pancakes to International House of Burgers recently, has a plan to combine the two. Head into your local restaurant between 7 a.m. and 10 p.m. for a free plate of pancakes with any Ultimate Steakburger.
Red Robin, in metropolitan Detroit, is shaving $2 off its combo deal. Grab a gourmet cheeseburger with bottomless fries for just $5 throughout the day when you dine in.
BurgerFI wants you to double down on the cheeseburger goodness. Grab your first burger at the regular price, and if you're extra hungry, grab a second one for just $1. You've got until the end of the day.
McDonald's wouldn't dare miss out on all the fun. You'll have to download the app for this deal, but anyone who makes an order on their phone will get a free cheeseburger thrown in the bag as well. Free is always good.
Wendy's will take a break from its incredible Twitter game and offer up a similar deal to the Golden Arches. Grab the app, make a purchase and you'll get a free Dave's single included—that's Wendy's classic cheeseburger, for anyone not up with the lingo. Even better, you have until the end of September to enjoy this offer.
Wayback Burger is on board with the app deals (last app-related one, we promise). Download the restaurant's app and you automatically get a free classic burger. Make a purchase, and there's buy one, get one free. In case you needed more reason, the Wayback Cheeeesy Burger has four slices of cheese in it.
Johnny Rockets knows a cheeseburger is only as good as the milkshake that you get with it. For the day of days, the restaurant is offering half price on your second burger and half price on your second milkshake. Grab a friend and share the savings.
White Castle is offering a simple, but delicious, deal. Purchase anything you want from the menu and you'll get a free cheese slider. Small fries anyone? You will need a coupon, but we've got you covered here.
Burger Theory, a burger chain owned by Holiday Inn, could top the lot. The chain is giving away 10,000 classic cheeseburgers. "What's the catch," I hear you ask? There isn't one. As long as you make it in before the 10,000 limit is hit, you'll be getting a free cheeseburger. You can find a full list of restaurant locations here.