National Cheeseburger Day 2020 Deals at McDonald's, Applebee's, Smashburger and More
National Cheeseburger Day is today, September 18, so why not celebrate and make the most of these deals? Major restaurants like McDonald's and Applebee's are celebrating with cheap prices and bundles, and with options for take-out and delivery, everyone can celebrate the classic American foodstuff today.
National Cheeseburger Day Deals
McDonald's
BurgerFi
Smashburger
Applebee's
Steak 'n Shake
McDonald's
McDonald's is celebrating National Cheeseburger Day with $0.50 Double Cheeseburgers.
A deal exclusive to its app, McDonald's is throwing back to the seventies, when the cheeseburger was last so cheap. McDonald's Double Cheeseburgers were introduced to the menu in 1963, and cost just $0.50 from 1971 until 1973, when the price was raised to $0.55.
To claim a McDonald's Double Cheeseburger with a 1971 price tag, download the McDonald's app and register. Either use the 'Mobile Order and Pay' option and add the deal or scan the deal code at the drive-thru, front counter, or kiosk.
The deal is limited to one per customer, is valid at participating McDonald's restaurants on September 18, and excludes tax.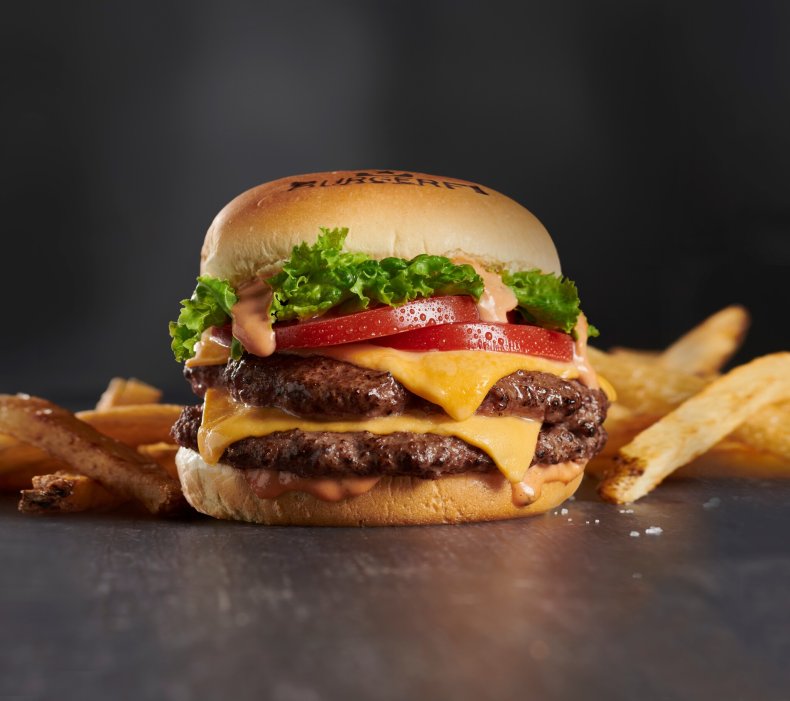 BurgerFi
To celebrate National Cheeseburger Day, BurgerFi is giving its customers a $10 reward when they make a purchase of $10 or more on September 18, essentially giving customers twice the amount of burgers and fries for their money.
To claim the deal, purchase $10 worth of burgers and fries to receive a $10 reward to use on the BurgerFi app from September 19 through October 11. The deal is available in-store and the BurgerFi app but will not be available online or through third-party delivery orders.
Smashburger
Smashburger is selling its Classic Smash Double Burger for only $5 on National Cheeseburger Day. In some locations, customers can get a $3 White Claw with their Double Smash.
Applebee's
Applebee's is celebrating the day with a Burger Bundle for $8.99. Order any handcrafted burger and get a side of fries and a 30-ounce drink. This option can be claimed for dine-in, take out or delivery.
Steak 'n Shake
If you're a little late to National Cheeseburger Day, Steak 'n Shake has an extended deal. From September 18 through September 24, Steak 'n Shake is offering loyalty app members $2 off the Double 'n Cheese Steakburger.
To claim this deal, place an order through the app. If you are new to the app, you can also claim a free milkshake with your first purchase as a member.