National Chili Day 2020: Recipes To Win A Chili Cook-off and How To Make Vegan Chili
Today (February 27, 2020) is National Chili Day, swiftly following National Margarita Day, which means a week of salty beverages and spicy meals. To help Americans across the country celebrate this day, Newsweek collected below recipes from some of the most well-known chefs and foodie influencers today.
Where Did Chili Originate?
The consensus is that chili was created in southern Texas rather than Mexico. According to What's Cooking America, a translation of Diccionario de Mejicanismos, published in 1959, describes Chili as "detestable food" that passes itself off as Mexican.
In 1977, Craig Claiborne wrote for the New York Times, that while Native Americans used chili for one dish or another, Chili was not invented by them. According to the article, Native Americans did not know about the large "domesticated" chilies until the Spanish brought them over to the U.S. after passing through Mexico.
Today, Americans enjoy eating chili. According to data analyzed by Statista from the U.S. Census and Simmons National Consumer Survey (NHCS), 128.99 million Americans consumed chili—canned or ready-made—in 2019.
National Chili Day Recipes
Binging with Babish: Inspired by the chili made by Kevin Malone from The Office, this dish includes ingredients such as cocoa, cumin, lager, and brown sugar.
Simply Mama Cooks: Another meat-based chili recipe, the culinary mother of a blended Korean- and Mexican-American family has created a true home-cooked meal suitable for every family member. Ingredients include paprika, chipotle pepper in Adobo sauce, pinto beans, and corn starch.
Jamie Oliver: Taking a veggie approach, Oliver created this chili using sweet potatoes roasted until caramelized. The meal includes four of your five of your daily fruit or vegetables and includes ingredients such as coriander, red and yellow peppers, and cinnamon.
The Domestic Geek: This video shows how food lovers can get creative with chili. Choose from Classic Chili, Vegetarian Black Bean Chili, or White Chicken Chili.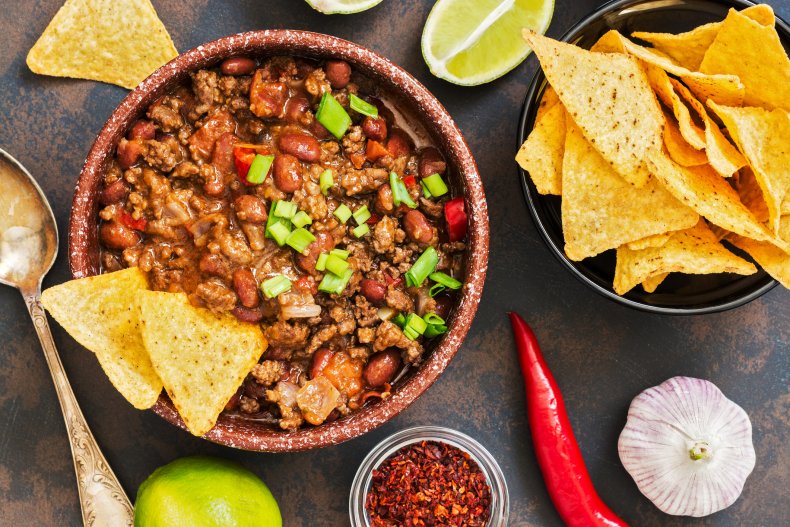 Vegan Chili Recipes
The Minimalist Baker: This vegan-friendly recipe takes inspiration from Indian curries, according to The Minimalist Baker. Just pop all the ingredients into a pot and cook away.
Brand New Vegan: According to its YouTube channel, this Chili recipe has placed many times in various Chili cook-offs, one time placing second against nine other non-vegan entries in Texas.
For those who don't want to cook at home, check apps such as GrubHub or Uber Eats to see if local restaurants are delivering.