National Chili Dog Day 2019: History, Facts, Recipes and Vegan Chili Dog Alternatives
Today (July 25, 2019) is National Chili Dog Day (not to be confused with National Hot Dog Day) and Newsweek has rounded up recipes to help you celebrate in the warm weather.
Hot Dog Facts and History
To start, the sausage is one of the oldest forms of processed food. It was in fact mentioned in Homer's Odyssey, which dates as far back as the 9th century B.C.
According to the National Hot Dog and Sausage Council (NHDSC), a hot dog is not a sandwich. So try to avoid this faux pas in the future.
A chili dog is considered to be a hot dog with meat on the top such as chili con carne or even pulled pork. However, many believe that hot dogs have to be meat-based or it cannot be counted as a hot dog.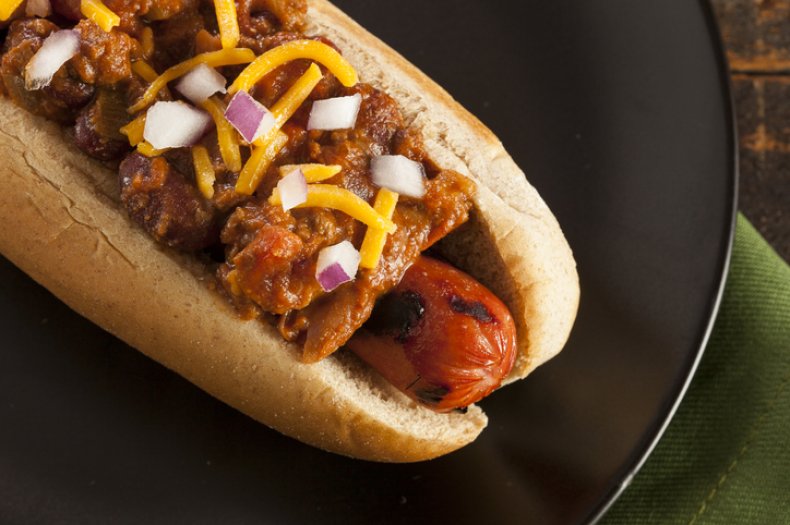 In 2018, consumers spent more than $3 billion on hot dogs in U.S. supermarkets and consumed 7 billion dogs between Memorial Day and Labor Day. The NHDSC also says that on Independence Day, Americans are expected to enjoy 150 million hot dogs, which is enough to stretch from Washington, D.C. to L.A. more than five times.
The food is also universal; hot dogs were one of the first foods eaten on the moon. It's also loved by royalty; President Franklin D. Roosevelt served hot dogs to King George and Queen Elizabeth when they visited the U.S.
National Chili Dog Day Recipes
Gordon Ramsey: Our favorite foul-mouthed TV chef has created this chili dog recipe for you to try at home.
Food Busker: This recipe recreates the New York dog with spicy mustard, the sweetest crispy onions and a deliciously smoked frankfurter.
Rachael Ray: With spiced-up chili topping and split-and-griddled hot dog, these make for a super special chili-cheese dog.
Coney Island Hot Dogs: This recipe by Weekend at the Cottage brings the Michigan-famous dog to people everywhere.
Vegan Chili Dog Recipes
Let's be frank, while some believe a meat-free hot dog is the work of seitan, we're not going to leave out those rooted in their beliefs. So here are some vegan-friendly recipes to get your teeth stuck into.
Smokey Carrot Dogs: Who needs meat? Brand New Vegan has created this recipe to help meat-lovers everywhere ditch the frankfurters and embrace the carrot.
If you'd like to add some chili onto it, try this vegan chili recipe by It Doesn't Taste Like Chicken.