National Chocolate Chip Cookie Day: Best Deals and Recipes to Make the Perfect Batch of Cookies
Today (August 4, 2019) is National Chocolate Chip Cookie Day in the U.S. This important day, perfect for sugar-loving snackers, is not to be confused with National Cookie Day or National Chocolate Chip Day.
The delicious snack was created by Ruth Wakefield, who ran Toll House restaurant in Whitman, Massachusetts, according to The New Yorker. The recipe first appeared in print in the 1938 edition of Wakefield's "Tried and True" cookbook as an accompaniment to ice cream.
Because we're also a big fan of the chocolate chip cookie, Newsweek has picked out the top offers to help you celebrate this sweet day.
For those who want to get creative at home, we have also pulled together recipes to make the perfect batch of homemade chocolate chip cookies, including vegan-friendly recipes.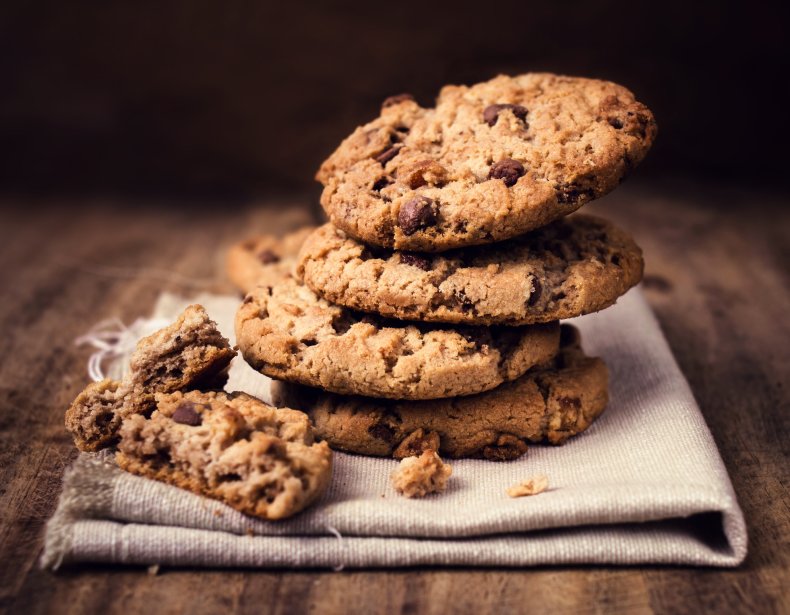 Chocolate Chip Cookie Deals
DoubleTree Hilton Los Angeles: Stop by on August 4 and get a complimentary signature warm DoubleTree Cookie in celebration of National Chocolate Chip Cookie Day.
Christie Cookie Co: To celebrate its 35th Anniversary, the cookie company is offering a $100 gift card for one lucky winner in honor of National Chocolate Cookie Day.
Chuck E. Cheese: Nothing has been announced as of yet, but normally on this day you can get a free warm cookie with every pizza purchase (each purchase comes with a free dessert.)
Baskin-Robbins: According to Offers.com, you can get $3 off when you spend over $15 using code HAPPYBDAY.
Corner Bakery Café: Get a free dessert for signing up for the eClub at www.cornerbakerycafe.com/eclub, according to its website.
Dairy Queen: Join the Blizzard Fan Club, and get six "buy one, get one free" Blizzard Treat coupons in a year, according to the company's website. Also, try its new Chocolate Chip Cookie Dough Blizzard Cake.
Great American Cookies: Download the company's rewards app to get some sweet treat rewards, according to the company's website.
Krispy Kreme: Join the chain's reward program and get a free doughnut of your choice.
How to make a perfect batch of homemade chocolate chip cookies
The best chewy chocolate chip cookies: This recipe only takes a couple of hours, but you'll be left with sensational chocolatey cookies that melt in the mouth.
Martha Stewart's special chocolate chip cookie recipe: You can't go wrong with one of Martha's recipes. Here she makes flat cookies suitable for any special occasion... not that anyone needs a special occasion to eat cookies.
Vegan Chocolate Chip Cookies: Using chickpea brine, Mary's Test Kitchen brings to life this vegan-friendly recipe, using her own adaptions. The recipe also uses vegan-friendly sugar, which you can find out more about on Mary's Test Kitchen's website.
Happy eating and don't forget to share your creations with your loved ones.