National Chocolate Day 2019: How to Get Free Chocolate, Plus Deals, Discounts and Promo Codes at Godiva, Hershey's and More
National Chocolate Day 2019 is today, so you don't have to wait for Halloween to start indulging in chocolate treats? Chocolate brands like Godiva, Ghirardelli and Hershey's have discounts, deals and promo codes to help you save on the good stuff this National Chocolate Day.
Save on bulk chocolate, use discount and promo codes, find out how to get free chocolate products and enter a contest for the chance to win free chocolate for a year.
Godiva Chocolate Deals and Promo Code
Celebrate National Chocolate Day with Godiva, which is offering customers a free chocolate case piece with any purchase on October 28. The offer is valid at Godiva Boutique, Café and Outlet locations while stocks last. You can also take 20 percent off a $50 purchase or 25 percent off a $100 purchase when shopping online, as well as free shipping on orders over $60. Additionally, use the Godiva promo code HALLOWEEN to receive a free trick-or-treat bag with orders over $50.
Hershey's Chocolate Deals and Promo Code
Save on Halloween-themed chocolate like Pumpkin Pie KitKat miniatures, Hershey's Halloween Assortment Stand Up Bags and Assorted Miniatures Skull Bowls. Stock up on chocolate treats perfect for a Halloween party or to give away to trick-or-treaters. Spend $75 and save 15 percent, spend $100 and save 20 percent, or spend $125 and save 25 percent with the Hershey's promo code: HALLOWEEN. You can also save on select Standard Bar Boxes, which typically sell for between $21.99 and $39.99, but you can get two boxes for $70 for a limited time.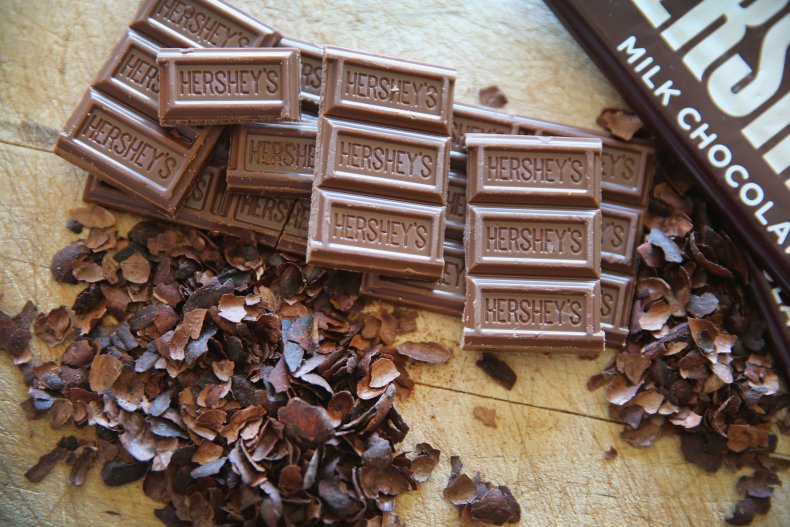 Ghirardelli Chocolate Deals and Promo Code
Save 15 percent on bulk chocolate at Ghirardelli—perfect for Halloween, Thanksgiving or Christmas parties. You can get a case of 540 Peppermint Bark Squares for $156.36 instead of $183.95 or 500 limited edition Milk Chocolate Snowmen for $144.46 instead of $169.95. Or, sign up to Ghirardelli's newsletter for ten percent off your next order. Additionally, customers in select states can get free shipping on orders over $75 with the promo code: FREESHIP75.
Simply Chocolate Contest
You can win free chocolate for a year with Simply Chocolate as part of its National Chocolate Day celebrations. The year's supply of chocolate comes in the form of 12 $50 gift certificates, so you can treat yourself every month for a year. Additionally, there is a second prize of a Simply Chocolate Jubilation Gift Basket worth $99.99 and a third prize of a Simply Chocolate Autumn Sweets Basket worth $69.99. You can enter now until October 28 and the winner will be announced on October 29.
Top Chocolate Facts
Chocolate, or the cocoa bean, was used as currency in Mayan times and was considered to be worth more than gold dust.
According to the International Cocoa Organization, Mars is the biggest manufacturer of chocolate. Its net sales for 2018 were $18 billion.
Cacao Beans come from the Theobroma Cacao tree, which means "food of the gods" in Greek.
White chocolate was considered confectionary by the U.S. Food and Drug Administration until 2002 when The Hershey Food Corp. and the Chocolate Manufacturers Association successfully petitioned to change its status to chocolate.
Correction: This article has been updated to state that Mars' net sales for 2018 were $18 billion, not $18 million.