National Chocolate Milkshake Day 2019: Best Deals, Recipes to Help You Celebrate
Today (September 12) is National Chocolate Milkshake Day, and just in case anyone needed an excuse to have a chocolate milkshake, Newsweek has compiled some of the scrummiest recipes and deals to help you celebrate.
The term milkshake was initially coined in 1885 when it was first published as a recipe with whiskey as an ingredient. But it wasn't until the 1930s when it was first sold in malt stores, according to Food Network.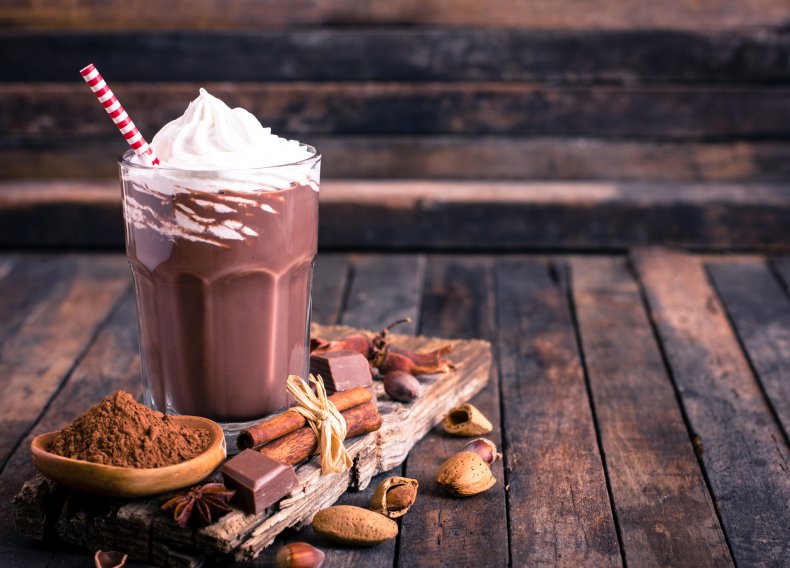 Milkshake lovers started asking for the drink to be made with ice cream, with others using malt milk, and a Walgreens in Chicago sold the first chocolate malt milkshake in 1922. But chocolate milkshakes were also used for more deadly reasons. The CIA attempted to assassinate Cuba's Fidel Castro in 1963 using a poison pill slipped into a chocolate milkshake.
Milkshakes today can be made with ice cream or milk and can be enhanced with syrups or toppings. Chocolate milkshakes can be made with white, milk or dark chocolate, with different flavors such as Oreo and Nutella.
Chocolate milkshake recipes
Ultimate Nutella milkshake: What's better than a chocolate milkshake? One made from Nutella. Mix vanilla ice cream, hazelnut ice cream, sweetened condensed milk, whole milk and Nutella. Then blend until you have your desired thickness.
Oreo milkshake: You only need three ingredients to make this delicious shake; Oreos, milk and vanilla ice cream. You can top it with chocolate syrup or sauce to finish it off.
Vegan chocolate milkshake: For those out there who can't have dairy or choose not to, this recipe is for you. Use soy milk (or any non-dairy milk), dates, cocoa powder and frozen bananas, and then blend.
White chocolate and peppermint milkshake: A twist on milk chocolate, this also has the extra goodness of liqueur. Add ice to a glass, pour in vodka, peppermint schnapps and white chocolate liqueur, and milk. Shake like a cocktail and decorate your jar.
Chocolate milkshake deals
If you're not at home during National Chocolate Milkshake Day, make the most of these deals.
Steak and Shake: Get half price on milkshakes during happy hour (2-5 p.m.) on weekdays. You can also get a free milkshake with your free app purchase.
Sonic Drive-in: Every day from 2-4 p.m. get half price on Sonic drinks and slushes and get corn dogs for 99 cents.
Famous Milkshakes
Milkshakes have also made it onto our screens. Do you remember these references?
$5 shake from Pulp Fiction
The shake, which would be worth $20 today, is purchased by Mrs. Mia Wallace. Today, it is also urban slang for something that's more expensive than it's worth.
"I drink your milkshake" from There Will Be Blood
In the film, Daniel Day-Lewis' character uses this line to insult his opposition. In today's urban slang, it can be used after dumping a girl/boyfriend, quitting a job or scoring a winning point.
"Milkshake" by Kelis
"My milkshake brings all the boys to the yard" has stayed in our minds ever since singer Kelis released her song "Milkshake" back in 2003. Milkshake is used to describe a woman's sex appeal, and in the song, Kelis talks about how she attracts all the boys.