National Cookie Day 2019: When is National Cookie Day? Deals from Insomnia Cookies, Jack in the Box, Shake Shack and More
Today is National Cookie Day (December 4, 2019) and what better way to celebrate than bagging some sweet deals and freebies across the U.S.
To help save precious time, Newsweek has rounded up what is on offer.
Hudsons Yard: New Yorkers will be lucky enough to get their hands on a bag full of sweet treats at this complex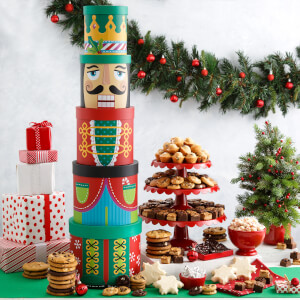 Mrs. Fields and other companies are offering deals and freebies this December 4, 2019
Mrs. Fields
William Greenberg Desserts: The bakery opened its doors in 1946 and is known for its signature sugar cookies with classic hand-frosted sugar icing. Normally $4.50 per cookie or $54 for a dozen, you can get free on National Cookie Day at the concierge booth
Neiman Marcus Cookies: On December 4, these cookies will be free from the concierge booth
Citarella's: Customers will have the opportunity to decorate their own large gingerbread men with edible markers, and get samples of bubbles from the wine store to celebrate its first holiday season in the New York shopping complex
Mercado Little Spain: Shoppers can take part in cookie tasting sessions at Colmado (10:00 a.m. to 10:00 p.m.) and Kiosho (10:00 a.m. to 6:00 p.m.) as well as get 15 percent off a $25 purchase of turrones and cookies through December 4. 2019
Belcampo: Receive a free chocolate chip cookie with the purchase of any of its delicious burgers made with Belcampo's signature prganic, 100 percent grass-fed beef from its Californian farm
Electric Lemon: Receive a free hazelnut chocolate chip cookie dressed with a pile of sunchoke chips with the purchase of any meal at Stephen Starr's Electric Lemon at The Equinox Hotel, 33 Hudson Yards 24th Floor
Hudson Yards Grill: The American restaurant will offer all diners a complimentary holiday cookie as they leave the restaurant
Shake Shack: The Christmas Cookie Shake will be available on National Cookie Day, which features sugar cookie frozen custard topped with whipped cream, crumbled shortbread, and holiday sprinkles
Jack in the Box: From National Cookie Day until Sunday, December 15, 2019, customers can order Jack in the Box through Grubhub to get themselves a free large Oreo Shake with free delivery, the company told Newsweek. All that cookies lovers have to do is add one large Oreo Shake to their order and the promotion will automatically be applied upon checkout, as well as the free delivery. Users need to place a minimum order of $15 at Jack in the Box through the app
Mrs. Fields: The bakery is providing a free cookie in store with any purchase on National Cookie Day. Also, with the purchase of the new Mrs. Fields Nutcracker Sweet Tower, cookie lovers can send a bestselling Peace, Love & Cookies 30 Nibbler Tin to a friend for free
Cheryl's Cookies: The bakery is inviting buttercream frosting fanatics to indulge in exclusive deals online and at retail locations:

Online shoppers will receive free shipping sitewide all day long with 50 percent off the Sparkling Holiday Gift Tower on December 4, 2019
Visitors to all retail store locations on National Cookie Day can take advantage of 50 percent off select items, free samples and enter to win the Traditional VIP Gift Tower—a delicious assortment of 73 gourmet treats that retails at $99.99, the company told Newsweek

Until December 8, in-store shoppers can take 50 percent off the Holiday Cookie Box and everything needed to create their own Cheryl's Cookies assortment—including Doughballs, Cut-Out Cookie Dough and Cheryl's Cookies Buttercream Frosting

Insomnia Cookies: Popular on National Cookie Day 2018, according to Google Searches, this bakery is taking part again. On December 4, cookie lovers can stop in any Insomnia Cookies bakery for one free traditional cookie, no purchase necessary, and a 12 pack of Sugar Rush for only $12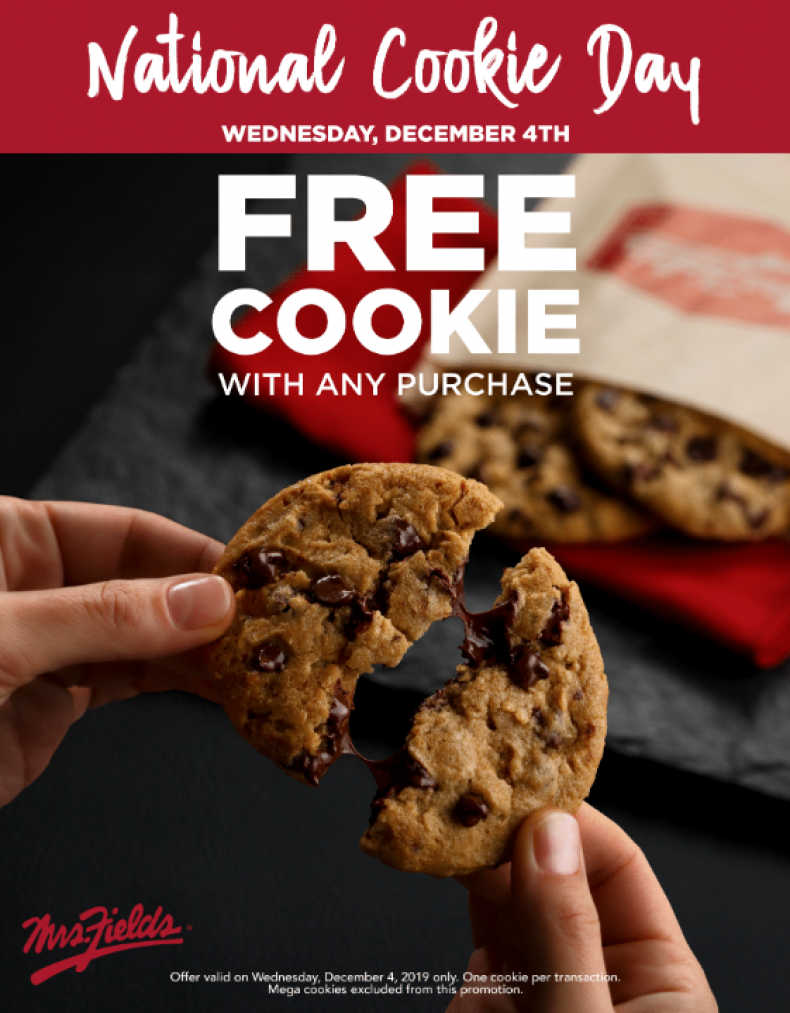 Newsweek has affiliate partnerships. If you make a purchase using our links, we may earn a share of the sale.
National Cookie Day 2019: When is National Cookie Day? Deals from Insomnia Cookies, Jack in the Box, Shake Shack and More | U.S.