National Cookie Day Deals from Nestlé, Subway, Mrs. Fields, Keebler and More
National Cookie Day is today, December 4, and top brands like Nestle Toll House, Subway, and Mrs. fields are celebrating with free and discounted cookies.
Celebrate National Cookie Day by entering giveaways and contests to try and win free cookies, or come up with your own concoction in the hopes of winning the yummy job title of Cookie Connoisseur.
There are plenty of ways to celebrate this tasty holiday, so keep on reading to find out how to treat yourself to some free cookies on National Cookie Day.
Nestlé Toll House
WIn free cookie dough from Nestlé Toll House by sharing your baking fails on Twitter. Reply to Nestlé's giveaway tweet by describing your baking fail in 140 characters or less and use the hashtags #TollHouseRescue and #Sweepstakes. Today is the last day to enter, so be quick.
Subway
Subway is celebrating National Cookie Day by extending it for a whole week and offering customers a free Caramel Brownie Cookie with the purchase of any Footlong from December 4-11.
Keebler
Keebler is hosting a TikTok challenge and giving away a year's worth of cookies for National Cookie Day. From 9 a.m. ET on December 4 until December 8, the #Keebler50in50 challenge will be live on TikTok, and TikTokers will be challenged to stack 50 Fudge Stripes in 50 seconds.
To enter the giveaway, all cookie fans need to do is head to TikTok, follow @keebler, watch the challenge video, tag a friend, and leave a cookie emoji in the comment section. They do not need to create a video to enter the giveaway, though they can if they feel up to the challenge. Fifty winners will be selected at random and they will win 50 weeks' worth of free cookies.
Mrs. Fields
Mrs. Fields is offering a discount on its new Heartfelt Holiday Gram, which will have 40 percent off for National Cookie Day. There are plenty of other deals to be had at Mrs. Fields today, including discounts ranging from 25-40 percent on select cookie gift baskets.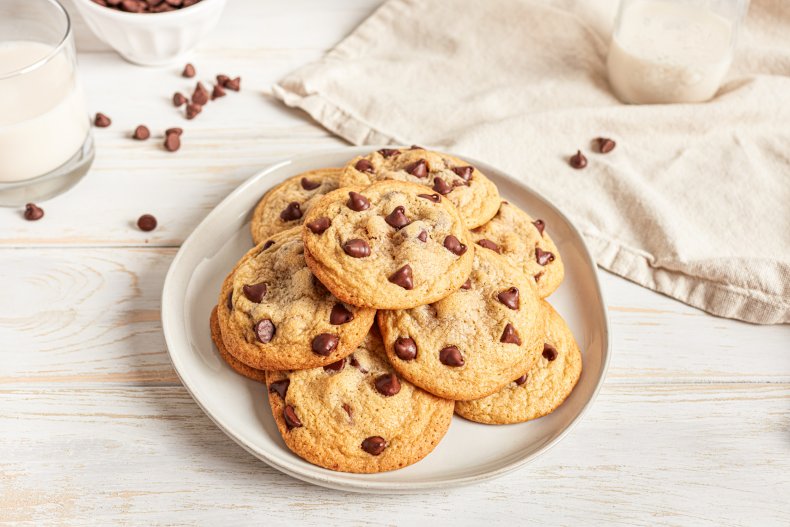 Insomnia Cookies
From National Cookie Day until December 6, Insomnia Cookies is offering a number of deals. Get a free classic cookie in-store or add it to any delivery, with no purchase necessary, and get free delivery with code COOKIEYAY. Additionally, a 12 pack of classic cookies will cost $15, and customers can get 20 percent off all nationwide shipping and Insomnia gear with code SWEETESTGIFT.
Great American Cookies
Great American Cookies is giving away a free Original Chocolate Chip Cookie on National Cookie Day at participating locations. No purchase is necessary, and the offer is limited to one per customer. Customers must mention the offer to redeem.
Reynolds Kitchen
Reynolds Kitchens is searching for a Cookie Connoisseur, who will be paid $5,000 to come up with four unique cookie recipes. To enter the contest, submit an original cookie recipe that uses an unexpected or wacky ingredient, along with your age, city, state, and zip code, a photo of the cookie and the cookie recipe with a bulleted list of ingredients, plus an explanation of why you deserve the job in 250 words or less.
Send your application to careers@ReynoldsSweetGig.com by December 8 to be in with a chance.
Newsweek has affiliate partnerships. If you make a purchase using our links, we may earn a share of the sale.