National Coquito Day 2019: Coquito Origins, Recipes and Discounts
Today (December 21) is National Coquito Day, celebrating coquito—Puerto Rico's traditional Christmas drink.
Coquito means "little coconut" in Spanish and is made with Puerto Rican rum, coconut milk, coconut cream and sweetened condensed milk, sometimes flavored with the addition of vanilla, cinnamon and cloves.
The festive drink can also be made with the addition of egg yolk, as done in Mexico, which is why it's often known as the "Puerto Rican eggnog." But traditional Puerto Rican coquito is usually made without egg yolk.
National Coquito Day was launched in 2018 by Destilería Serrallés, the makers of Don Q (a popular rum in Puerto Rico), to pay homage to the festive beverage. The Puerto Rico-based producers boast a rum-making history dating back to more than 153 years across 6 generations.
Where did coquito originate?
The first-ever coquito drink is believed to have been made in the 1900s, with the first published Coquito recipes recorded in the Puerto Rican cookbooks Cocine a Gusto and The Puerto Rican Cookbook, between 1950 and 1970.
Some also believe the drink was originally introduced in the Caribbean by Spaniards during Puerto Rico's colonial era and was made with Caribbean rum, while Puerto Ricans are said to have made it their own with the addition of coconut.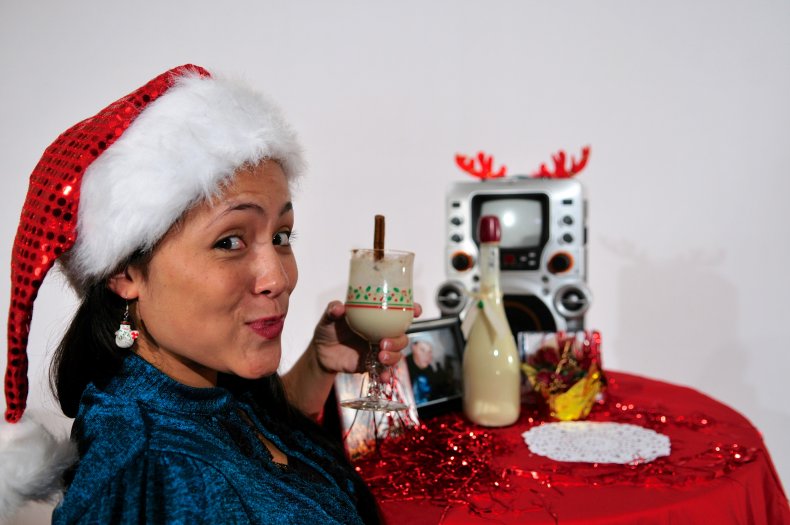 Does coquito need to be refrigerated?
Yes, the drink is served chilled and should be refrigerated. But it also requires refrigeration given its dairy ingredients, which will go off when left out for an extended period of time. Coquito drinks made without eggs also have a longer shelf life and can last for a few months once refrigerated.
How to make coquito
While a few variations of the drink have emerged in different countries, the most common recipe included Puerto Rican rum, coconut milk, condensed milk and vanilla blended together, either in a blender or by hand. The drink is then chilled and often garnished with cinnamon or nutmeg before serving.
Other modern versions of the drink include coconut ice cream (as done in Cuba) or fresh coconut juice (throughout the Caribbean), which gives it a lighter consistency, as well as other spices and extracts including lemon zest, ginger, star anise and almond. Pistachio coquito is made by adding pistachio paste to the traditional coquito mix. A dash of almond extract helps to bring out the pistachio flavor, adding to the drink's nutty taste.
Rum offers
Get a 1.75-liter bottle of Captain Morgan Coconut Rum for $19.99 (reduced from $21.99) at Joe Canal's Discount Liquor Outlet of Marlton.
Save $120 on a 6-bottle case of Flor de Cana Gran Reserva 7 Slow Age Rum priced at $179.94 (reduced from $299.94).
Buy a 750-milliliter bottle of Don Q Cristal Rum for $13.99 at Total Wine & More.
Get a 750-milliliter bottle of Don Q Gran Anejo Rum, which is a mix of rum aged between 3 and 12 years, for $64.99 at Total Wine & More.
Save $39 on a 750-milliliter bottle of Cane Rum Number 12 Blend White Rum at Wine to Ship, priced at $10.99 (reduced from $49.99)