National Coronavirus Antibody Study Suggests Herd Immunity 'Remains Out of Reach' in the U.S.
Results of a nationwide COVID-19 antibody study indicate herd immunity "remains out of reach" in the U.S., with less than 10 percent of participants testing positive for proteins that could potentially offer protection from repeat infections.
The study— conducted by Stanford University researchers in July and published by peer-reviewed medical journal The Lancet on Friday— evaluated the presence of COVID-19 antibodies in blood samples from 28,500 dialysis patients across 46 states. It is one of the largest studies of its kind conducted to date in the U.S.
Based on the data collected, researchers estimate roughly 9.3 percent of the country's population had COVID-19 antibodies in July. They considered how representative the study's participants were of U.S. dialysis patients, as well as the general population, in adjusting raw data to arrive at the national estimate. Then, cross referencing its own data with figures published by Johns Hopkins University, the study suggested just 9.2 percent of individuals with antibodies were formally diagnosed with the respiratory illness.
As of Sunday morning, Johns Hopkins University's ongoing COVID-19 tracker tallied more than 7 million positive cases reported in the U.S. since the pandemic began in March. Of those confirmed diagnoses, more than 204,500 people have died from the disease. The new study's findings suggest the spread of COVID-19 in the U.S. is more significant than published case counts reflect.
Speaking to Newsweek on Sunday, Shuchi Anand, director of the Center for Tubulointerstitial Kidney Disease at Stanford and the study's lead author, noted the difference in confirmed cases and estimated antibody presence shown in its results is consistent with estimates determined by other prominent research endeavors. One estimate, published by the Centers for Disease Control and Prevention (CDC) in June, suggested the true incidence of COVID-19 was 10 times higher than reported case numbers.
The antibody study's recent publication comes as scientists and drug companies across the world race to develop a safe and effective coronavirus vaccine. Meanwhile, conversations about "herd immunity"—a scenario in which a population's infection rates are high enough to offer adequate immunity for a certain period of time—are becoming increasingly prevalent. Sweden, where officials applied an individualistic approach to virus mitigation, is cited as an example of the controversial idea. Whether or not the Nordic country achieved "herd immunity" during the pandemic is debated.
Some U.S. officials have floated the concept of herd immunity as a possible strategy to manage the national outbreak. Scott Atlas, a White House COVID-19 adviser, suggested the U.S. implement Sweden's approach in August. Republican Senator Rand Paul advocated for the approach again during a recent Senate hearing, where he contradicted opinions shared by top infectious disease expert Dr. Anthony Fauci. Studies propose at least 40 percent of the U.S. population would need to contract COVID-19 in order for the country to accomplish herd immunity to any degree.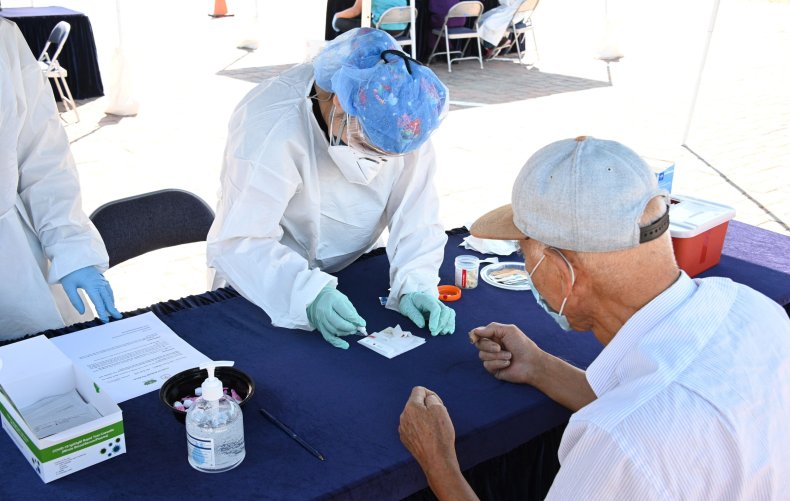 Dr. Julie Parsonnet, a medical professor at Stanford who co-authored the new antibody study, said findings show the U.S. was still far from achieving herd immunity in July.
"This research clearly confirms that despite high rates of COVID-19 in the United States, the number of people with antibodies is still low and we haven't come close to achieving herd immunity," Parsonnet said in a statement.
Antibodies are "an imperfect measure" of immunity to COVID-19, Anand explained on Sunday, since their "levels do wane all the time." She said it is possible for individuals with waning prevalence of antibodies in blood to maintain immunity, and for individuals who have antibodies to become reinfected. Scientists across the world are continuing to examine the relationship between COVID-19 antibodies and potential for reinfection.
Anand told Newsweek that researchers plan to monitor the July study's participants for months to come. She described findings as a "strategy" to inform the effectiveness of mitigation procedures.
"Understanding the baseline exposure and following it over time is really helpful because it can allow us to assess intervention," Anand said, adding that data collected before and after social distancing policies, or mask mandates, are implemented can be useful to determine which approaches are working, and which are not.
Newsweek reached out to Parsonnet for additional comments, but did not receive a reply in time for publication.
Updated at 4:24 p.m. ET to include Anand's comments.