National Cupcake Day: 7 TikTok Cupcake-Decorating Videos to Be Inspired By
Today is National Cupcake Day—as if we need a valid excuse to enjoy these sweet miniature treats, especially during the holiday season. Every year on December 15, folks celebrate this delicious day by making, eating and decorating cupcakes.
The term "cupcake" was first used in 1828 by American author and homemaker, Eliza Leslie, according to Thought Co. Author Amelia Simmons also used the phrase "a cake to be baked in small cups" in her 1796 book, American Cookery—perhaps referring to cupcakes.
Now, cupcakes are a dessert staple, available in bakeries and supermarkets everywhere. And one great way to recognize this popular treat and its special day is by learning some new cupcake decorating skills. For those who just slather on the frosting without a second thought, consider today a good opportunity to hone in on some new techniques via TikTok.
The short-form video platform serves as a great resource for folks looking to learn new baking-related skills that could help with cupcakes, such as filling frosting piping bags or properly creating icing-based textures. These TikToks will make you want to grab some frosting, food coloring and get baking for National Cupcake Day.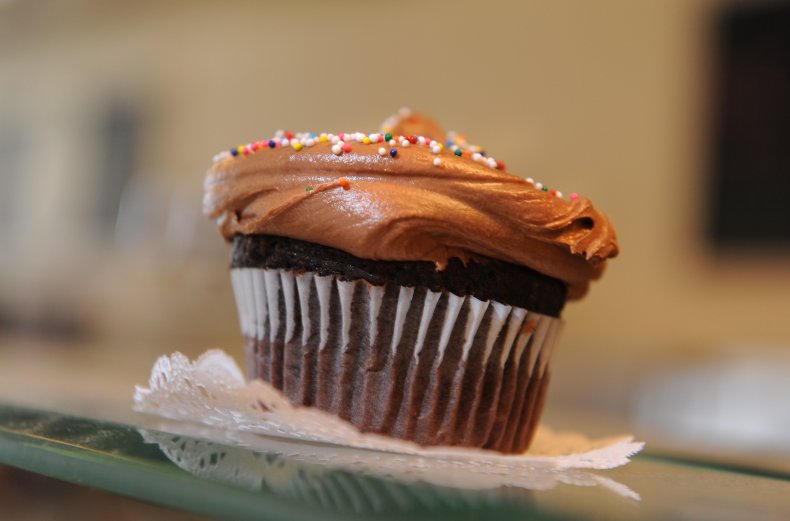 Chocolate-Dipped Rainbow Cupcakes
Chocolate lovers, this one's for you. These chocolate-covered and chocolate-filled cupcakes are colorful on the inside. This TikToker shows folks how easily they can create the rainbow frosting without the colors getting mixed. Simply roll the lines of different-colored frosting together into a piping bag.
Christmas Tree Cupcakes
These wintry desserts use an ice cream cone (sans the ice cream) as the skeleton for a tree design. The decorator in this TikTok uses a frosting piping bag and nozzle to create an edible Christmas tree, and finishes the whole thing off with powdered sugar as snow.
Baby Penguin Cupcakes
In this adorable TikTok, the chef uses an Oreo to create a baby penguin, along with blue frosting and sequins to make a delicious iceberg. You can use candy (as seen in the video) or icing to make the penguin's eyes and feet.
Baby Chick and Sheep Cupcakes
This TikToker decorates cupcakes to look like baby chicks and sheep, perfect for springtime if not for this holiday season. In order to create textures like the grass the chicks sit on, as well as the sheep's "wool," the person behind this clip recommends using different nozzles for the frosting piping bags.
Grinch Cupcakes
Even Grinches like cupcakes! The TikToker behind these devious-looking cupcakes says that they used American buttercream for this sweet treat. Candies or frosting can be used to make the Mean One's eyes.
Flamingo Cupcakes
These elegant cupcakes are super-fun. The TikToker creates the illusion of even more textures and layers by using different color frosting to shape the flamingo wings. The flamingo's neck and head are made of fondant, and the chef suggests making the fondant one to two days in advance, according to her recipe.
Hamburger Cupcakes
Why choose between cupcakes and hamburgers when you can have both? This TikToker cuts cupcakes in half and decorates the "inside" of the faux-burgers with frosting to resemble your favorite condiments. The mastermind behind the treats likens them to miniature "Krabby Patties" from Spongebob Squarepants, and we couldn't agree more.