National Daiquiri Day: How Ernest Hemingway Got a Cocktail Named After Him
When the name Ernest Hemingway pops up in conversation, the image that comes to mind is likely a man sitting at a table at a cafe somewhere in Europe with a stiff drink in his hand. While it might seem like not the most on-brand drink, the iconic American author was a fan of the daiquiri, albeit one slightly different than what you might order at a beach resort.
At some point in history, someone crowned July 19 National Daiquiri Day. While Hemingway wasn't alive to see the holiday's creation, his daiquiri-loving legacy lives on with a drink in his honor.
While living in Havana, Cuba, in the 1930s Hemingway had to find a way to beat the heat. So he ventured to the bar El Floridita. Nicknamed El Rey de los Coteleros, the King of Cocktails, according to NPR, bartender Constantino Ribalaigua Vert both owned the establishment and tended bar.
Hilary Hemingway, Hemingway's niece, told NPR that one day, while the writer was in the bar, he heard people raving about the daiquiris that Ribalaigua served.
"So he ordered one and took a sip. Ernest asked for another one, this time with 'less sugar and more rum.' And that's how the Papa Doble, or the Hemingway Daiquiri, was born," she said.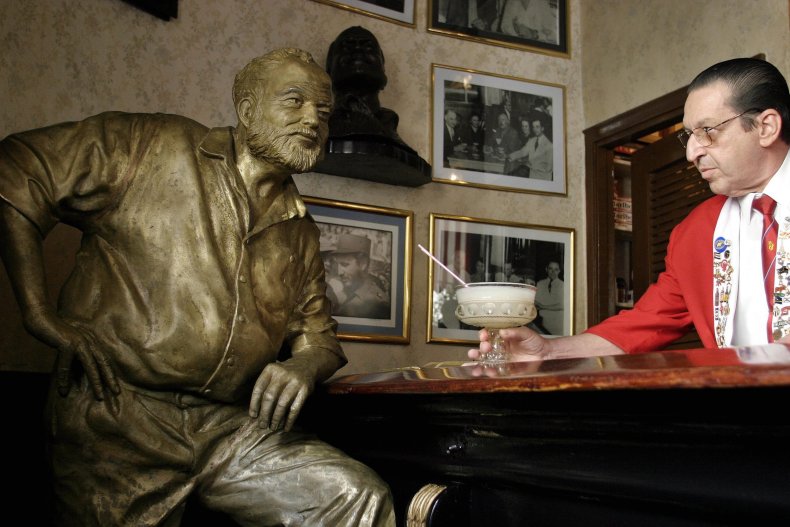 Ribalaigua didn't invent the daiquiri, but he was the first to add chipped ice and when he made the Papa Doble, he used grapefruit juice and maraschino liqueur. Along with bragging about the daiquiris to his third wife, writer Martha Gellhorn, Hemingway also hosted a number of famous friends at El Floridita.
Actors Ava Gardner and John Wayne made an appearance, and actor Spencer Tracy convinced Hemingway he was the right casting for the part of Santiago in The Old Man in the Sea at El Floridita. The restaurant, which opened in 1817, can still be visited today.
However, with National Daiquiri Day upon us and no ticket to Cuba already booked, enjoying a Hemingway Daiquiri may be more feasible if it's made in the comfort of home. Unlike some more complicated cocktails, this one is a drink that even the most novice bartender can likely handle.
Necessary ingredients, as identified by Wine Enthusiast, are:
Two ounces white rum
¾ ounce lime juice
½ ounce maraschino liqueur
½ ounce ruby red grapefruit juice
Lime wedge, for garnish
Fill a cocktail shaker with ice and combine all the ingredients. Then, shake well until the drink is sufficiently chilled. Finally, double strain into a coupe glass and garnish with a lime wedge.
Despite having double the alcohol as a regular daiquiri, author William Grimes wrote in his book Straight Up or On the Rocks that Hemingway would drink about a dozen at times. Newsweek recommends you start with just the one.