Gun Activists Hold 'Die-In' at Donald Trump's Mar-a-Lago Resort
Activists laid on the ground in front of President Donald Trump's Mar-a-Lago resort on Tuesday to protest the White House's handling of gun control.
Participants in the event were strewn across the grass and concrete outside Trump's estate in a morbid staging of what it looks like after a mass shooting incident. They stayed on the ground for 12 minutes, representing the statistic that someone dies from gun violence every 12 minutes worldwide.
Their demonstration also marked the two-year anniversary of the Pulse nightclub shooting in Orlando, Florida, that killed 49 people and injured 50 more on June 12, 2016. At the time, it was the worst mass shooting in United States history, but it has since been eclipsed by the shooting at the Mandalay Bay Resort and Casino in Las Vegas last year that killed 58 people and injured over 500.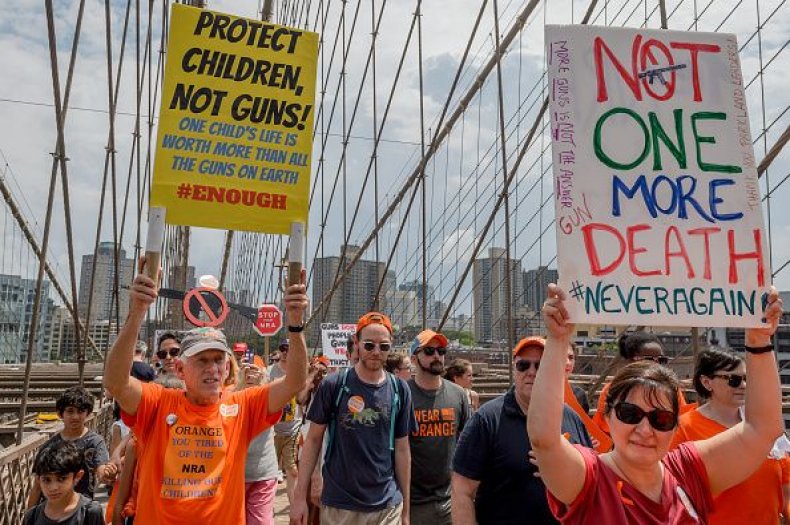 In attendance on Tuesday were students and parents from Florida's Marjory Stoneman Douglas High School, which experienced a school shooting on Valentine's Day that left 17 people dead. Among their list of demands were universal background checks for gun owners and an assault-weapons ban, according to the Sun Sentinel.
"Action needs to be taken. We are done dying in our schools," Casper Bechen, a student at Stoneman Douglas, told the newspaper.
This protest was just one of hundreds happening today, in what has been dubbed "National Die-In Day."
Demonstrations also occurred on Capitol Hill and in many other schools across the country. Along with laying down for 12 minutes, many of these events included activists speaking out in demand of change from Congress.
According to USA Today, the event was organized by students Amanda Fugleber, Nurah Abdulhaqq and Acadia Gilchrist, with help from David Hogg, a Stoneman Douglas student who has been on the forefront of the gun control movement.
These voices echo the thousands that have been affected by gun violence in recent years, since the Sandy Hook Elementary School shooting in 2012 and the recent Sante Fe High School shooting in Texas this past May.
According to a CNN report, there have been 23 school shootings in 2018. This averages out to about one school shooting per week. While several pieces of legislation have been proposed on both the House and Senate floor, Congress has not passed a major gun reform law in over 20 years.