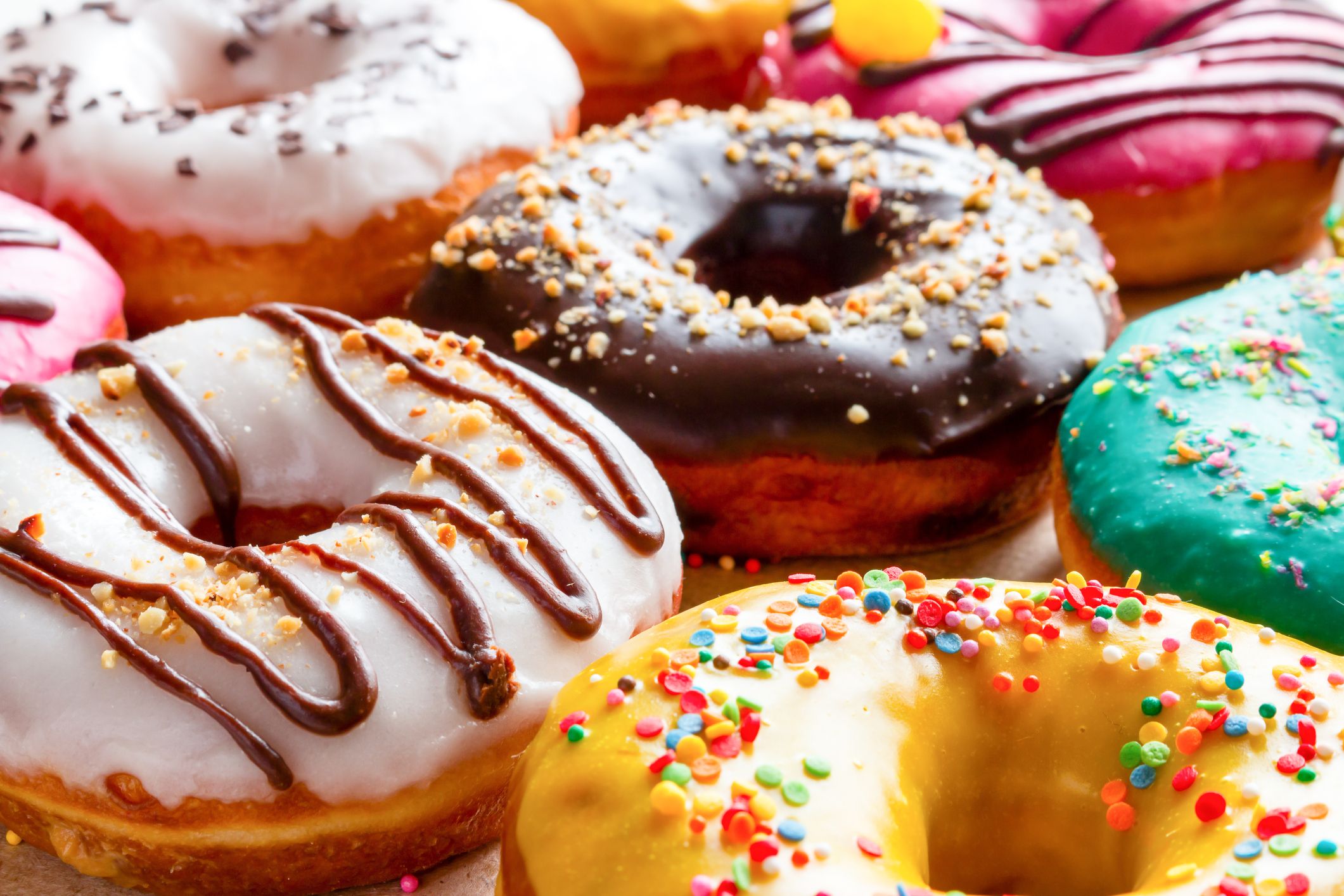 How do you like your doughnuts? Glazed with sugar, stuffed with cream or maybe coated in chocolate? Today is National Doughnut Day, and stores around the country will be handing out freebies to celebrate.
But what makes our bodies crave these delectable delights? And why have they become such an enduring cultural icon?
The secrets behind our desire for doughnuts lie deep in our past. Before ingredient lists, taste gave our ancestors vital clues to the content of food—bitterness might signal poison, and sweetness that golden source of energy: sugar. It's no accident that we feel pleasure when consuming calories. We have an evolutionary drive to seek them out, and pleasure is our guidepost.
The doughnut is "engineered to deliver the maximum amount of pleasure," Stanley Ulijaszek, a professor of anthropology from the University of Oxford's Unit for Biocultural Variation and Obesity told Newsweek.
An average glazed doughnut contains about 11g (0.39 oz) of fat and 10g (0.35 oz) of sugar, and it's the combination of these two ingredients in particular that makes it so irresistible. "Sugar and fat together are a powerful combination, meeting our [evolutionary-based] craving for sugar, with fat making it taste so much better." Ulijaszek said. "The more sugar we eat, the more we want to eat it, and feel a sense of mild withdrawal if we don't get it."
But flavor isn't the only factor behind the enduring success of the doughnut in the U.S. Over the last century or so, it's become an icon of American life. Take Homer Simpson—that bastion of American culture. It's hard to picture him without a Duff beer in one hand and his favorite pink-glazed and sprinkled ring doughnut in the other.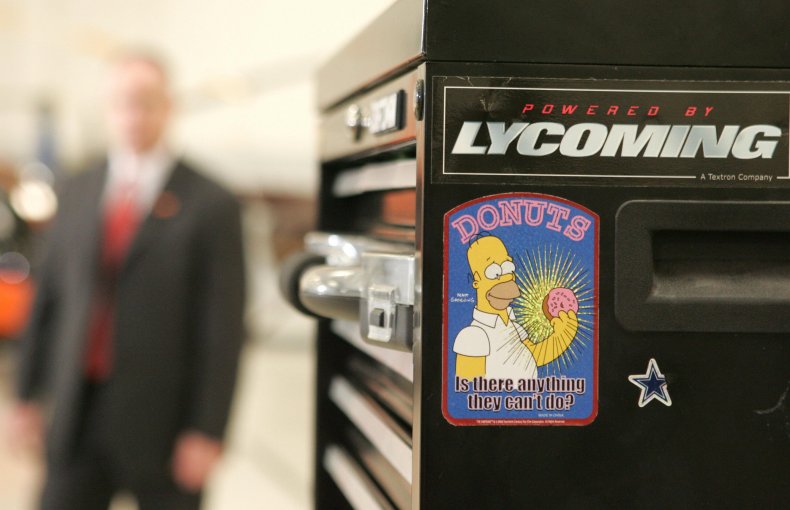 Although it's hard to pin down the roots of the American doughnut for certain, it probably came to the U.S. with the Dutch. The Legend of Sleepy Hollow author Washington Irving may well have been the first person to use the word "dough nut," when he described parties featuring Dutch oly koeks in his 1809 A History of New York, Indiana University-Purdue University professor of Anthropology Paul Mullins told Newsweek.
Since the 1920s, he explained, booming car ownership and the rise of the drive-thru chain has propelled the humble doughnut to ubiquity.
National Doughnut Day itself owes its legacy to the Salvation Army, Mullins said. The Christian charity distributed doughnuts to weary troops during World War I. In 1917, a group of young Salvation Army "lassies" ran canteens to offer soldiers a comforting taste of home. "At first [these women] planned to make pies," Mullins said. "But their camps had few predictable stoves and scarce raw materials—sugar, flour, and baking powder were the bulk of the cupboard."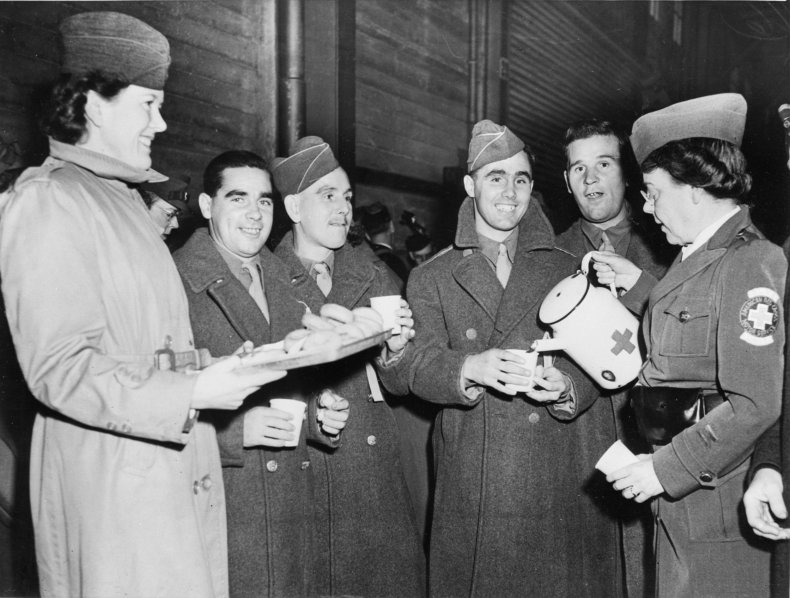 Although they couldn't make apple pie, the women were able to scramble together a basic dough, he explained. When fried and rolled in sugar, these simple ingredients combined to make the familiar doughnut. One of the lassies—a woman named Helen Purviance—noted: "I was literally on my knees when those first doughnuts were fried, seven at a time, in a small frypan. There was also a prayer in my heart that somehow this home touch would do more for those who ate the doughnuts than satisfy a physical hunger."
The Salvation Army started National Doughnut Day in 1938 to raise funds, and the holiday has persisted ever since.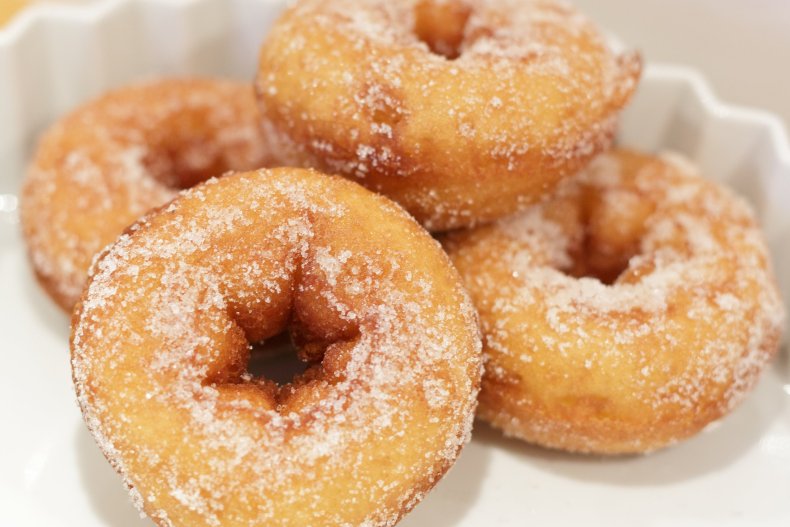 But, at the base of it, it's that dangerous combination of fat and sugar that has driven the rise of the doughnut in the U.S. "Americans have an enormous favor for high-carbohydrate, high-sugar, inexpensive, and rapidly consumed foods, and those things describe doughnuts quite clearly," Mullins said.Today, National Doughnut Day is derided by many as a Big Doughnut marketing gimmick: free pastries with little mention of the holiday's humble beginnings.
However it's sold, Ulijaszek warns, you should probably think twice before you take a bite. "Unless you work physically hard or are a super-performance athlete, you should probably give the donut a miss, or miss a meal before or after you eat it," he said.
Like a third-course dessert or a hot chocolate in the cold, snacking on a doughnut usually means we're guzzling down calories we don't really need. "More often than not, faced with donuts, we eat for pleasure and other reasons, like 'it's time for lunch,' rather than for real hunger," Ulijaszek explained. In fact, we can even misunderstand our cravings for high-fat, high sugar foods as hunger, he added.
The doughnut is stuffed full of delicious calories you can consume in a matter of seconds. This makes it easy to overeat without even realizing. "When we eat slowly, with foods much less calorific than donuts, we can match satiety to satiation. But we can easily overshoot with foods high in fat and sugar."
Day-to-day, these extra calories add up, and contribute to a national obesity crisis and a diabetes epidemic. "Bring in national carrot day," Ulijaszek added.