National Doughnut Day: Free Doughnuts, Best Deals, Coupons, Vouchers for Krispy Kreme, Dunkin' Donuts, Walmart
Today is National Doughnut Day (June 7) which gives us all an excuse to enjoy the sugary, doughy goodness. However, the day is far from a marketing gimmick even though many brands offer up free or discounted doughnuts to Americans.
History of National Doughnut Day
Many would be surprised to learn that National Doughnut Day was created to commemorate and celebrate the efforts of the women, known as The Doughnut Lassies, who volunteered for the Salvation Army during WWI in 1917.
Lora Vogt, National WWI Museum and Memorial Curator of Education, Kansas City, told Newsweek that the day is less about sugary treats and more about the horrors of war: "National Doughnut Day isn't actually a salute to the doughnut, but honors the women of The Salvation Army who supported the American Expeditionary Forces during World War I," she explains.
"A primary portion of their mission was to help ease the hardships of fighting for U.S. soldiers on the frontlines. Needless to say, it is not easy to bake in abandoned buildings and war-torn communities.
"Two volunteers–Margaret Sheldon and Helen Purviance–saw a need and became innovators as they began frying doughnuts in soldiers' helmets, up to seven per batch in the beginning. Just like National Doughnut Day, it wasn't really about the doughnut. Purviance once said, 'There was... a prayer in my heart that somehow this home touch would do more for those who ate the doughnuts than satisfy physical hunger.'"
To celebrate the day, shops across America are offering deals, coupons and competitions to help customers "roll in the dough."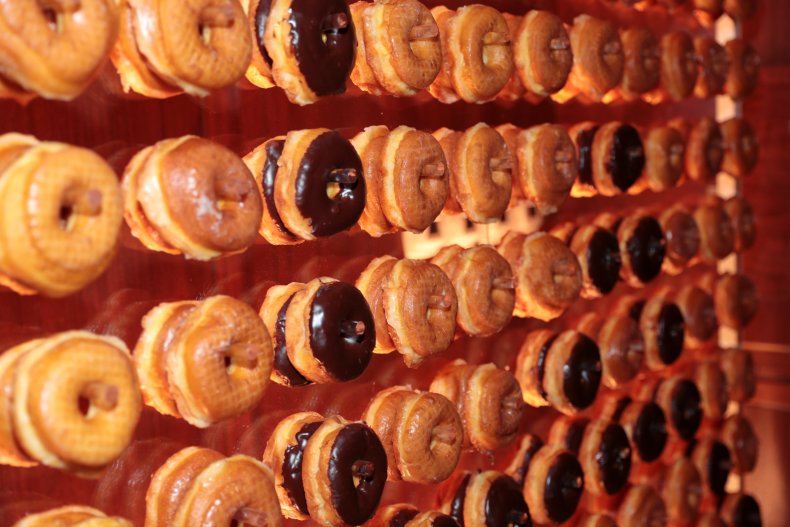 National Doughnut Day 2019: Deals, Coupons and Competitions
Dunkin' Donuts: According to Groupon Coupons, at Dunkin' Donuts there are a few offers available on National Doughnut Day. On June 7, you can get a free doughnut with any beverage purchase in-store. However, this might be limited to some stores so check with your local branch ahead of time to avoid disappointment. Act fast as free donuts available while supplies last.
For a limited time, you can enjoy 30 percent off your first installment of subscription Regular Refills. Use code SUB30 at checkout.
Also, use promo code SHIP50 to receive free shipping on orders over $50, which ca be used on coffee, pods, gifts, and more.
Krispy Kreme: The doughnut store is giving away one million doughnuts. Visit a participating shop and choose your favorite doughnut. No purchase is necessary, but you are limited one free doughnut per guest.
If the store hits one million it will offer another doughnut giveaway later in June, which will include its newest to-be-revealed doughnut.
Find your nearest participating store here.
Duck Donuts: The shop is giving away free doughnuts on June 7. With the theme of "beach party" you can choose to have a bare, powdered sugar, and cinnamon sugar. No purchase or coupon necessary.
Entenmann's: To be in with a chance to win $5,000 and free doughnuts for a year, create your own doughnut. Need inspiration? Check out the company's Flavor Maker.
LaMar's Donuts: In celebration of National Donut Day on June 7, The Salvation Army is partnering with LaMar's Donuts to take a bite out of child hunger. People can donate on the company's website.
Walmart: Get one free glazed doughnut at all Walmart stores on June 7 in the bakery section. Limit one per person, while supplies last.