National Dress Up Your Pet Day: Twitter Users Share Photos of Cats and Dogs in Costume, Plus Pet Outfit Deals
National Dress Up Your Pet Day is today, January 14. Twitter users have been sharing photographs of their pets dressed up, and from a cat disguised as Beanie Baby to a chihuahua cosplaying as Superman, we've rounded up the best photos that pet-owners have shared so far.
If you want to join in and are looking for some outfits to celebrate National Dress Up Your Pet Day yourself, we've included some pet costume deals below.
Twitter user @LRatterman_WDRB shared photos of her dog as a basketball player, dressed up for Halloween and in a beach setting, saying: "These pictures may or may not have been used in the most wonderful calendar ever."
@YeyushR posted a fashion-forward picture of two chihuahuas, adding: "It is a new era in Fashion. The dogs and their attitudes make the rules. National Dress Up Your Pet Day on January 14 provides a special day to celebrate with your pet and show of their fashion style."
@SlyJamesTheCat, whose cat frequently dresses up to celebrate national holidays, dolled their feline up as a Beanie Baby to celebrate the day.
@TessZee2015 shared a snap of an elegant-looking dog and said: "Tess never leaves the house without her pearls."
@Britannicus92 posted a photo of their chihuahua dressed up as Superman and said: "Zelda knows every day is #NationalDressUpYourPetDay and she's got a whole closet to prove it."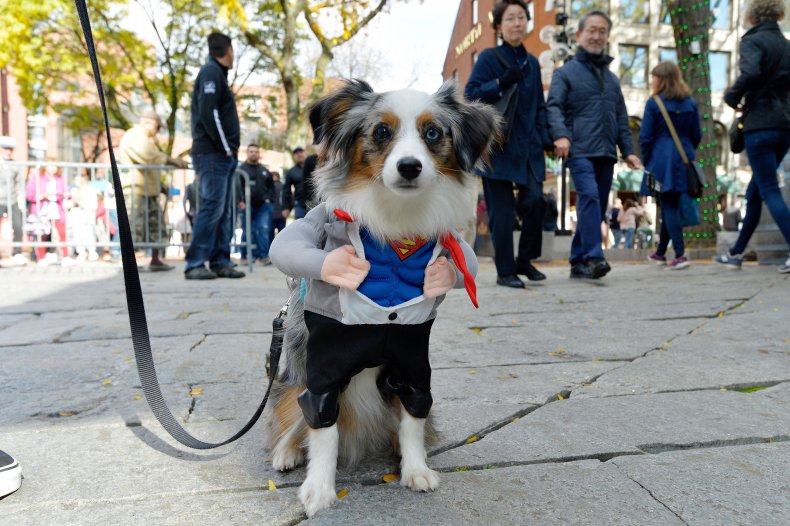 @Cat_Cosplay said: "I'm sure after everyone's had their second coffee the fun pictures will roll in," along with a photo of a cat in a suit holding a mug.
@Local24Kelsie shared a photo of their dog in a bright pink coat and said: "My baby dressed up in the snow. Back in PA! Her name is Chloe. Snow is her favorite. She likes to put her snoot in it."
Pet costume deals
This Animal Planet Walrus Dog Costume from Party City is on sale with 50 percent off at $12.50.
PetSmart has superhero pet costumes on sale, like this Captain America dog costume, retailing for $10.97, a Superman dog costume for $7.47, and a Wonderwoman costume for $10.97.
Additionally, there are lots of animal-themed pet costumes on sale at PetSmart, like this shark costume for $10, a flamingo costume for $9.97, and a bumblebee costume for $18.99.
Amazon has pet costumes on sale, including this lion mane costume for $9.69, and this UPS delivery driver costume for $16.81.
Newsweek has affiliate partnerships, so if you make a purchase using our links we may earn a share of the sale.