Despite nationwide protests and policy reform efforts that highlight patterns of racial discrimination and abuse within the criminal justice system, the White House's National Economic Council director told reporters on Wednesday that he does not believe systemic racism exists in the United States.
Similar to comments from other federal officials over the weekend, Larry Kudlow said corrupt individuals are responsible for injustices like George Floyd's death while in Minneapolis police custody over two weeks ago. Since then, demonstrators and lawmakers alike have reminded the public that Floyd's death followed numerous instances where altercations with white police officers led to a person of color's death.
Addressing Kudlow outside the White House on Wednesday afternoon, a reporter asked whether he through higher unemployment rates reported in black communities were evidence of systemic racism. Kudlow responded, "No, I do not. And I don't believe there's systemic racism in the U.S." When another reporter asked for further explanation, he referenced Floyd's death and subsequent calls for police reform.
"I think the harm comes when you have some very bad apples on the law enforcement side. What was done to Mr. Floyd was abysmal. But I believe everyone in this country agrees with that," Kudlow said. He also said he believes legislative reforms "regarding police and other areas" will occur.
A number of federal authorities, including President Donald Trump, have denounced the actions of the former Minneapolis police officers involved in Floyd's death, all of whom were fired from their positions and now face criminal charges. However, most reject suggestions that their actions are the byproducts of a wider culture of prejudice.
"I do not think that we have a systemic racism problem with law enforcement officers across this country," said acting Homeland Security Secretary Chad Wolf during an interview with ABC News' This Week this past Sunday. "Do I acknowledge that there are some law enforcement officers who abuse their job? Yes. And again, we need to hold those accountable."
Attorney General William Barr made similar statements that Sunday during an appearance on CBS News' Face the Nation. "I think there's racism in the United States still, but I don't think that the law enforcement system is systemically racist," he said.
The White House would not comment on Kudlow's remarks after it was contacted by Newsweek.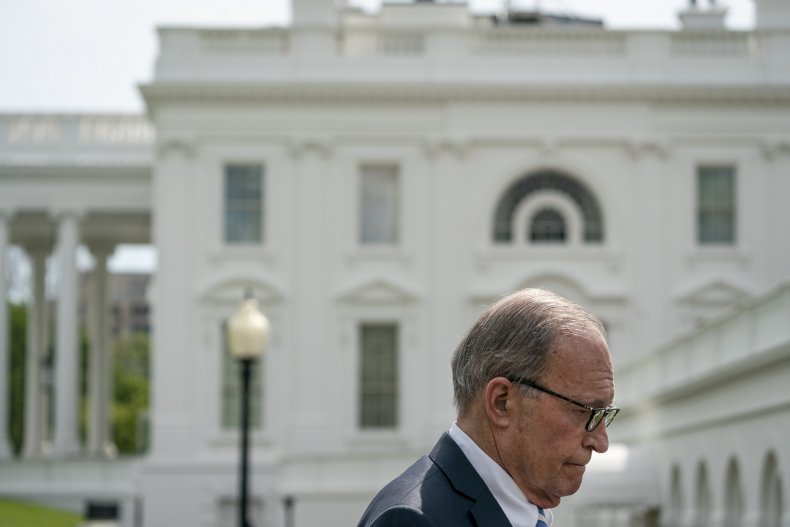 Throughout the week, state lawmakers in New York have worked on passing a series of legislative reforms related to law enforcement practices. Meanwhile, the House Judiciary Committee met on Wednesday for an oversight hearing to discuss police practices and accountability.
The hearing took place two days after Judiciary Committee Chair Jerrold Nadler, Senators Corey Booker and Kamala Harris, and Congressional Black Caucus Chair Karen Bass introduced the Justice in Policing Act of 2020, a bill that calls for widespread police reform.
"There are too many officers who are exceptions and who abuse their authority. And we cannot be blind to the racism and injustice that pervades far too many of our law enforcement agencies," Nadler said during his opening remarks at Wednesday's committee hearing. "This is a systemic problem that requires a comprehensive solution."