National Espresso Day Deals from Illy Caffe, Bodum, Caffè Umbria and More
Today (November 23) is National Espresso Day, and a great opportunity for coffee lovers across America to enjoy a shot of the strong brew.
How to make an espresso
With the term "espresso" being thrown around for a number of different products, such as roasts and beans, it's no surprise that people might be confused as to what an espresso actually is.
This is how it is defined by Illy, a brand of Italian coffee maker: "A jet of hot water at 88 to 93 degrees Celsius (190 to 200 degrees Fahrenheit) passes under a pressure of nine or more atmospheres through a seven gram (.25 oz) cake-like layer of ground and tamped coffee. Done right, the result is a concentrate of not more than 30 ml (one oz) of pure sensorial pleasure."
Basically, an espresso is how the coffee is made, but it also forms the base for many other drinks such as cappuccino, latte, macchiato.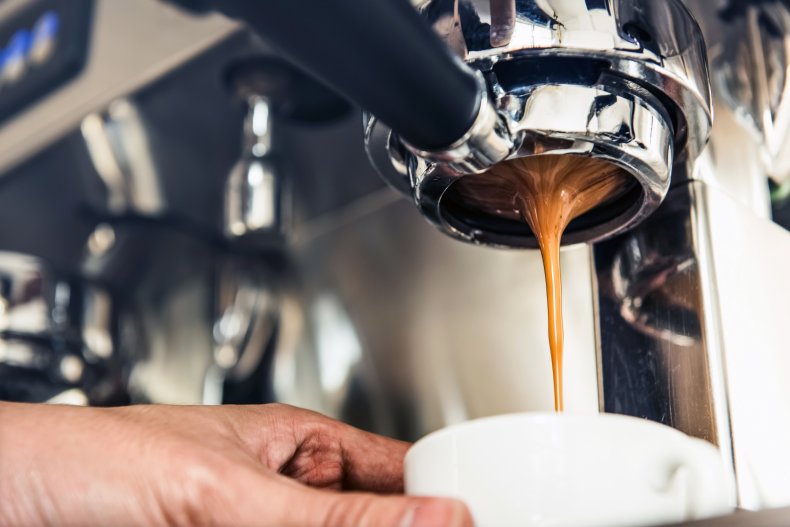 National Espresso Day Deals 2019
Common Room: The brand will be offering 25 percent off online orders for their award-winning espresso Brunswick Blend and Venice Blend all day long. For locals, they will be offering free espresso shots in their Newport Beach, California café all day long.
Rough Shift Roasters: The firefighter owned company will be doing 25 percent off for National Espresso Day.
Illy Caffe: Use code CFNewsweek25 for 25 percent off all orders on the site, excluding sale and subscriptions. Credit: CouponFollow
Bodum: Use code CouponFollow13 for 13 percent off your first purchase through 11/23. Credit: Coupon Follow
Volcanica Coffee: Use code CFEspresso for 15 percent off Volcanica's espresso and decaf espresso blends through November 30, 2019. Code can be used in conjunction with current 10 percent off sitewide offer. Credit: Coupon Follow
KoaCoffee.com: Use code KOACOFFEECF15 for 15 percent off all purchases through November 25, 2019. Credit: Coupon Follow
Angel's Cup: Use code COUPONFOLLOW25 for 25 percent off through the end of the year. Credit: Coupon Follow
Cafe Joe: Use code CFJOE25 for 25 percent off everything through November 24, 2019.
Hawaii Coffee Company: Use code COUPONFOLLOW15 for 15 percent off through November 25, 2019. Offer excludes 100 percent Kona Coffee and cases. Credit: Coupon Follow
Hamilton Beach: Use code CF20 for 20 percent off the FlexBrew 2-Way Coffee Maker and the FlexBrew Single-Serve Plus Coffee Maker through November 23, 2019. Credit: Coupon Follow
GourmetGiftBaskets.com: Use code CFCOFFEE for 15 percent off coffee gifts like their Coffee Break Basket and Coffee Talk Crate through November 30, 2019. Credit: Coupon Follow
Brandless: Use code ESPRESSO to get a free set of 2 Black Stoneware Mugs with orders of $48 or more, through November 23, 2019. Credit: Coupon Follow
GiftTree: Use code AFFGTCF1915 for $10 off all orders $49.95 or more, including its wonderful Starbucks gift baskets, now through the end of the year. Credit: Coupon Follow
Conrad New York Downtown: New Yorkers can bag themselves this buy one get one free deal on National Espresso Day at the hotel's ATRIO Wine Bar & Restaurant
Caffè Umbria: On National Espresso Day, for every customer who orders an espresso, espresso macchiato or espresso con panna, Caffè Umbria will donate $1 to non-for-profit Friends of the Children
Unusual Espresso Recipes
Impress your coffee loving friends with these recipes using espresso.
Lamb and coffee tagine: Maybe not the first things you'd pair together, but Will Corby, head of coffee at Pact, assures Newsweek that this recipe will work wonders with your dinner chums.
Ingredients
500g lamb shoulder, neck and breast
Tablespoon of plain flour, seasoned
Tablespoon of oil
2 diced sweet potatoes
2 chopped red onions
Approx 15 dried apricots
1 little bag of pine nuts
3 cinnamon sticks
A fistful of mint and coriander stalks, finely chopped
2 stock pots (add approx. 1L of water or the recommended quantity of water the stock pots require)
1 tin of chopped tomatoes
1 heaped tablespoon of ground coffee
Serve with rice or couscous
Method
Dice the lamb and coat with the seasoned flour
Heat oil in a deep lidded pan, brown the lab then remove and set aside
Add a little more oil, and gently fry the onions until golden, before adding the sweet potato, cinnamon sticks, mint and coriander
Add the lamb back in, and stir in the dried apricots and pine nuts
Make around one liter of stock, mix in the coffee and add to the dish with the chopped tomatoes
Bring to the boil, then reduce and simmer for 90 minutes to two hours or until the meat is tender – add more stock if it starts to dry out
Serve with rice or couscous
Fancy Flat White Coffee with Baileys Salted Caramel: Coffee connoisseur, Celeste Wong (@the_girl_in_the_cafe), has created the ultimate grown-up coffee to make those autumnal evenings extra cosy.
Ingredients:
30ml Espresso
50ml Baileys Salted Caramel
Whipped Cream on top with toasted marshmallows, pretzels and toffee popcorn
Salted hazelnut praline rim with caramel sauce
Units: 0.9
Method:
Coat the rim of the glass or cup with caramel sauce.
Dip and rub in crushed praline (add a sprinkling of Maldon salt to the mix) until there is a thick coat around the glass or cup
Add a dollop of the caramel sauce to the bottom of the glass or cup
Add 30ml of strong espresso
Add 100ml hot water
Add 50ml Baileys Salted Caramel
Top with thick whipped cream and place marshmallows on top
Garnish with some toffee caramel popcorn and finish with a drizzle of caramel and sprinkling of crushed praline and pretzels
Top tip: If you have a blow torch at home, toast the marshmallows for an added moment of indulgence! Don't hold back from adding more of your favorite sweet treats on top.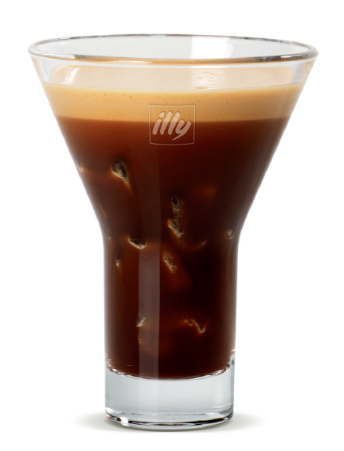 The illy Vodka Espresso was served at The World's 50 Best Bars 2019 event at the Roundhouse in London.
illy Caffee U.K.
Illy's Vodka Espresso: This cocktail was served at The World's 50 Best Bars 2019 event at the Roundhouse in London, Irene Ippolito, marketing manager at illycaffe U.K. told Newsweek.
Ingredients:
25ml illy espresso
10ml liquid cane sugar
10ml coffee liqueur
20ml white vodka
Ice cubes
Equipment:
Method:
Prepare the espresso in a small cup
Put the ice cubes in the mixing glass, filling it three quarters full
Add the liquid sugar, coffee liqueur, white vodka and last of all the espresso
Cool, mixing the ingredients with the mixing spoon
Pour into the glass with a few ice cubes and serve
For an added festive touch, spray coffee beans gold using edible spray and add three to the top of the drink
Salty Brew: Inspired by the espresso martini, this cocktail packs a punch and meddles with your taste buds, with vodka, cold brew coffee, caramel, coffee liqueur and Halo Top Sea Salt Caramel.
Ingredients:
3 x scoops Sea Salt Caramel Ice Cream
50ml Vodka
50ml cold brew coffee
25ml coffee liqueur 5ml caramel
Method:
Blended with a scoop of ice cubes and garnished with popcorn, coffee beans, edible glitter, and a sugar sailing boat
Served frozen-espresso martini style