National Fajita Day 2019: Best Deals From Chili's, On The Border, El Corazon, and Fajita Pete's
Today (August 18) is National Fajita Day and what better way to celebrate than with some amazing deals.
Who invented fajitas?
According to What's Cooking America, fajitas were invented by Mexican ranch workers living in western Texas in the late 1930s. Workers would get the least desirable bits of steer meat as part of their wages, so they learned to make the most of the tough meat.
Today, a fajita can mean anything that is cooked and served rolled up in a tortilla. However, according to What's Cooking America, true fajitas are made from skirt steak.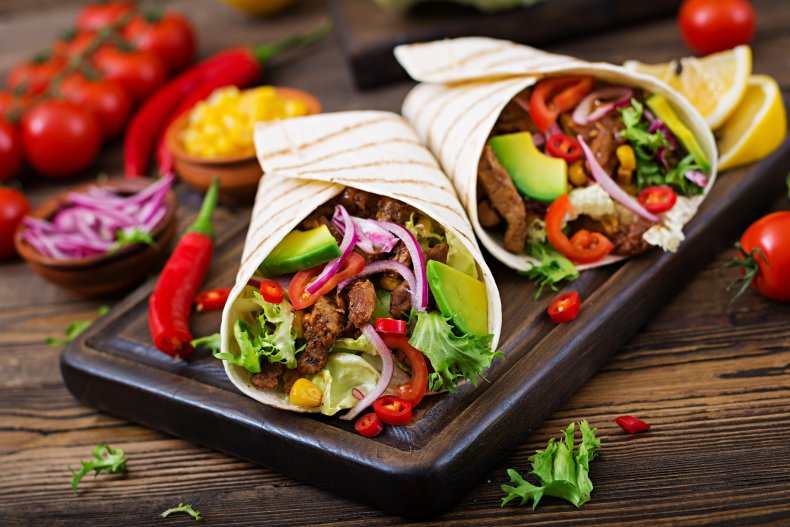 National Fajita Day Deals
Fajita Pete's: On August 18, any guests that order a pound of fajitas will receive free half-pound of chicken fajitas, according to the website. This offer is valid for pick-up, dine-in or delivery.
Chili's: The restaurant is offering chicken fajitas as one of its three-for-$10 lunch specials, according to its website. They're available all day Sunday for dine-in only. Check if your local restaurant is a participating branch.
On The Border Mexican Grill & Cantina: The founders of National Fajita Day will be celebrating by giving its Fiesta Trio an upgrade, according to Restaurant News. There will be an option to upgrade to steak and shrimp fajitas for only $2, as well as a limited-time mini Strawberry Sopapilla Sundae. The Fiesta Trio allows guests to choose three courses for only $12.99.
El Corazon: The Dallas food joint is celebrating it for two days, according to its website. On August 17 and August 18, 2019, customers will be able to buy two fajitas for $20. Options for the special include beef, chicken, a combo of beef and chicken or veggie fajitas.
Houlihan's Restaurant + Bar: On National Fajita Day, customers can buy the Original Sizzling Chicken Fajitas for only $10 when they dine at the restaurant, according to a press release. The special $10 offer is valid for dine-in only, with combo and steak fajitas available for a small upcharge. Houlihan's is also hosting an "all-day happy hour" at participating locations.
How to make a fajita
If you don't feel like venturing outside for your fajitas on National Fajitas Day but still want to celebrate, here is a recipe for you to try at home.
If you're a vegan and want to join in the fun, there are alternative recipes for you to try, as well as side dishes to accompany.