National Farmers' Day: What to Buy to Support Local Farmers
National Farmers' Day 2019 is today, October 12. It is a day to honor all farmers in the U.S., and pay tribute to great farmers throughout history. But how exactly should you celebrate National Farmers' Day?
Why not go shopping for products that support your local farms? Alternatively, you could attend farmers' markets and buy products directly. Some farms will be hosting special events to mark the day. You'll be supporting farmers and the U.S. industry—and get to enjoy tasty foods and products, too.
Top Farming Facts
According to Business Insider, farming contributed $132.8 billion to the U.S. economy in 2017.
One U.S. farm feeds 166 people annually, according to the American Farm Bureau Federation (AFBF).
Family farms or ranches produce 87% of sold agricultural products (also according to the AFBF).
Why buy from farmers?
To enjoy fresh products
Shopping locally often means getting to buy fresh, seasonal ingredients. Buying produce from a farmers' market instead of the megastore is sure to guarantee fresher food and organic products. You could even visit a farm to pick your own fruit and vegetables—you'll get to see exactly where your produce comes from.
To support your local economy
Buying directly from local farmers means helping out your local community and its economy. Your money will go directly to those in your area, contributing to thriving businesses and creating new jobs. You'll be supporting local people directly, rather than major companies.
To help the environment
When you shop locally, you're helping the environment. You'll be buying products that haven't traveled very far, and you'll be using a lot less plastic. Reducing your emissions and plastic use every time you shop will positively impact the fight against the climate crisis.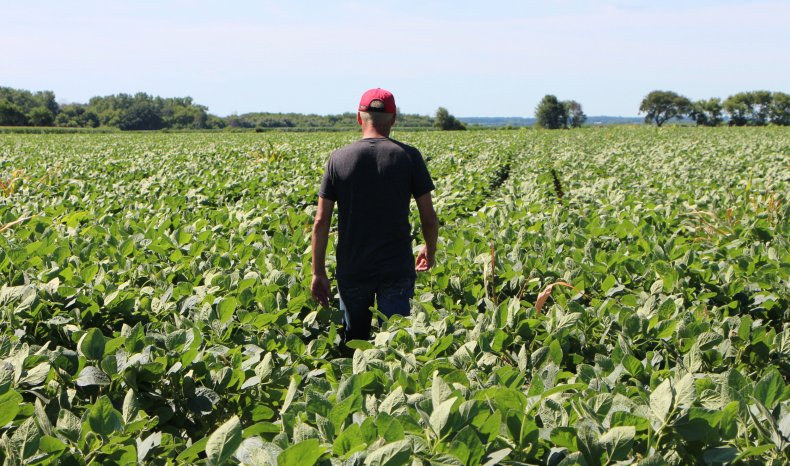 What to buy from farmers?
Products to buy that support farmers include:
Eggs
Milk
Honey
Jams and jellies
Fruit
Vegetables
Cheese
Flowers
Grains
Organic soaps
Farmers produce all kinds of things, like meat and dairy, honey and jams, grains and flowers. You could buy a huge amount of your groceries from farmers. Also, farmers' markets often sell products like organic soaps, shampoos and cosmetics—it's not just food. You may be surprised at the amount you can buy at the farmers' market—from store cupboard products to toiletries, almost everything can be bought locally.
National Farmers' Day markets and events
Celebrate National Farmers' Day by attending a farmers' market or event near you. Below are a couple of examples, but there is sure to be something happening in your area.
World of Wonders Science Museum, Sacramento, California
Just south of Sacramento, the World of Wonders Science Museum and San Joaquin Farm Bureau Federation are hosting a National Farmers' Day event, between 10 a.m. and 4 p.m. Visitors will get to milk a cow, ride a tractor, visit a petting zoo and more.
Union Square Greenmarket, New York City
This market in the heart of NYC features more than 140 stands catering to more than 60,000 visitors per day. It proves that buying fresh produce in the city doesn't need to be difficult—you don't have to live in the countryside to buy from farmers.