National Food Bank Day 2019: Where to Help and How to Donate
Underemployment, stagnant wages and rising living costs mean millions of people in the U.S. are struggling to get by. Currently, around 37 million face hunger, according to the organisation Feeding America, including more than 11 million children and nearly 5.4 seniors.
Illness, job loss, illness or family breakdown can happen to anyone - leaving them locked into poverty and unable to put food on the table. A 2014 study by Feeding America and Oxfam America found that approximately 25 million people living in working households - one in which one or more persons work full- or part-time - use food banks. The majority of them "as part of their regular survival strategy."
On National Food Bank Day, marked on the first Friday in September, you can help contribute to the cause that believes no-one should go to bed hungry.
What is a food bank?
A food bank is a non-profit organisation that collects and distributes food to hunger-relief organizations and charities. These banks act as food storage and depots for the products to be distributed to smaller organisations, but normally don't actually give food directly to the public.
Not all food banks look the same - some are small and serve a certain area, others are huge facilities distributing large amounts of produce. Feeding America, the largest domestic hunger-relief organisation in the U.S., is a network of 200 food banks and 60,000 pantries which serve the 46 million people who turn to the organisation each year for support.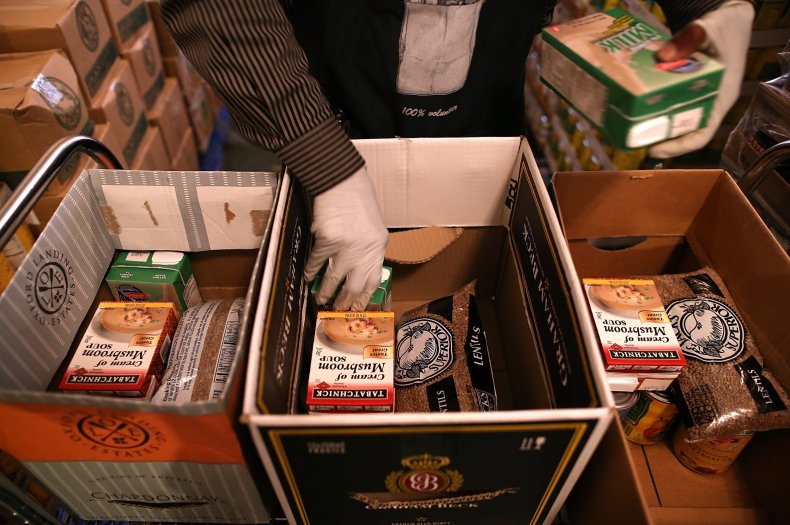 How can I donate?
With the huge number of people struggling with hunger in the U.S., every dollar counts - and each one means the Feeding America food banks can distribute at least 10 meals to people. You can donate to the organization here. You can also search for a specific food bank in your state to find one near you.
Can I volunteer at a food bank?
More than half of all food programmes rely on volunteers and spending a few hours sorting, packing or stacking food can make a big difference to the banks and the people they serve.
You can contact your local food bank or check your local food bank's website to learn about group volunteer opportunities in your area.
What else can I do?
Some food banks welcome old-fashioned community food drives - collecting bags of canned or dried foods at schools or offices. The kind of products collected include cereals, canned meat or fish, canned meals, canned vegetables, canned or dried fruit, peanut butter, pasta or rice. It's important that you only collect non-perishable foods and healthier foods - that are low sodium or wholegrain, for example - are especially welcome.
It's best to contact your local food bank to find out if they are collecting items from a food drive and if so, what food products they need.