First-Ever Male Cheerleaders to Dance for L.A. Rams in NFL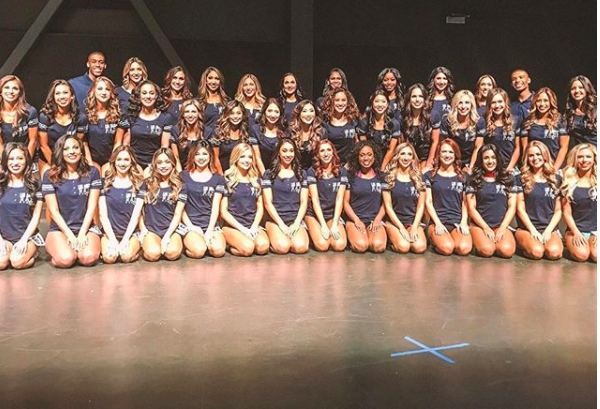 The Los Angeles Rams announced that two men will be joining its cheerleading squad, the first ever in National Football League history.
Quinton Peron and Napolean Jinnies will join the team on the field this season to cheer and dance for the Rams, previously an all-female squad.
"I thought, 'Why not me? Why can't I do this?' I called my friend, and I asked her when auditions were for the Rams, and she told me Sunday, and I showed up," Peron said during an interview with Good Morning America.
The two men, who are from California, were two out of the 76 finalists who auditioned to join the Rams cheerleading team. Peron and Jinnies both agreed that the audition process was tough, but extremely rewarding.
"This [audition] was about three weeks long and we had a bunch of rehearsals in between and an extensive interview process," said Jinnies. "It was really humbling and amazing to be invited every time you came back."
Rams captain Emily Leibert also glowed over her two new squad members and said they "just really fit the bill to be L.A. Rams cheerleaders."
"They are incredible, and they just bring so much energy," said Leibert. "There's something so magnetic about their performance. You really can't take your eyes off of them."
Molly Higgins, the vice president of Community Affairs and Engagement of the L.A. Rams, tweeted a photo of the three cheerleaders and herself moments after they appeared on Good Morning America.
"Grateful to be part of an organization w/ a long-standing commitment to diversity, inclusion & breaking down barriers and grateful for the inspiration that @LARamsCheer including Quinton & Napoleon can provide for today's youth!" Higgins tweeted.
Newsweek has reached out for comment from the NFL on the cheerleading squad's two new teammates.
The NFL's Indianapolis Colts and Baltimore Ravens both have male stuntman on their cheerleading teams, but Jinnies and Peron will be the first male dancers to dance and cheer for a professional team in the league.
First-Ever Male Cheerleaders to Dance for L.A. Rams in NFL | Sports