Is the National Front on the Brink of Death? Leader Says France's Far-right Party Could Be Gone Within a Month
France's largest far-right party is on the brink of "death," its leader Marine Le Pen has announced, just a year after claiming one-third of the vote in the last presidential election.
The National Front, recently rebranded as the National Rally, is at the center of a financial investigation into alleged misuse of funds, which has now threatened to end the party's ability to function. French authorities blocked 2 million euros ($2.3 million) of funding from the party, Le Pen said. French political parties rely on public subsidies, and National Rally's future apparently hinged on the latest infusion.
"Two judges have decided, in violation of the presumption of innocence and without any court verdict, to assassinate the main opposition party of France," Le Pen wrote on Twitter. In comments originally made to BFMTV, Le Pen warned that a subsidy freeze could "mean the death of the National Rally at the end of August," as it could fail to make payroll.
The populist party is one of the smallest in French parliament, with seven representatives in the 577-seat National Assembly. That's less than eight other parties, seven of which campaigned against President Emmanuel Macron's party. Le Pen has repeatedly tried to present her views on exiting the EU and NATO, but embracing Russia, as a more legitimate opposition than that of the less-extreme parties. She sees the blocking of her party's funds as an "attack on democracy."
Newsweek subscription offers >
"We are being killed gradually," Le Pen wrote on Twitter, reiterating comments she made on TV. "It all looks like something calculated, deliberate!"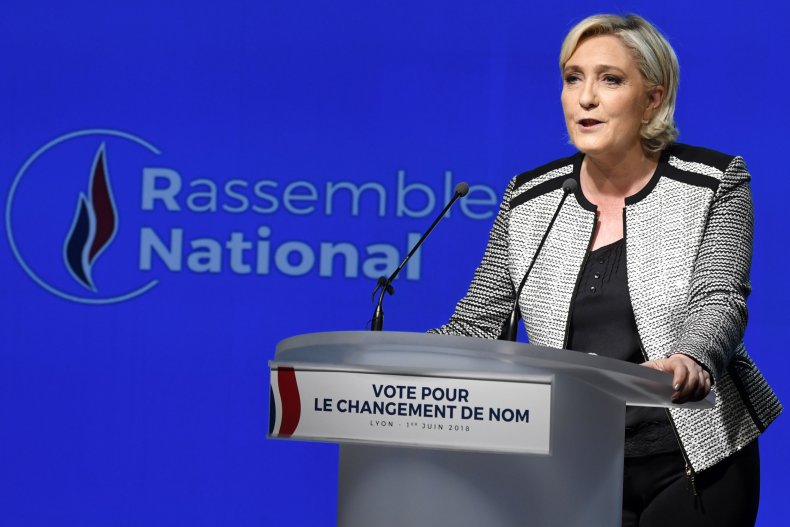 Despite campaigning against the EU, Le Pen's party previously relied on subsidies from the bloc, as she herself was a member of the European parliament, only winning a seat in France's National Assembly last year. She and other party members used the often unexciting setting of the EU-wide bloc to galvanize support for her anti-establishment agenda and beat candidates of both the country's traditional main parties in the last presidential election. Her rise suffered at the hands of charismatic political newcomer Emmanuel Macron, who claimed victory on a pro-EU and reform platform.
Since then, the financial dealings of the National Rally and its acolytes have unraveled. The European parliament claimed the party misused more than $8 million of its funds, possibly using the cash to pay staff not attached to the party's work in the international body. The European Court of Justice ruled last month that Le Pen must repay about $347,550 in funds, which were used to pay a parliamentary assistant to carry out non-parliamentary work. The larger anti-immigration group that Le Pen's fellow party members belong to is also facing consequences for alleged gratuitous spending of funds. It must reimburse $585,800 after an audit revealed the money had gone to pay for lavish meals, pricey Christmas gifts and other such items.
Newsweek subscription offers >
Read More: France's Macron thanks Australian prime minister for his "delicious wife"
The European parliament froze some of the group's funds as a way of getting some of its money back, according to French public broadcaster RFI, and it docked Le Pen's pay to make up what she owed. Le Pen, however, stopped claiming her salary when she became a member of France's National Assembly last year.
The apparent reason behind the reported blocking of funds is the judges' concern that Le Pen's party would use the money to settle other debts and have no means of repaying the European parliament if it loses the fraud inquiry, RFI reported.
Le Pen has repeatedly said that scrutiny of her party's finances is a politically motivated move to offset the party's success. But the party has also suffered a string of internal conflicts and the exit of close allies who were responsible for the momentum the National Rally gained last year. Le Pen's father and party founder, Jean-Marie Le Pen, clashed with his daughter during her presidential campaign as she worked to make the party more appealing beyond its traditional base. He denounced her move to rename the National Front as "political assassination" earlier this year.
Another family member, Marion Marechal-Le Pen also left the party after the conflict between the founder, who is her grandfather, and the current leader, who is her aunt. More popular with the party's conservative hardliners, who oppose same-sex unions and abortion rights, Marechal-Le Pen cited personal reasons as for her resignation, despite widespread expectations that would inherit the party's leadership.
Marine Le Pen's top aide and architect of the group's less socially conservative revamp, Florian Philippot, also quit the National Rally last year, launching a rival party called Patriots.
Next year's European elections are the next nationwide contest for Marine Le Pen's party, and polls last month suggested only 19 percent of French of voters would cast their ballots for the National Rally.
Is the National Front on the Brink of Death? Leader Says France's Far-right Party Could Be Gone Within a Month | World