National Frozen Yogurt Day 2020: Deals and Freebies From TCBY, Menchies, Orange Leaf and More
Today, February 6, is National Frozen Yogurt Day, which celebrates the frozen dairy dessert made from yogurt served in different forms across the world.
Yogurt originated in the Middle East and Central Asia, with Turkey being one of its top consumers. The country reportedly consumes about 282 cups per person per year, according to a 2013 survey by Euromonitor, NPR reports.
Yogurt comes in several varieties, from frozen yogurt to liquid yogurt and ones made with various additional ingredients such as fruit or gelatin, which gives it a thicker consistency.
In the U.S., frozen yogurt, or "froyo" as it has been commonly called, was born off the back of a surge in the popularity of ice cream in the 1970s. American frozen yogurt chain TCBY launched its first shop in 1981, responding to consumer demand for an ice cream-like dessert that was healthier, at least in theory, than traditional ice cream. Frozen yogurt is sometimes served with different toppings, such as fruit or nuts.
Not all frozen yogurt products contain the live and active cultures found in traditional yogurt. Some are made from heat-treated yogurt, which means the beneficial live and active yogurt cultures have been killed, the National Yogurt Association explains.
"The freezing process [when making frozen yogurt] does not kill any significant amount of the cultures. In fact, during the freezing process the cultures go into a dormant state, but when eaten and returned to a warm temperature within the body, they again become active and are capable of providing all the benefits of cultures in a refrigerated yogurt product," it adds.
Whatever your yogurt preference may be, here are some great frozen yogurt deals and discounts on offer across the country for those celebrating National Frozen Yogurt Day.
Frozen yogurt deals
TCBY is offering your first 6 oz. of frozen yogurt for free on National Frozen Yogurt Day. The customer will need to pay the difference for any servings larger than 6 oz. The offer is valid at participating locations. Call your local venue to confirm before visiting.
Frozen yogurt chain Menchies is offering a "Buy 1 Get 1 Free" deal for every frozen yogurt purchase on Thursday between 3 and 7 p.m. (local time).
Oklahoma City-based frozen yogurt chain Orange Leaf is also offering a "BOGO" deal on February 6, where each guest will receive a small 6 oz. cup of frozen yogurt with the purchase of a frozen yogurt in any size. The offer is valid only at select locations. Call your local venue to confirm before visiting.
Get a free 3 oz. serving of frozen yogurt at a participating 16 Handles venue on February 6. The offer must be claimed using the 16 Handles app and is limited to one discount per app account.
App users can also claim a $2.75 reward credit for their next purchase when they scan their loyalty app at a 16 Handles store on National Frozen Yogurt Day. See the website for full terms and conditions.
Indiana-based dessert chain Skipper's Monticello is offering $5 cups of frozen yogurt on Thursday.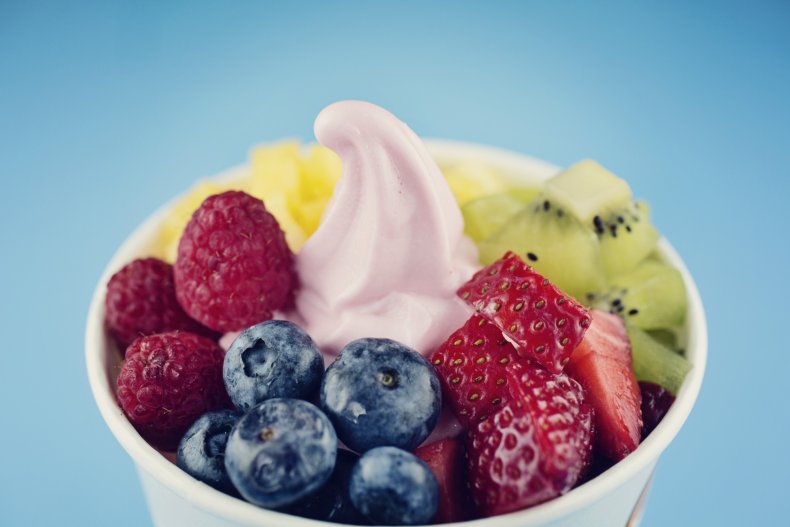 Newsweek has affiliate partnerships. If you make a purchase using our links, we may earn a share of the sale.