National Grid Outage Map: New York, Pennsylvania, Maine, Connecticut Residents Without Power After Gale-force Winds
Hundreds of thousands of customers are without power across the northeastern United States after strong winds swept through the region over Thursday night and Friday morning.
According to the website PowerOutage.us, the worst of the blackouts are in New York state where more than 230,000 customers have lost power at the time of writing.
Furthermore, there are major outage events in Pennsylvania (around 176,000 customers without power,) Maine (117,000,) Connecticut (90,000) and Virginia (55,000.)
There are also further minor blackout events in several other states, including Michigan, Ohio, West Virginia, Maryland, New Jersey, Rhode Island, Massachusetts, Vermont, New Hampshire and Washington, D.C., according to the website.
Over the course of Thursday and Friday morning, a low pressure weather system stretching from the Deep South all the way up the Great Lakes brought severe thunder storms, rain and strong gusts of wind to much of the eastern United states.
In New York, gusts of wind up to 60 miles per hour were recorded, blowing over trees and power lines, CBS2 reported. Several trees fell onto homes and vehicles.
One tree fell on top of a trick-or-treater in New Rochelle at around 6:30 p.m. on Thursday, PIX11 reported. The young girl was injured although her condition is not currently known.
In the wake of the severe weather, several school districts have decided to cancel classes on Friday in the interests of safety.
In Connecticut, the stormy weather weather caused travel disruption, with falling trees blocking railway lines and roads, while some flights were delayed at Bradley International Airport, WFSB reported.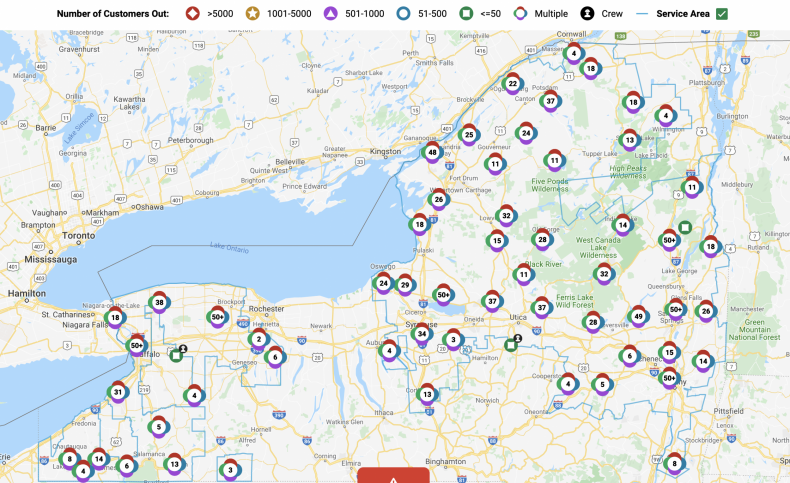 The eastern United States is not the only region of the country to have been affected by major blackouts recently. The wildfires raging across California led the Pacific Gas and Electric Company (PG&E) to shut off power to hundreds of thousands of customers last week to prevent its power lines from sparking fires during the high winds which affected several parts of the state.
This was the third time in October that the embattled energy company forced a major blackout in what was a controversial move, Bloomberg reported. The policy could actually be making the problem worse, according to Sean Anderson from California State University Channel Islands.
"The current policy of power shut offs are magnifying the problem as the periods of going dark are translating into people getting no notice a fire might be upon them or their neighborhood," he told Newsweek. "A robust electrical delivery system would have the ability to form micro-grids and be less reliant upon large, hulking power plants dozens or hundreds of miles away."
"San Diego Gas & Electric have modernized their grid by essentially adding many more nodes," he said. "This gives them the ability to darken sometimes a single neighborhood or street or even house. The other two (much larger) utilities in the state are woefully behind."
PG&E's outdated equipment was blamed for causing wildfires in 2017 and 2018, and the resulting lawsuits have left the company bankrupt. Its potential role in starting this year's Kincade Fire—which has burned more than 70,000 acres in Sonoma County—is also being investigated, The Washington Post reported.