National Guard Banned From Deployment via Private Funding in New Defense Bill
The National Defense Authorization Act, the yearly defense spending act approved by the Senate 88-11 on Wednesday night and sent to President Joe Biden, includes a provision that bars the National Guard from being deployed across state lines with the use of private funding.
The provision was aimed at a decision made by South Dakota Governor Kristi Noem in July, when she accepted a $1 million donation from Tennessee Republican donor Willis Johnson to deploy National Guard troops to the country's southern border with Mexico following a request from Texas Governor Greg Abbott.
The language in the bill prohibits private funding being used to send National Guard troops across state lines, with the exception of emergency cases for events determined by the Federal Emergency Management Agency to be natural disasters.
At the time, military and political analysts said the move by Noem and Johnson was cause for concern, as allowing the practice to continue could turn the National Guard into a group of soldiers that can essentially be bought to carry out a wealthy individual's personal or political agenda.
Noem said the decision was made to save taxpayer money for the state, while doing what it could to help with a border crisis she felt was vital to national security.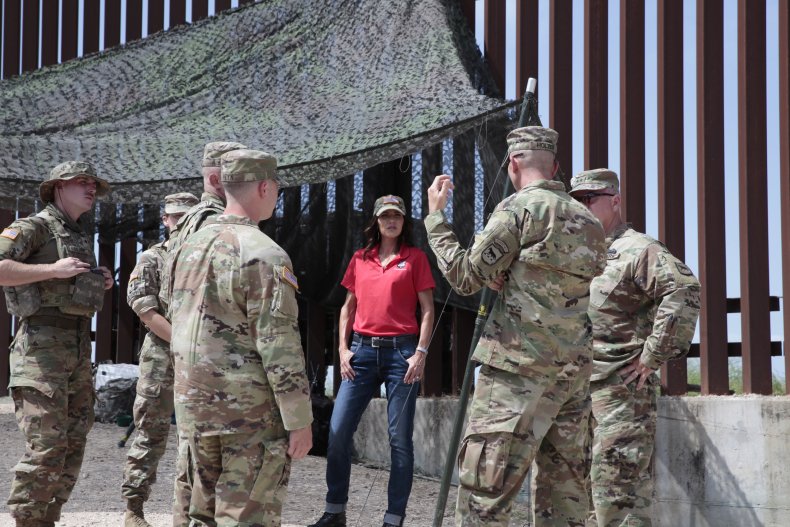 The bill also contains a pay raise for military service members and Department of Defense staff, assigns independent prosecutors to handle sexual assault cases in the military and proposes several potential locations for a memorial on the National Mall dedicated to soldiers that have served in the war on terror in conflicts started after the September 11, 2001, attacks.
Noem's office did not immediately respond to an Associated Press request for comment on the National Defense Authorization Act.
Both of South Dakota's Republican senators, John Thune and Mike Rounds, voted for it.
Rounds was quoted as saying the bill "includes many wins for South Dakota—including victories for Ellsworth Air Force Base, Dakota State University and Raven Aerostar."
The bill allocates $5.7 billion for the B-21 bomber program, which will be hosted at Ellsworth Air Force Base. It also contains $15 million for a National Guard training center in Sioux Falls, South Dakota.
Senator John Thune, speaking on the Senate floor on Wednesday, criticized the practice of amending the bill without taking a vote but said the final product had been strengthened by Republicans, who had pushed for a larger defense budget.
"We've made a lot of progress over the past several years on rebuilding our military," he said.
The Associated Press contributed to this report.