National Guard Chief Wants to Replace Capitol Troops With Law Enforcement, Memo Shows
The U.S. National Guard Bureau chief advised against troops' extended placement in Washington, D.C., recommending instead that officers from other law enforcement agencies step in to replace them.
Gen. Daniel Hokanson articulated his "concerns" about National Guard members' ongoing deployment in an internal memorandum, originally obtained by Fox News, which reportedly reached the White House National Security Council last week. Its dissemination preceded the Pentagon's decision to approve a lengthier deployment term for National Guard troops stationed in Washington. Their deployment began after the January 6 insurrection at the U.S. Capitol complex, and continued as Capitol Police and local law enforcement departments remained wary of another possible attack.
Hokanson argued that the National Guard is already overextended, as troops confront added responsibilities tied to the COVID-19 pandemic and natural disasters, alongside their usual duties.
"Over the past 12 months, States have experienced unprecedented demand for National Guard utilization related to COVID-19, Civil Disturbance, wildfire, hurricane and flood response, all while meeting every combatant command deployment requirement," the chief's memorandum read, according to Fox News' report. "In addition, the states are currently increasing their internal requirements to support COVID-19 vaccination efforts and posturing for seasonal natural disasters as well as training for further deployments."
He noted that just 500 National Guard members volunteered to continue deployment in Washington past the originally established end date.
"Moreover, I am concerned that the continued indefinite nature of this requirement may also impede our ability to man future missions as both Adjutants General and Guardsmen alike may be skeptical about committing to similar endeavors," Hokanson continued. "Pursuit of other inter-agency law enforcement options seems highly preferable to requesting involuntary mobilizations under the current circumstances."
A National Guard Bureau spokesperson told Newsweek that it "cannot discuss internal deliberations that may have taken place as part of the Department of Defense decision-making process" on Thursday, following the Pentagon's instruction earlier this week to extend troops' deployment.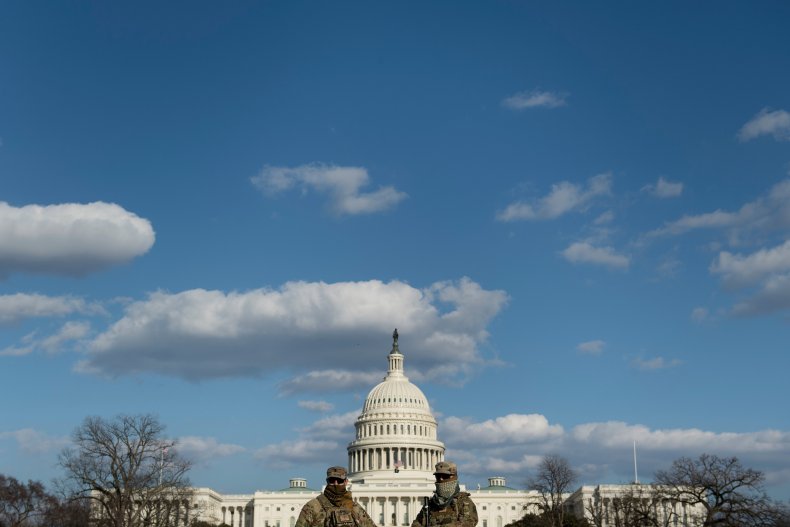 "The National Guard will carry out this mission with professionalism for as long as we are required and approved to support," the spokesperson said.
An initial directive ordered roughly 5,000 National Guard personnel to assist Washington's federal and local police branches for two months following the January riot. However, ahead of their deployment's scheduled March 12 expiration, Capitol Police submitted a formal request to the Defense Department asking for further assistance. The agency confirmed its petition in a press release, which cited increased "threats to members" since the start of 2021.
Defense Secretary Lloyd Austin approved the Capitol Police's request on Tuesday. About half of National Guard troops currently stationed in Washington will end their deployment on Friday, with almost 2,300 continuing to support local police through May 23.
"This decision was made after a thorough review of the request and after close consideration of its potential impact on readiness," said Pentagon Press Secretary John Kirby in a statement announcing Austin's approval. The Defense Department will coordinate with Capitol Police "to incrementally reduce" the National Guard presence "as conditions allow" during the upcoming months, according to Kirby.