Air Force General Joseph Lengyel said Thursday that members of the National Guard could be involved in coronavirus mitigation operations for the next six to twelve months.
Roughly 45,000 National Guard members have been involved in coronavirus mitigation efforts since the beginning of the pandemic, having been activated in every state. National Guard units were also called out during times of civil unrest as protests began in the U.S. after the death of George Floyd.
"Thankfully, civil disturbance operations seem to be receding," Lengyel said during a webinar hosted by the Brookings Institute. "But COVID-19 appears to be, maybe even on the rise, in some cases, and there's no sign of operational tempo reduction in our future. As we look to the relatively near term, maybe six months to a year."
In a statement sent to Newsweek on Thursday, the Department of Defense said that "predicting the course of this pandemic is a hard thing to do, and being prepared to help the American people when asked is prudent."
Lengyel said National Guard units had assisted with mitigation efforts by delivering and manufacturing personal protective equipment and staffing food banks and testing centers.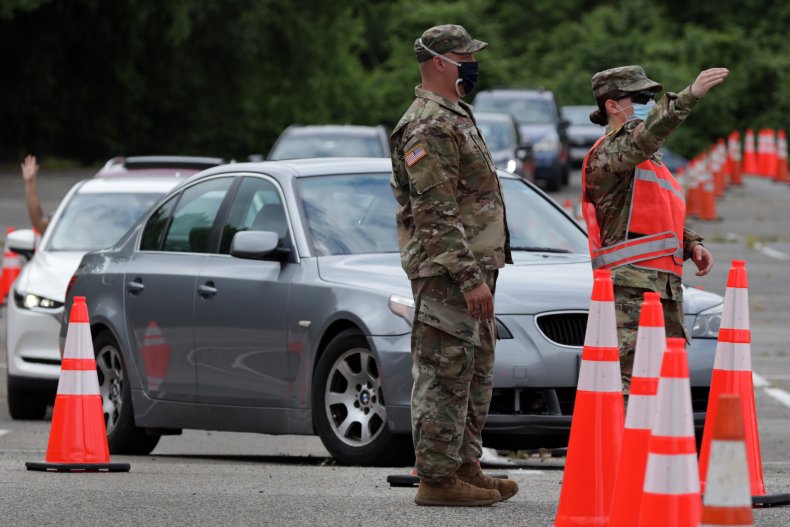 The National Guard saw an increase of COVID-19 within its ranks after being deployed to assist law enforcement officers during the Floyd protests. Many demonstrators did not wear face masks and social distancing protocols were not observed. In June, an undisclosed number of National Guard members in Washington, D.C. tested positive for the virus after patrolling during the protests.
Infectious disease expert Dr. Anthony Fauci told the ABC program Good Morning America in June that the report came as no surprise. "When you get congregations like we saw with the demonstrations," Fauci said, "that's taking a risk."
Recent data indicates that 12,521 troops within the Armed Forces tested positive for coronavirus in June.
Assistant Defense Secretary for Health Affairs Tom McCaffery told reporters on Wednesday that the rise in cases reflected areas in the private sector were cases had increased. "That is not necessarily overly surprising in that we have been doing more testing," McCaffery said. "And we have been doing testing of those who are symptomatic."
Some states have seen a rise in cases of the virus has reopening strategies are implemented and stay-at-home orders have been rescinded. Arizona Governor Doug Ducey reversed some of his decisions about allowing businesses to open again. In June, Ducey ordered bars, cinemas and gymnasiums to close their doors after a surge of positive cases. Those establishments had been allowed reopen in May.
"In terms of where Arizona is today, you are safer at home," Ducey said Wednesday during a press briefing with Vice President Mike Pence in Phoenix. "We want to slow the spread of the virus and protect the most vulnerable."
On Thursday, the Arizona Department of Health Services reported 3,333 new positive cases in the state, with 87,425 total cases recorded since the pandemic began.
Updated 11:12 p.m. EST 07/02/2020: This story has been updated with a statement from the U.S. Department of Defense.