National Guard Deployed in Hawaii as Lava from Kilauea Volcano Nears Town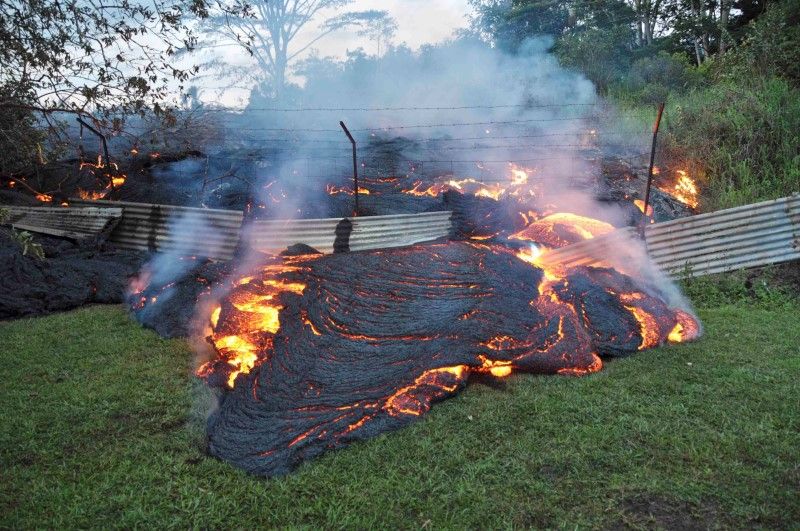 On Thursday morning, the National Guard deployed 83 troops to Pahoa, Hawaii—a rural town on the Big Island—which is being threatened by lava flow from the Kilauea volcano.
"These are local troops, people from the community. They'll be here working to take care of their family and friends," Daryl Oliveira, director of Hawaii County Civil Defense, said at a news conference Thursday. The troops will be helping with traffic, roadblocks and other safety issues. Some residents have said they are worried looters will take advantage of an opportunity to enter empty homes. The guard will also help keep curious lava watchers away from dangerous areas.
Kilauea has been erupting since 1983, and it has previously invaded other communities, such as the town of Kalapana in the early 1990s. The current stream of lava has been moving northeast from the volcano toward Pahoa, which has about 945 residents, since June 27.
The lava front advanced about 90 yards between Wednesday and Thursday mornings to just 160 yards away from the main Pahoa Village Road, according to a statement released by Civil Defense on Thursday morning, local time. It remained active but was advancing at a slower pace than it had been earlier this week, averaging less than five yards per hour.
Residents in the lava's flow path have been told to prepare for possible evacuation. Though a mandatory order has not been issued, many residents have already left their homes.
The lava has thus far overtaken a shed and a good deal of vegetation, the Associated Press reports, but may soon block the town's only roads, restricting movement and access to supermarkets and other businesses.
As residents of Pahoa wait for the lava's impending arrival, some are inspired by its slow approach, while others find it anxiety-inducing.
Paul Utes, owner of the Black Rock Cafe in Pahoa, told the AP, "It's like slow torture. It speeds up, it slows down. It speeds up, it slows down."
But Jamila Dandini was rather poetic about the lava, which she refers to as Pele, the Hawaiian volcano goddess. "She is so gentle, but so unrelenting," she told the AP. "She is just slow and steady."