National Guard Protecting Maryland's Coronavirus Tests in Undisclosed Location so Federal Government Can't Seize Them
Maryland has deployed members of its National Guard and state police to supervise 500,000 coronavirus testing kits currently being held at an "undisclosed location," Governor Larry Hogan told The Washington Post on Thursday.
During a teleconference interview with Washington Post Live, Hogan explained that the decision to impose heightened surveillance procedures followed reports of federal officials seizing supplies delivered to other states. Maryland recently purchased the test kits from South Korea after requests for assistance from the United States federal government went unanswered and domestic suppliers could not provide the aid.
"It was a very complicated process," Hogan said in the interview, recalling 22 days of approval procedures leading up to the test kits' eventual dispatch. The plane that delivered them was directed to land at Baltimore/Washington International (BWI) Airport, where "a large contingent of Maryland National Guard and Maryland State Police" awaited it, according to the governor.
"To try to make sure that we landed this plane safely, we made sure it landed at BWI Airport instead of Dulles," he explained. "It was the first time a Korean Air passenger plane has ever landed at BWI."
Hogan said his administration has taken extra care to safeguard the diagnostic tests in light of federal seizures that have played out elsewhere throughout the new coronavirus pandemic. Speaking to The Washington Post, he specifically referenced Massachusetts Governor Charlie Baker's March announcement detailing a seizure of 3 million face masks at the port of New York, after which the state notably employed a private jet owned by the New England Patriots to fulfill a subsequent delivery of personal protective equipment (PPE) from China.
Several state administrations, including those in Colorado, New Jersey, Kentucky and Texas, have reported cases of federal authorities intercepting or diverting supply orders. An April 7 Los Angeles Times report also cited testimonies from medical providers in seven states with similar experiences. With that in mind, Hogan said safeguarding the test kits delivered to Maryland seemed like a logical step to ensure they actually reached state residents.
"We wanted to make sure that that plane took off from Korea safely, landed here in America safely, and that we guarded that cargo from whoever might interfere with us getting that to our folks that needed it," he said during Thursday's interview.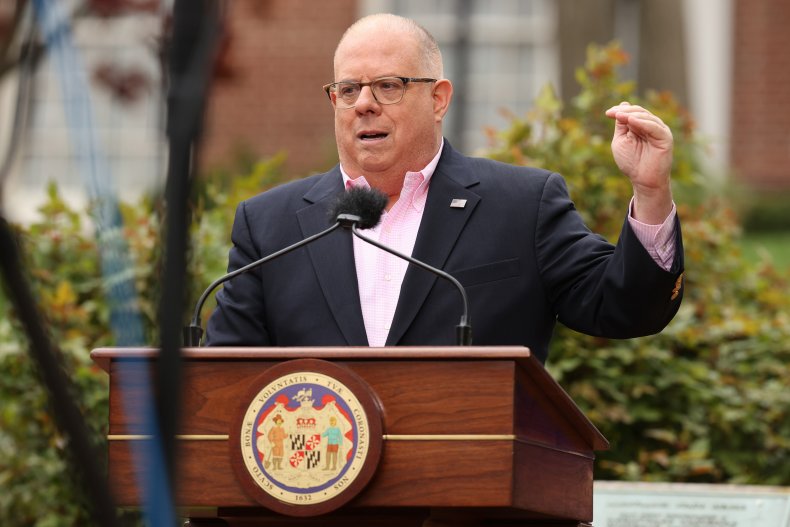 Maryland is not the only state to implement added precautions with regard to PPE deliveries. Earlier this month, the Chicago Sun-Times published a report saying Illinois Governor J.B. Pritzker was working to obtain face masks and gloves from China without releasing details about the order. An unidentified source told the publication Pritzker's rationale was in response to "reports of Trump trying to take PPE in China and when it gets to the United States."
Hogan told The Washington Post that Maryland's National Guard is also assisting in the distribution of its newly acquired test kits, though additional resources—like additional reagents and increased lab capacity—are necessary before the full reserve can be put to use. According to Johns Hopkins University's tracker, Maryland has confirmed at least 21,742 cases of the new coronavirus and 1,140 subsequent deaths as of Thursday afternoon.