National Guard on Standby for Pro-Trump Rallies After Boogaloo Bois Threat
Soldiers from the Minnesota National Guard are on standby to protect the state's Capitol building after threats of further violence across the U.S. in the wake of the Washington, D.C. riots.
About 500 National Guard troops are already deployed in Minnesota, some helping with COVID-19 testing. It is unclear exactly how many troops could be sent to the state Capitol in St. Paul.
Minnesota Governor Tim Walz said the public should expect "an appropriate presence of folks there to ensure that there's peaceful gatherings, to make sure that the intent to do damage to any of the buildings will not happen."
He said police were monitoring online groups for any threats of violence ahead of the rallies.
"Some of those are a little more difficult to find because they move to kind of corners of the internet, but there's folks that are trained to make sure that they're looking for that," Walz added.
Minnesota's attorney general Keith Ellison told CNN on Tuesday that those who made threats or carried out violence or disorder would face consequences.
"People who would engage in such lawless behavior need to know that there will be a response and that we're not going to cower in the corner. We're gonna step up and hold them accountable," he said.
Meanwhile, the FBI has reportedly warned of the likelihood of further unrest linked to the far-right Boogaloo Bois, which is set to hold pro-Trump rallies in multiple cities on January 17.
The focus has fallen on Minnesota in particular, where the extremist collective, which calls for a second civil war and is also known as just Boogaloo or the Boogaloo Movement, has an active presence.
A document produced by the FBI's Minneapolis field office dated December 29 warned of threats to events planned for the state Capitol buildings in Michigan and Minnesota on January 17.
The paper, obtained by Yahoo News and not seen by Newsweek, reportedly noted that members of the Boogaloo Movement had used a protest in December "to perform reconnaissance to identify escape points and defensible positions" while others "scouted general law enforcement presence [and] identified law enforcement sniper locations and considered breaking into federal buildings for use as firing locations, if fighting occurred."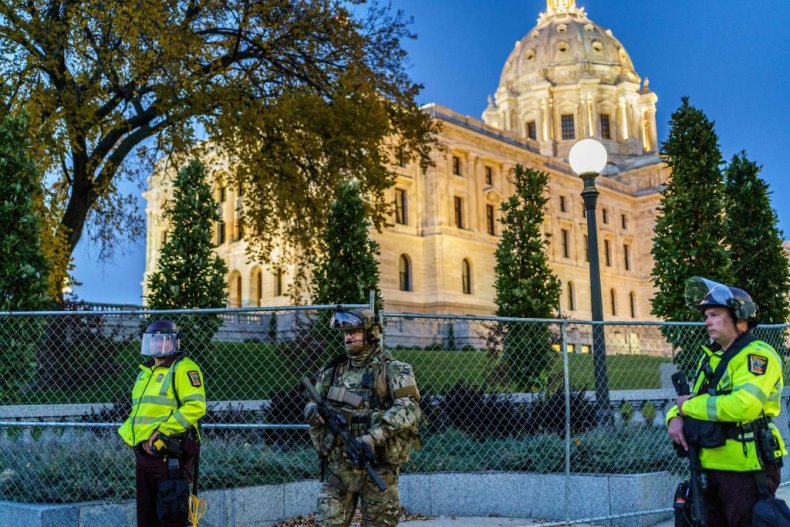 Last month, a member of the Boogaloo Bois pleaded guilty to terrorism offenses after plotting to conspire with Hamas.
Benjamin Ryan Teeter, 22, admitted conspiracy to provide material support and resources to Hamas, a designated foreign terrorist organization, at District Court in Minneapolis.
"The defendant was a self-described member of the Boogaloo Bois whose extremist ideologies had moved into the realm of violent action," said U.S. attorney Erica MacDonald.
In a joint statement from the U.S. Attorney's Office of the District of Minnesota, MacDonald and FBI Special Agent Michael Paul condemned the "violence and terror" of last week's riots at the U.S. Capitol, calling it a "reprehensible affront to our institution of democracy." They would "hold accountable any individual who traveled from the District of Minnesota to commit illegal, violent acts," they added.
The Minnesota National Guard has also been called on to provide support to the presidential inauguration on January 20.
"Every four years National Guardsmen from throughout the country are called to assist local units supporting the inauguration," said Colonel Scott Rohweder, the Minnesota National Guard director of operations. "We are proud and ready to serve the nation at this historic event."
Newsweek contacted the Minnesota National Guard for comment.